Long Pepper or Java Pepper is a rare and unique pepper. It's piper longum, a pepper with spicy and sweet sensual notes. You will discover a different and long attack on the palate, first a taste of chocolate, anise, liquorice and cinnamon, then a warm and slightly spicy side. A delicious pepper for salty or sweet cooking.
Bag of: 200g
Pepper power: 8/10
Main notes: Hot and round chocolate and anise
Use: Savory and sweet cooking
Origin: Indonesia
Buy long java pepper at Comptoir de Toamasina. Here you will discover recipes and cooking tips for a rare pepper that invites creative everyday cooking.
Long Pepper 200g
You will buy the best long java pepper at the best price per kilo in a bag that can be closed again. The java pepper, piper longum, is a rare pepper, a spice that will be distinguished by its very hot spicy flavors. You will discover a cinnamon-flavored pepper, anise and raw cocoa. It is a pepper with feminine and woody notes. A little-known pepper from our table, which was the first pepper imported into Europe.
Discover on our page recipes for meat, fish, sauces, stews and desserts with Indonesian pepper and create creative cuisine with a pepper that will surprise you with its aroma, seasoning and aromatic complexity. A great rare pepper.
Buy long java pepper - indonesia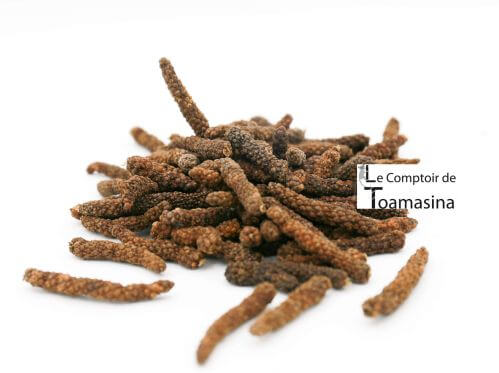 What is Java Long Pepper?
It is first of all the first pepper imported into Europe.
Piper Longum is a pepper originating in India. It is a pepper plant, so it will grow on a vine.
It is part of the anacardiaceae family.
Today, it is no longer India that has a production monopoly, but Indonesia and the island of Java.
In India, it will grow at the foot of the Himalayas.
Did you know that this liana grows naturally in the wild and that the name long pepper comes from its shape.
On the internet, it is also found under the name of kitten pepper, as it is between 2 and 4 cm long.
At Comptoir de Toamasina, we offer only the best of each rare pepper, it is a pepper with a deliciously sweet original flavor and a warm flavor that we like to grate like nutmeg or cook.
Cultivation and harvesting of long java pepper
As for the entire Piper family, which includes no less than 2,000 species, we first need a hot and humid tropical climate.
Then the vine is grown like the piper negrum that produces the famous black pepper.
The long java pepper is harvested before maturity. Then it will be dried in the sun until it reaches its dark brown color. You also rarely see red tones.
You should know that, like Madagascar's Bourbon vanilla, tonka bean and Madagascar black pepper, all spices will need to be dried in the sun.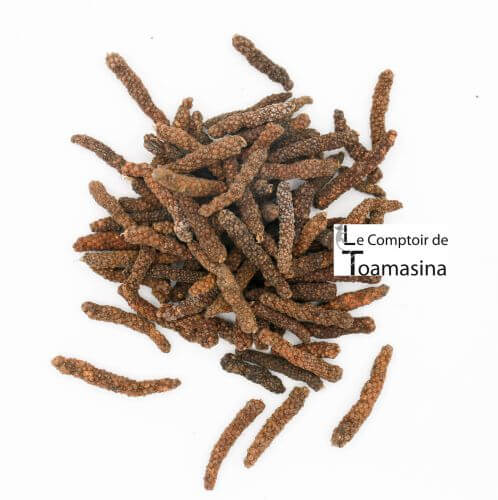 The taste of long java pepper
The flavor of the pepper, where the pepper is hot and spicy. It will be less strong than black pepper, but it will be slightly sweet with notes of chocolate and cinnamon in particular. A pepper with extraordinary qualities, a rare and exceptional pepper.
Description
Product: Long Pepper
Resealable bag packaging: 200g
Characteristic: Spicy and sweet pepper with hints of chocolate, anise, licorice and cinnamon
Origin: Indonesia
Other packages available: 40g bottle, 500g Sous-Vide bag
Como usar pimenta Java longa na culinária?
O pimentão da Indonésia funcionará muito bem com pratos doces e salgados. Você deve saber que sua gama aromática o torna original. É menos picante e doce do que outras pimentas encontradas na Ásia.
É uma pimenta que oferece um sabor quente, suave e feminino. Encontramos um casamento entre canela, anis verde, alcaçuz e chocolate. Tem um ligeiro tempero (muito mais fraco que uma pimenta preta) e um sabor quente intenso.
Nós gostamos de usá-lo para ralar, argamassar e ferver.
Não é recomendável colocá-lo em um moinho de pimenta com o risco de quebrá-lo.
É bom saber: ao contrário de outros pimentões, ele tolera muito bem o calor prolongado.
Era muito popular na Idade Média, porque era uma pimenta que combina muito bem com o jogo. Portanto, é uma pimenta que encontrará um lugar em suas receitas salgadas e doces. Combina muito bem com carne forte, como cordeiro, caça, osso buco. Mas pode ser usado com peixes e aves.
Nos legumes, será preciso muito pouco para uma panela de legumes, sopas.
Por contras, é maravilhoso em um queijo fresco, queijo de leite de cabra.
A pimenta de java longa é muito interessante em pratos doces, especialmente em melões, morangos e compotas. Mas é delicioso com chocolate, tortas de limão, bolos de chocolate ....
Mas é uma pimenta maravilhosa em chantilly com morangos.
Você é livre para criar sua cozinha criativa.
How to store long java pepper
As with all peppers, long peppers stay dry, protected from light and any thermal shock. you can keep them in our new 200g packaging. See our PET bottle with an anti-UV filter in our 40g packaging.
The origins and history of Java Long Pepper
It was one of the first peppers imported into Europe. The Romans, Portuguese and Greeks adored him for his sweet notes, which allow, in particular, to give tasty notes to the game.
It comes from the Maluku archipelago, east of Indonesia.
The pippali pepper completely disappeared from our 19th century tables, it was only in the 2000s that the pepper began to return to our kitchens and it is from the decade of 2015 that this rare pepper regains its place of nobility.
Customers who bought this product also bought: