The white pepper berries from Malabar are picked ripe and then soaked in water to remove the skin more easily and then dried in the sun so that they turn white. 60g bottle.
Malabar White Pepper with notes of cedar, resin and spices. It is very present in the mouth with a very long finish which gives it its notes of great pepper.
Pepper power: 6.5 / 10
Main notes: A blend of cedar and wild spice notes
Use: White meat and Sauce
Origin: South India
It is a classic white pepper that we like in a rustic kitchen. A dark beige pepper. Buy malabar pepper at the best price.
White Malabar Pepper
White pepper from Malabar is a pepper that gives you vegetable, fruity, slightly spicy notes with a mild spiciness and long finish.
It is a pepper of excellence.
At Comptoir de Toamaisna you will buy the best white pepper from Malabar. A pepper with an exceptional flavor for creative everyday cooking.
Buy high-quality white pepper at Comptoir de Toamasina, the specialist for rare peppers and peppers.
Purchase and Sale of White Malabar Pepper in Grain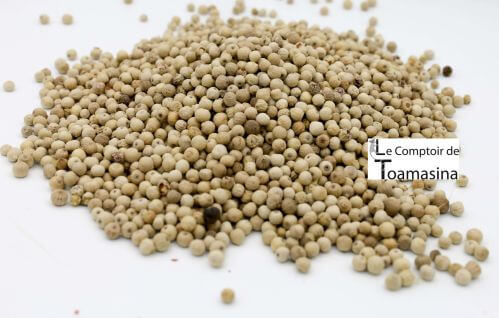 What is Malabar white pepper?
Malabar white pepper is the king of peppers. He comes from the South West of India which is the cradle of the peppers of the World. But also the best white pepper in the world. When the pepper matures, it is picked and then soaked in water to remove their red peel. The peppercorns will then be blanched in the sun to give an exceptional white pepper. Malabar white pepper has dark colors between light brown and cream. It is a totally extraordinary pepper on the palate.
What is the flavor of Malabar white pepper?
It offers a fresh and spicy scent which gives a white pepper with explosive notes.
You will find notes of cede, resin and very spicy notes. It will be very long in the mouth.
Product Description:
Product: White Malabar Pepper in Grain
Packaging in bottle: 60g
Characteristic: Notes of cedar, resin and notes of spices. very long finish.
Origin: India
How to use Malabar pepper in the kitchen
A good pepper will always grind at the last moment or even crush it with a pestle. This is how you will keep all the flavors of pepper. Otherwise it will lose a lot of its flavor, its spiciness and its aromatic palette.
It is a pepper which comes from the coasts of Malabar in India, it is ideal for red, white meats, poultry, lamb, game, for your grills.
But it is super good to add in a homemade omelet, squash, moussaka, ratatouille, tomato sauce, vegetables in the pan and also in your salad.
It is a pepper with the perfect aroma for your recipes with seafood.
For dessert it will go perfectly with chocolate but you can also make a homemade cottage cheese with white pepper from India.
Customers who bought this product also bought: