50g Vanilla Pods from Tahiti Tahaa
50g Tahitian Tahaa Gourmet Extra vanilla pod with a length of 14cm. Tahitian vanilla will be characterized by a vanilla bean very oily, oily with a beautiful wrinkled robe. Vanilla is very bright with extraordinary fragrance. For this year the vanilla pod of Tahiti will taste prunes and aniseed. In vacuum pack of 50g
Main notes: diced anise and prunes give way to a floral vanilla taste
Aromatic: The star of pastry. A vanilla pod with an intense flavor of gourmet vanilla, the most intense of vanilla
Quality: Gourmet - Extra
Category: Grand Cru
Order online a beautiful vanilla pod from Tahiti, tahaa from French Polynesia. Tahitian vanilla is the Queen of vanilla.
50g Tahitian Vanilla Tahaa Gourmet Extra
This is where you will buy the best vanilla pods for baking. Arnaud creator of Comptoir de Toamasina bears the nickname of Arnaud vanilla on Place Sébastopol in Lille, it is here that the adventure of Comptoir de Toamasina begins.
We suggest you buy the best of the vanilla terroir in Tahiti. Discover a great vanilla region with vanilla pods from Tahiti, Tahaa.
Purchase and sale of vanilla pod online
Purchase Tahiti vanilla Tahaa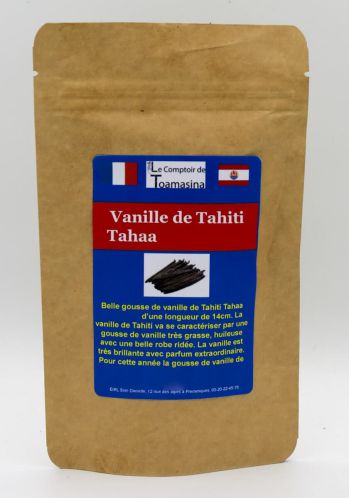 What is Tahitian vanilla?
An exceptional vanilla, a luxury vanilla pod
Tahitian vanilla is first and foremost a great vanilla, a luxury vanilla, the queen of vanilla. It's a vanilla bean with a nice wide wrinkled robe with an extraordinary scent. It's the queen of vanilla. Tahitian vanilla is ideal in all cold preparations such as creams, puddings, fruit salads and fruit soups.
Tahitian Vanilla from Tahaa in Family Size
Buy Tahitian vanilla beans at the best price
Our Tahiti vanilla pods from Tahaa, will immerse you in a unique universe, a delicate fruity and suave aromatic bouquet, prolonged in base note by a delicate floral note. A flight of flavor.
All our vanilla pods from Madagascar or Tahiti are not from GMO culture. So a vanilla 100% natural.
This vanilla bean from Tahiti is very aromatic and very oily. It will release notes of anise and prune in top note and a very floral base note. Its scent is very long in the mouth.
Tahitian vanilla is perfect with its aroma for fish and seafood. Delicious vanilla on fresh fruits, salads, jam or coulis.
Product Description
Product: 50g Tahiti Vanilla Tahaa
Appellation: Gourmet - Extra
Vanilla Type: Tahitian Vanilla 
Quality: Gourmet
Size: 13-17cm
Pod weight: between 7g and 13g
Origin: Tahiti Tahaa
Feature: Exceptional quality product. Vanilla bean very oily and oily, a beautiful wrinkled dress, very shiny with an intoxicating scent. With an aroma of prunes and anise.
Packing: Vacuum Sachet
Preservation of Tahaa Tahiti vanilla bean
To keep Tahiti Tahaa vanilla pod 50g in the best conditions, the Comptoir de Toamasina recommends that you store the extract away from light and any temperature shock.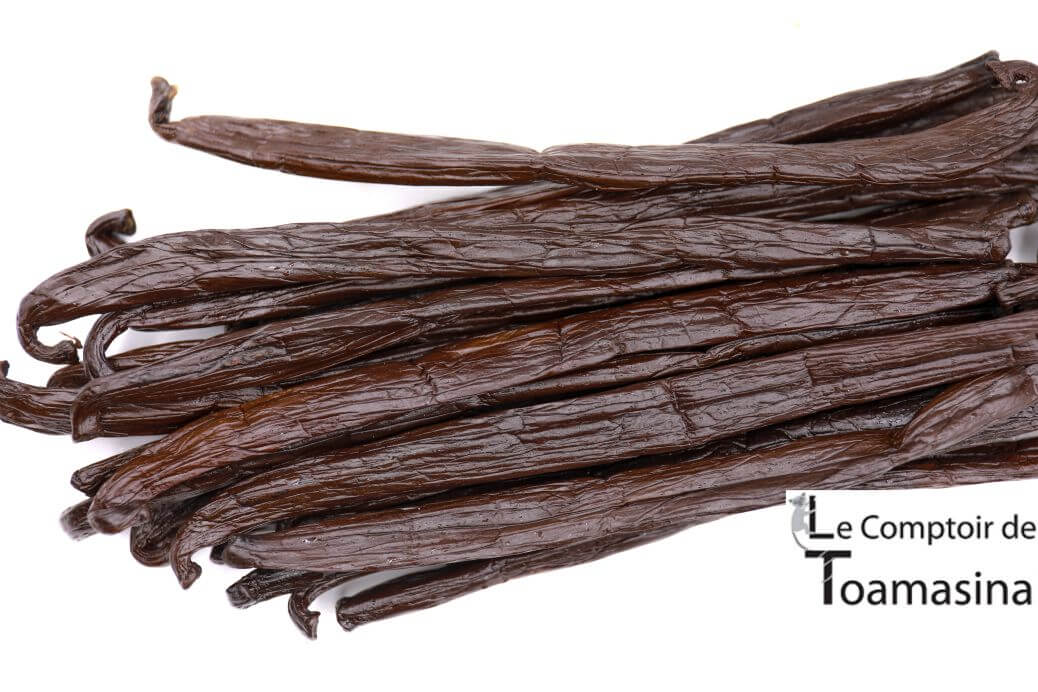 Customers who bought this product also bought: