10 Vanilla Pods from Tahiti Tahaa box
10 vanilla pods of Tahiti Tahaa with a length of 14cm. Certainly the best vanilla in the world, imported directly from the Tahitian producer will be characterized by a  vanilla pod very oily, oily with a beautiful dress wrinkled.with extraordinary perfume.the vanilla pod of Tahiti will have a taste of prunes and anise taste .10 vanilla pods of Tahiti in gearbox. 
Main notes:

 anise and prunes which gives way to a taste of floral vanilla.

Aromatic:

 The star of pastry. A vanilla pod with an intense fragrance of gourmet vanilla, the most intense of vanilla

Quality:

 Gourmet - Extra

Category:

 Grand Cru
 10 Vanilla Pods from Tahiti Tahaa box
Purchase Tahiti vanilla online at the best price. Find the best vanilla in the world with an essential flavor.
A vanilla pod of excellence for vanilla lovers.
Sale of Tahitensis vanilla pods from Tahiti island of Tahaa. The best of the vanilla bean harvest for you.
The beautiful vanilla from Tahiti to taste if unique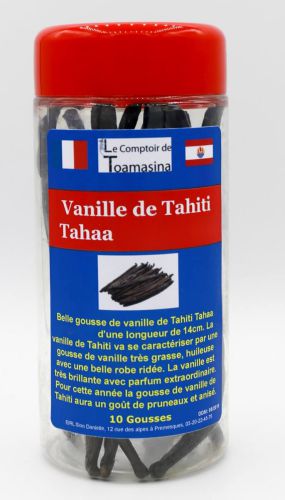 What is the vanilla from Tahiti ?
The vanilla from Tahiti is a very large vanilla, a vanilla of silversmith. It must be all the know how of the Tahitian planters and preparers to make a vanilla of luxury. This vanilla pod is extraordinary first of all for her foot different Tahitian of the foot planifolia simple or AOC Bourbon. It offers a anise aroma and prunes naturally. This vanilla is dried in a first on foot, a method totally the opposite of most of vanilla in the world.  
The vanilla from Tahiti with its exceptional climate offers a clove ideal for the cold preparations such as creams fresh, the blanks, fruit salads and soups of fruit.
Vanilla from Tahiti of Tahaa in box Ideal for the Conservation
Our Tahitian pods Tahaa are a small wonder for the gastronomes and pastry chefs. They all offer a bouquet delicately fruity and sweet which is going to extend with floral notes. A flight of extreme flavor.
This vanilla pod of Tahiti Tahaa is very aromatic and very oily. It will free up a note and anise Pruneau with a background note of vanilla very floral. Its fragrance which is going to be very long in the mouth.  
Taste the Difference, buy the difference at the Comptoir de Toamasina
We only sell the best spices in the world.
Description of the product
Products: 10 vanilla pod of Tahiti Tahaa 
Quality: Gourmet
Size: 14cm
Weight of the Pod:  between 4G and 7G
Origin: Tahiti Tahaa
Feature: product of exceptional quality. Vanilla pod very oily and oily, a beautiful dress wrinkled, very shiny with a perfume intoxicating. With an aroma of prunes and of star anise.  
Packaging:  sachet under vacuum
Attention Our recharge of 20 vanilla pods of Tahiti is ideal for completing your box.  
Our vials and boxes in PET are specially designed to preserve the aroma of the vanilla. We manufacture our vials and boxes in PET in Holland. The latter are designed with a pet of high quality 100% recycling and with an anti-UV filter in order to preserve this vanilla of luxury. We use not the glass because it is done in the vast majority in China and presents a bad carbon footprint. 
Conservation of the vanilla pod of Tahiti Tahaa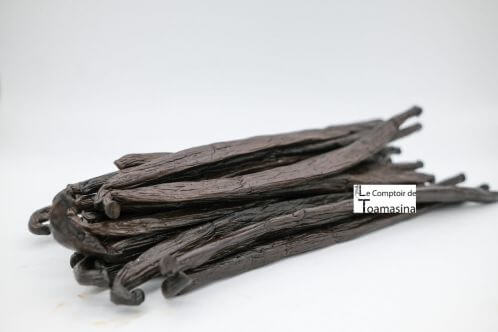 To keep the vanilla pod of Tahiti Tahaa in box of 10 pods in the best conditions, the counter of Toamasina recommends that you store the extract to the shelter of the light and any impact of temperature.  
Customers who bought this product also bought: