250g Vanilla Tahiti Raiatea Gourmet
Tahiti Raiatea Vanilla of high quality has a length of 13 to 15cm or 16-19cm. Tahitian vanilla will be characterized by a vanilla bean very oily,  with a beautiful wrinkled robe. The vanilla is very bright with an extraordinary scent, a taste of prunes and aniseed that gives way to a very flowery aromatic bouquet.
Main notes:

 anise and prunes which gives way to a taste of floral vanilla.

Aromatic:

 The star of pastry. A vanilla pod with an intense fragrance of gourmet vanilla, the most intense of vanilla

Quality:

 Gourmet - Extra

Category:

 Grand Cru
Order online and buy the best tahitensis vanilla, that of Tahiti. The best vanilla pod.
50g Vanilla Tahiti Raiatea - Extra Quality
Buy online Vanilla Tahiti Raiatea, a large vanilla pod that comes from a vintage of excellence.
Le Comptoir de Toamasina, a real Vanilla counter, invites you to buy Tahiti vanilla in our economic format at the best price per kilo.
Vanilla Tahiti Raiatea Professional Packaging
Vanilla Raiatea Directly from the producer to the consumer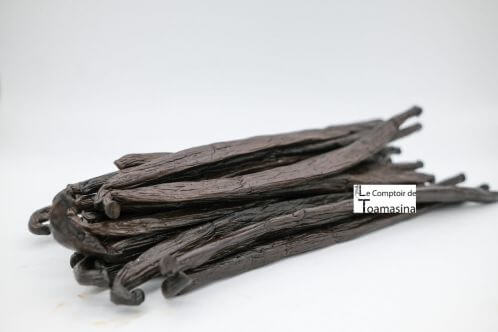 Packers and Catering Professionals
If you want to buy Tahitian vanilla directly from the producer to the consumer, Comptoir de Toamasina offers you this.
We select for you the best Vanilla beans from Tahiti of excellence from Raiatea.
The Comptoir de Toamasina is a specialist of vanilla from Madagascar since 2010 and of vanilla from Tahiti since 2016.
We meet once every 2 years  with our producers to select you the most beautiful vanilla pod of Tahiti, fleshy, supple, mellow and very fragrant.
You will find a bouquet of extraordinary flavor with hints of prune and anise. Also, a very rich and aromatic bouquet on the palate a very floral vanilla.
Tahiti Raiatea vanilla is fruity, it has sweet notes that will linger on the palate with floral notes.
The upscale vanilla for you.
Good to know: It takes 1/3 of vanilla Tahiti Raiatea to find the taste of a vanilla bean of Madagascar in your preparations.
What is Tahitian Vanilla or How to Buy Vanilla from Tahiti?
Discover the Vanilla Raiatea from Tahiti in the Comptoir de Toamasina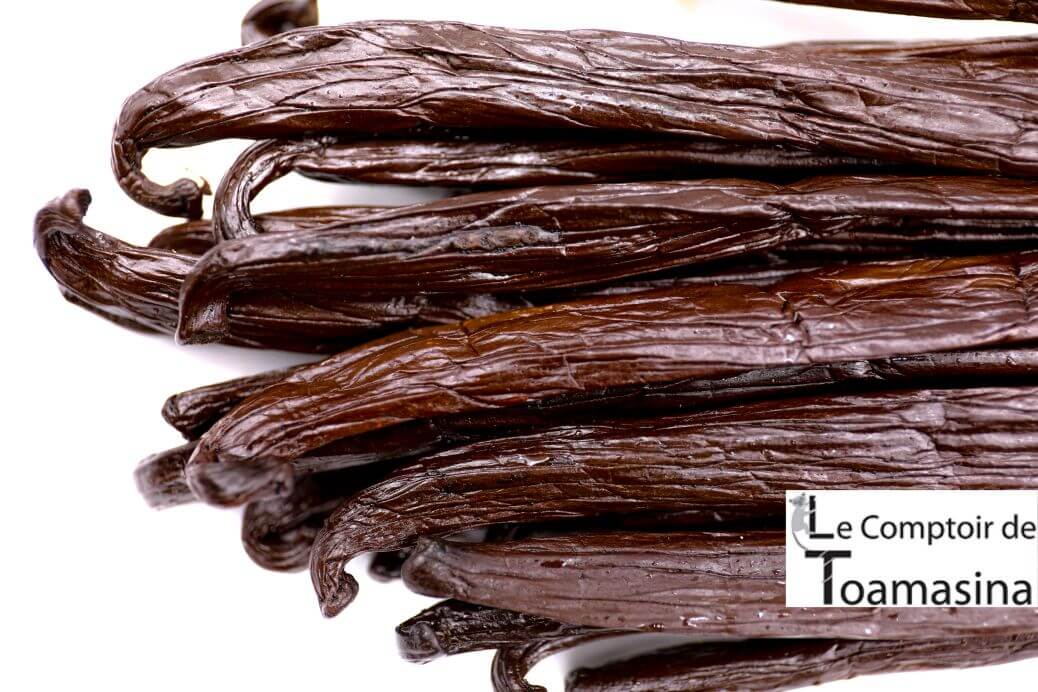 Vanilla Tahiti Raiatea is a very large vanilla from Tahiti, she is twin sister of vanilla Tahaa. It is a goldsmith vanilla, a vanilla of excellence, the queen of vanilla.
It takes all the ancestral know-how of the Tahitian planters of the island of Raiatea and the preparers of Raiatea to make a vanilla of luxury, a vanilla of Tahiti with rich and complex flavors. This vanilla bean is extraordinary first of all for its Tahitian tree different from the simple planifolia tree or AOC Bourbon. It offers an aniseed aroma and prunes naturally and intense floral notes.
This vanilla is dried at first on the tree, a method totally the opposite of most vanilla in the world.
Tahitian vanilla with its exceptional climate offers an ideal pod for cold preparations such as fresh creams, puddings, fruit salads and fruit jam.
Buy and Sell Vanilla Raiatea from Tahiti Cheap Economy Pack
Our Vanilla Raiatea tahitian beans are a marvel for gourmet restaurateurs and pastry chefs.
If you love pastry programs like Master Chef, the best pastry chef and want to buy the same products of excellence then come and buy vanilla at Comptoir de Toamasina.
This empress of Tahiti gives a delicately fruity and sweet bouquet that will continue with floral notes. A flight of extreme flavor.
The vanilla pod of Tahiti Raiatea is very aromatic and very oily. It will release a note of anise and prune with a base note of vanilla very floral. Its scent will be very long in the mouth.
Taste the Difference, Buy Excellence at Comptoir de Toamasina
Product Description:
Product : 250g Tahitian vanilla bean Raiatea – Tahiti
Name : Premium
Type : Tahitian vanilla bean Raiatea – Tahiti Premium
Quality : Gourmet-Premium
Size : 5,1 to 5,5 inches
Weight : 0,14 to 0,24 oz
Origin : Tahiti Raiatea
Features : High quality product. Vanilla bean is very oily and shiny with exiting perfume. The flavour is rich, unctuous and floral. It gives off a plum and anise aroma. Our vanilla bean from Tahiti is very strong and the taste lingers for a long time in your mouth.
Preservation of Tahiti vanilla bean Raiatea
To keep Tahiti Raiatea vanilla bean in a bag, box or bottle in the best conditions, Comptoir de Toamasina recommends that you store the extract away from light and any temperature shock.
Customers who bought this product also bought: