10 Vanilla Pods Tahiti Raiatea
Vanilla Tahiti Raiatea with a length of 13 to 15cm. Tahitian vanilla will be characterized by a vanilla bean very oily, oily with a beautiful wrinkled robe. Vanilla is very bright with an extraordinary scent, a taste of prunes and aniseed that gives way to a very flowery aromatic bouquet and suave.
Main notes: anise and prunes which gives way to a taste of floral vanilla.
Aromatic: The star of pastry. A vanilla pod with an intense fragrance of gourmet vanilla, the most intense of vanilla
Quality: Gourmet - Extra
Category: Grand Cru
The vanilla pod of Tahiti, of vanilla tahitensis variety offers notes of flowers of the islands. Ideal for creative cuisine with its magical aromatic bouquet.
Tahitian Vanilla Bean
He's the pastry star. Tahiti vanilla from Raiatea Island will transform your recipe into creative cuisine conducive to travel and escape.
The vanilla pod from Tahiti is an invitation to travel. Like a Grand Cru wine, this vanilla has notes of nobility.
Discover our travel report in Jalapao.
Buy a vanilla pod from Tahiti in a box that contains 10 Raiatea vanilla. A vanilla of excellence.

Good to know: You need 1/3 of vanilla from Tahiti Raiatea to find the taste of a 

vanilla pod from Madagascar

in your preparations.
Comptoir de Toamasina invites you to touch excellence with excellence Tahiti Raiatea vanilla. This Tahitian vanilla Raiatea is unique, it offers a beautiful vanilla pod, very fleshy, supple, mellow and which gives way at first to a scent of prunes and anise to extend on a very aromatic bouquet very rich with fruity, suave notes that will continue on the palate with floral notes. An empress of vanilla that will do wonders in your desserts.
You are about to buy the Top of the Range Vanilla. The best vanilla in the world.
We tell you everything about Tahiti Raiatea vanilla
Discover Tahiti Raiatea vanilla and buy the best Tahitian vanilla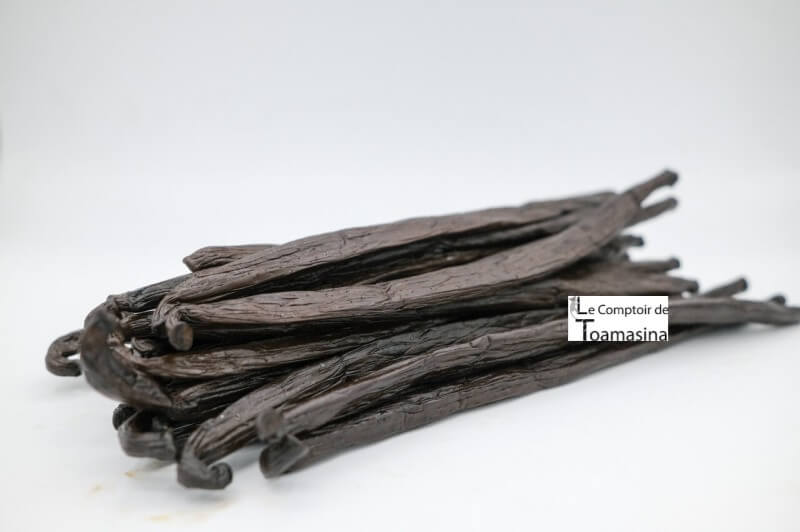 The vanilla of Tahiti Raiatea is a very large vanilla of Tahiti, a vanilla of goldsmith, a vanilla of excellence, the empress of vanilla. It takes all the know-how of Tahitian planters from Raiatea Island and Raiatea preparers to make it a luxury vanilla, excellence, a premium vanilla. This raiatea vanilla pod is extraordinary first of all for its Tahitian foot different from the simple planifolia or AOC Bourbon foot. It offers an aniseed aroma and naturally prunes. This vanilla is first dried on the stem, a method completely unlike most vanilla in the world.
Thanks to the exceptional climate, Tahiti vanilla provides an ideal pod for cold preparations such as fresh creams, custards, fruit salads and fruit soups.
Tahitian Vanilla Raiatea in Box
Our Tahitian Raiatea Vanilla pods are a marvel for gourmet restaurateurs and pastry chefs. They all offer a delicately fruity and suave bouquet that will continue with floral notes. A surge of extreme flavor.
This Tahitian Raiatea vanilla pod is very aromatic and very oily. It will release a note of anise and prune with a base note of very floral vanilla. Its scent will be very long in the mouth.
Taste the difference, buy excellence at Comptoir de Toamasina
We only sell the best spices in the world and we produce in Minas Gerais
Product Description
Products: Tahitian Vanilla Raiatea
Type of Vanilla: Vanilla Tahiti Extra, Gourmet,
Quality: Gourmet - Extra
Size: 15 to 18cm
Box: 10 pods
Pod weight: between 4g and 7g
Origin: Tahiti Raiatea
Characteristic: Product of exceptional quality. Very oily and oily vanilla pod, a beautiful wrinkled robe, very shiny with an intoxicating scent. With an aroma of prunes and anise which gives way to a very rich aromatic bouquet with fruity, very sweet and floral notes that persist on the palate. Vanilla with a very long finish.
Find out how to store vanilla at home
To keep the vanilla pod of Tahiti Raiatea in a sachet, box or bottle in the best conditions, the Comptoir de Toamasina recommends that you store the extract protected from light and any temperature shock. Did you know that you can keep it in your wine cellar.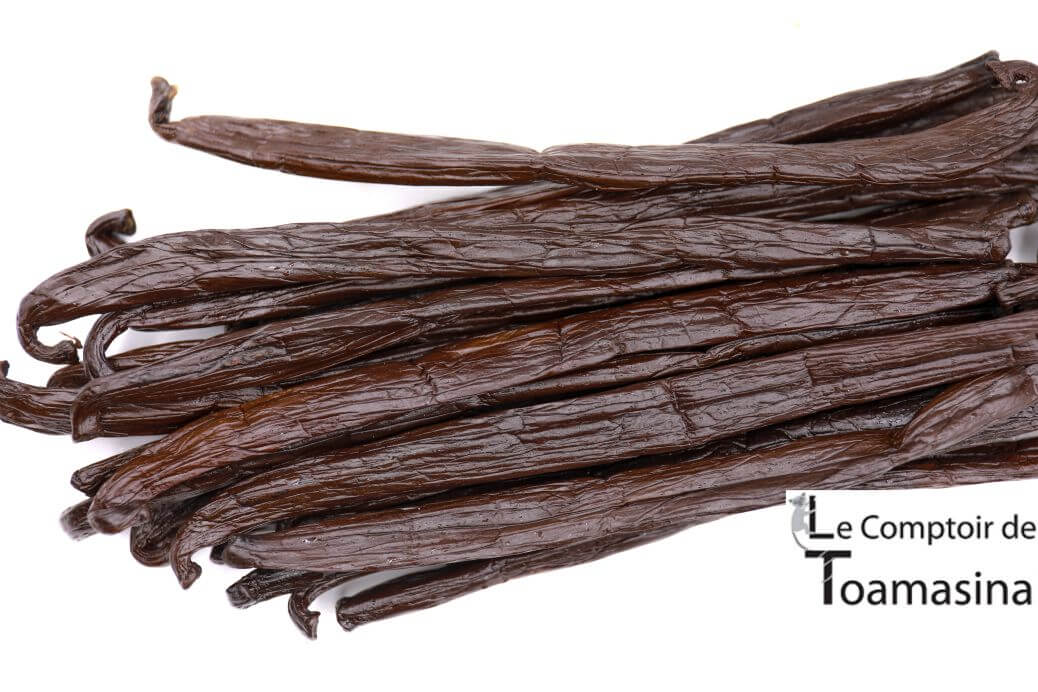 Customers who bought this product also bought: