50 Tonka Beans From Amazon
The authentic Tonka bean comes from Brazil, it gives a fragrance with notes of almond, vanilla, caramel and cinnamon. It is an incomparable fruit. Its taste is warm and delicious with a slight bitterness close to cocoa.
It can be gently infused in milk for pastries, but it can be used in salty cooking.
Resealable bag: 50 whole Tonka beans
Bean power: 9/10
Main notes: Almond, caramel, vanilla, cinnamon and tobacco
Use: Savory and sweet cooking
Dosage: Grate the bean until you get the power you want
Origin and plantation: Brazil, Amazonas state harvested by the indigenous population and Para rural producer
Buy 50 tonka beans from Brazil, a wonderful, tasty spice. Come and find out all about the taste of tonka bean.
50 Tonka Beans Pará
Le Comptoir de Toamasina is the specialist in vanilla pod and tonka bean since 2016. We are importer and exporter of tonka bean from Brazil.
We suggest you buy a unique tonka bean. Buy the best quality tonka bean at the best price. You will find all the tips for using it.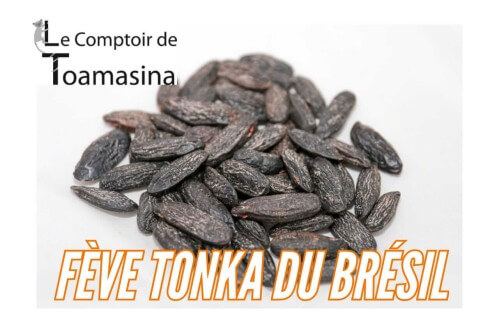 50 Tonka Beans, Best quality direct from the producer
This is where you will buy high quality tonka beans directly from producer to consumer.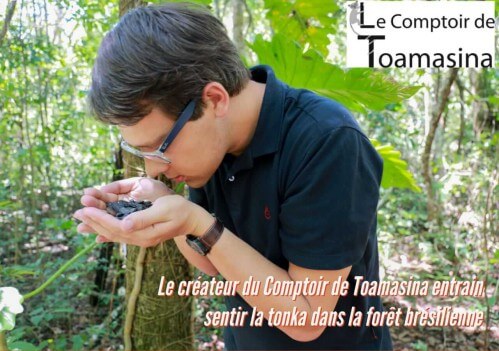 Comptoir de Toamasina is a company that has had a subsidiary in Brazil since August 2015. The vocation of Comptoir de Toamasina, from its beginnings, is to market products with the most direct supply chain possible. The company is still family owned, Arnaud Sion manages the subsidiary in Brazil and Danielle Sion the Comptoir de Toamasina in France.
In February 2016, we decided to extend our range of products, Arnaud Sion went to meet Brazilian producers in Para, Minas Gerais, Bahia, Sao Paulo in order to discover new products. In November we make our first import of Brazilian products and of course the tonka bean. We are proud to present the Tonka Bean from Para, the best Tonka Bean in the world. So don't wait any longer, come and get to know and buy our whole, high-end tonka bean.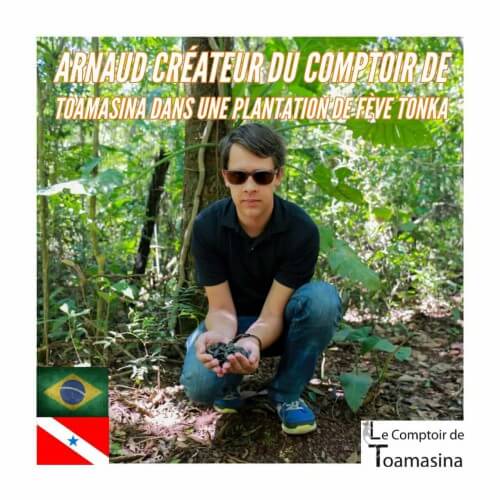 The names of the tonka bean in the world
In Brazil it is called Fava cumaru or fava Tonka, it also bears the name of Tonka bean (Dipteryx odorata) ou Tonka bean, Tonkaboon, Tonkabohne, Tonkowiec wonny, cumaruzeiro, Sarrapia ou Haba tonca, Боб тонка, トンカビーンズ.
Tonka bean origin, history and taste
The tonka bean is a black seed that comes from Brazilian Teak, it is a gigantic tree from the Amazon that will reach 30m high and will live more than 1000 years. It is a spice which is produced only in South America, Venezuela, Guyana and especially in Brazil more particularly in the State of Pará.
It is in the state of Pará in Brazil where you can buy the best tonka beans in the world. Le Comptoir de Toamasina is the only importer in France working directly with Tonka bean producers in Brazil. Each year Arnaud Sion travels to Pará to discover the best tonka beans and other natural products from this state.
You should know that two tonka beans will be enclosed in the orange fruit of teak. The fruit will look like a mango. During the harvest, the seed is red, we will let it dry for about a year before obtaining the famous black seeds. They are the size of a large almond. The word tonka designates the fruit of Brazilian teak, in the Tupi language. Tupis are an Indian tribe in the Brazilian Amazon. More particular in the State of Amazon and that of Pará.
The flavor and taste of the Tonka bean, an exceptional fragrance
The taste, the flavor of the tonka bean is complex, it is completely unique. It has a natural taste of chocolate, caramel, vanilla, almond and cinnamon. You understand why the tonka bean is a product widely used in the perfume industry.
Tonka bean is a rare spice, that's why its price is high.
Product Description
Product: Tonka bean from Pará in Brazil
Packaging in resealable bag: 50 Tonka beans
Feature: Almond, vanilla, caramel and cinnamon notes
Provenance: Brazil from the State of Pará and Amazonas
How to use Tonka Bean in everyday cooking?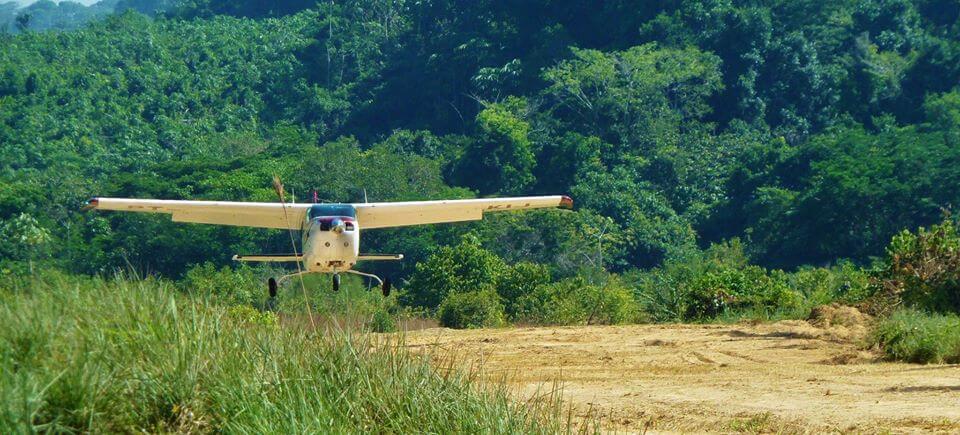 Tonka bean in pastries or sweet cuisine
To use the Tonka bean in desserts, in savory cooking, we advise you to grate or grind it at the last moment in order to preserve all its flavors.
Tonka bean has a very pronounced taste, so it must be used with great care, so do not hesitate to put it in a small dose, then readjust it afterwards. You can also let it infuse so that the scent diffuses.
The Tonka bean can easily replace Madagascar vanilla.
The Tonka spice will go very easily with chocolate, you will be able to make chocolate mousse, creams, cakes, truffles, chocolate pie.
Tonka bean works wonderfully with creams, crème brûlée, custard or vanilla cream
Tonka bean will be used very well in pancake dough, waffle dough, pie dough. You can also use it with fruit salads, compote and baked apple.
The tonka bean goes wonderfully with creams, whether it is crème brûlée, buttercream, custard, vanilla cream, etc.
Tonka bean in salty cuisine
Why not use the tonka bean in savory cooking. It goes wonderfully with scallops, lobsters, shrimps.
Do not hesitate to add it to your soups, soups or simply a velouté. But the Tonka sweet potato or pumpkin association is magnificent.
You can also make an arranged rum with Tonka bean.
You want to make a flavoring sugar, you can use 500g of powdered sugar for 2 Tonka beans.
Customers who bought this product also bought: