Tonka Bean From Amazon - 50g
The Tonka bean is originally from Brazil, it gives a fragrance with notes of almond, vanilla, caramel and cinnamon. It is an incomparable fruit. Its taste is warm and delicious with a slight bitterness close to cocoa.
It can be gently infused in milk for pastries, but it can be used on veal like grilled shrimp.
50g bottle
Bean power: 9/10
Main notes: Almond, caramel, vanilla, cinnamon and tobacco
Use: Savory and sweet cooking
Dosage: Grate the bean until you get the power you want
Origin and plantation: Brazil, Amazonas state harvested by the indigenous population and Para rural producer
Tonka bean or coumarou is the fruit of Brazilian teak. Buy the new pastry star. A top spice.
Tonka Bean Pará 50g
Brésil
Au Brésil on l'appelle fava de cumaru, elle provient du coumarou un arbre gigantesque qui peut atteindre 30 métres de haut. Cet arbre est indispensable pour le poumon vert de la terre qui est l'Amazonie. 
Il faut un an pour pouvoir faire une fève de Tonka, quand l'arbre produit ses fruits oranges dont la forme rappelle celle d'une grosse mangue, a l'intérieur se cache des graines rouges de la taille d'une amande qui sont séchées pendant près d'une année, puis immergées dans l'alcoll fort pendant 24h00. Après ce long processus, ells sont séchées de nouveau et devienne alors noires et fripées. 
Ses arômes d'amande douce et de vanille, de caramel, de café pour certains, sont une finesse incroyable. Son goût est chaud et gourmand avec une légère amertume proche du cacao. 
La fève de tonka va s'utiliser rapée, dans les compotes, les desserts crémeux, avec le chocolat, dans les potages et potimmarons. 
It is said that eating well is the beginning of happiness. So create creative cuisine and take up the saying eating well is the beginning of Happiness, we suggest you buy online the best tonka bean in Brazil.
The tonka bean that Arnaud selects is wonderful.
You will discover a tonka bean with natural notes of almond, caramel, cinnamon and vanilla.
The taste of tonka bean in pastry is simply magnificent.
It is a unique scent that is warm and powerful. Ideal for savory and sweet cuisine.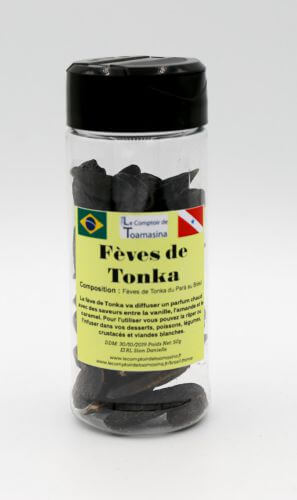 TONKA BEANS FROM AMAZON - BRAZIL
The creator of Comptoir de Toamasina after discovering the best plantations of vanilla pods went in search of a plantation of tonka bean.
We offer a tonka bean with the intensity of the almond, hints of caramel, tobacco and the sweetness and sweetness of the vanilla pod.
To know the taste of the tonka bean, you will have to grate your tonka beans, to infuse it in your sweet and savory dishes. The second name cumaru in Brazil will sublimate your creams, syrups, rum, confectioners and all of your creative cuisine.
Buy and sell tonka bean online at Pastry at the best price per kilo
It is here at the Comptoir de Toamasina that you will buy the best tonka bean from Brazil at the best price per kilo. Discover the original tonka bean.
QU'EST CE QUE LA FÈVE TONKA ?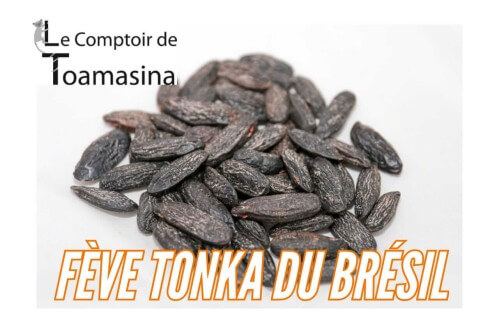 In Brazil it is called fava de cumaru, it also bears the name of fève Tonka (Dipteryx odorata) ou Tonka bean, Tonkaboon, Tonkabohne, Tonkowiec wonny, cumaruzeiro, Sarrapia ou Haba tonca, Боб тонка, トンカビーンズ.
Brazilian Teak - The tree that produces the tonka bean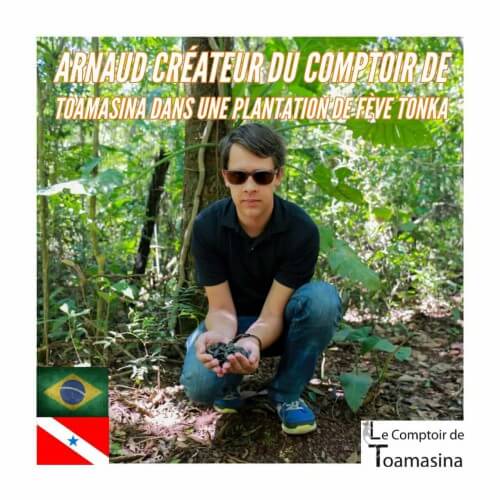 The tonka bean is a black seed that comes from Brazilian Teak, it is a gigantic tree from the Amazon that will reach 30m high and will live more than 1000 years. It is a spice which is produced only in South America, Venezuela, Guyana and especially in Brazil more particularly in the State of Pará.
The best tonka beans in the world are produced in the state of Pará. Le Comptoir de Toamasina is the only direct importer with producers of Tonka beans in Brazil in France. Each year Arnaud Sion goes to Pará to discover the best tonka beans and other natural products from this State.
You should know that two tonka beans will be enclosed in the orange fruit of teak. The fruit will look like a mango. During the harvest, the seed is red, we will let it dry for about a year before obtaining the famous black seeds. They are the size of a large almond. The word tonka designates the fruit of Brazilian teak, in the Tupi language. Tupis are an Indian tribe in the Brazilian Amazon. More particular in the State of Amazon and that of Pará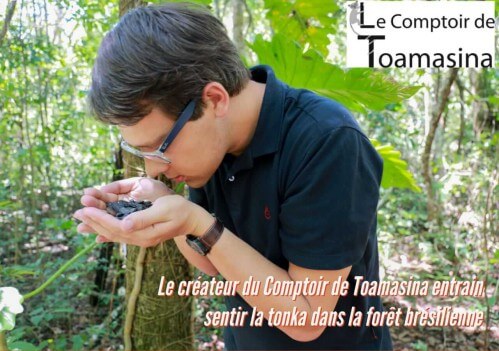 The taste, the flavor of the tonka bean is complex, it is completely unique. It has a natural taste of chocolate, caramel, vanilla, almond and cinnamon. You understand why the tonka bean is a product widely used in the perfume industry.
Tonka bean is a rare spice, that's why its price is high.
Product Description
Product: Tonka bean from Pará in Brazil
Packaging in resealable bag: 50g
Feature: Almond, vanilla, caramel and cinnamon notes
Provenance: Brazil from the State of Pará and Amazonas
USE OF TONKA BEANS IN THE KITCHEN?
The tonka will go perfectly with poultry, fish, crustaceans, seafood, chocolate desserts and creams. In Brazil it is in pastry that we like it.
The dosage is simple it's like for nutmeg, you have to rap a little bit so that the bean releases its power.
Tonka bean in sweet dishes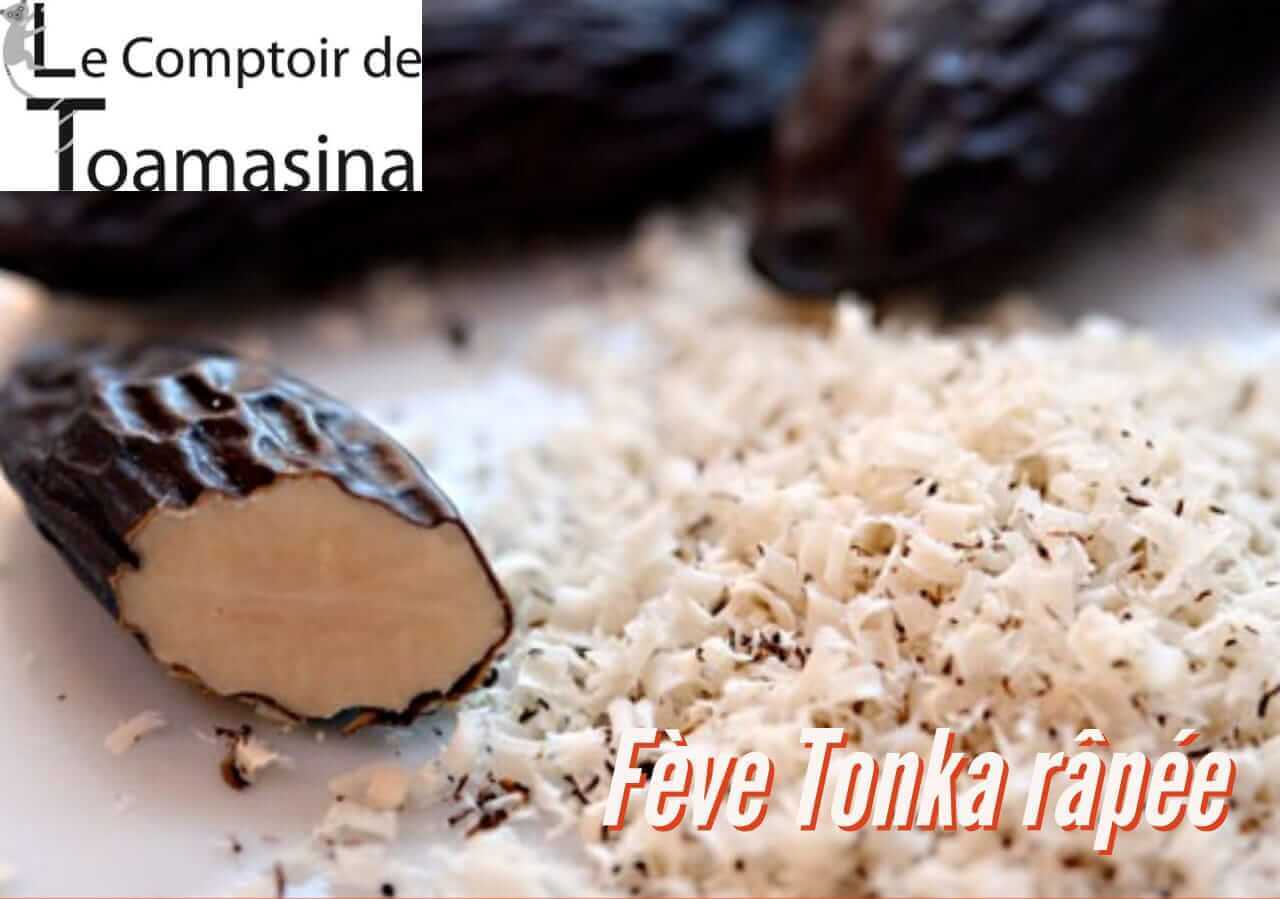 To use the Tonka bean in desserts, in savory cooking, we advise you to grate or grind it at the last moment in order to preserve all its flavors.
Tonka bean has a very pronounced taste, so it must be used with great care, so do not hesitate to put it in a small dose, then readjust it afterwards. You can also let it infuse so that the scent diffuses.
The Tonka bean can easily replace Madagascar vanilla.
The Tonka spice will go very easily with chocolate, you will be able to make chocolate mousse, creams, cakes, truffles, chocolate pie.
Tonka bean works wonderfully with creams, crème brûlée, custard or vanilla cream tonla /
Tonka bean will be used very well in pancake dough, waffle dough, pie dough. You can also use it with fruit salads, compote and baked apple.
Tonka bean is a great accompaniment to creams, whether it be crème brûlée, buttercream, custard, vanilla cream, etc.
Tonka bean in salty cuisine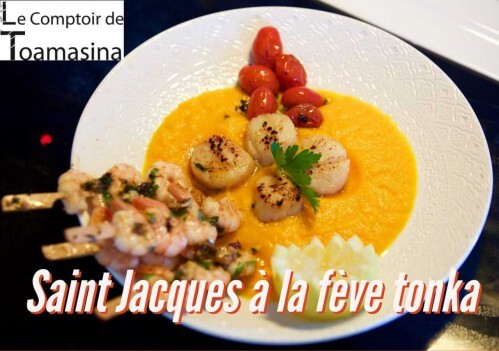 Why not use the tonka bean in savory cooking. It goes wonderfully with scallops, lobsters, shrimps.
Do not hesitate to add it to your soups, soups or simply a velouté. But the Tonka sweet potato or pumpkin association is magnificent.
You can also make an arranged rum with Tonka bean.
You want to make a flavoring sugar, you can use 500g of powdered sugar for 2 Tonka beans.
Where to find and buy the best tonka bean at the best price per kilo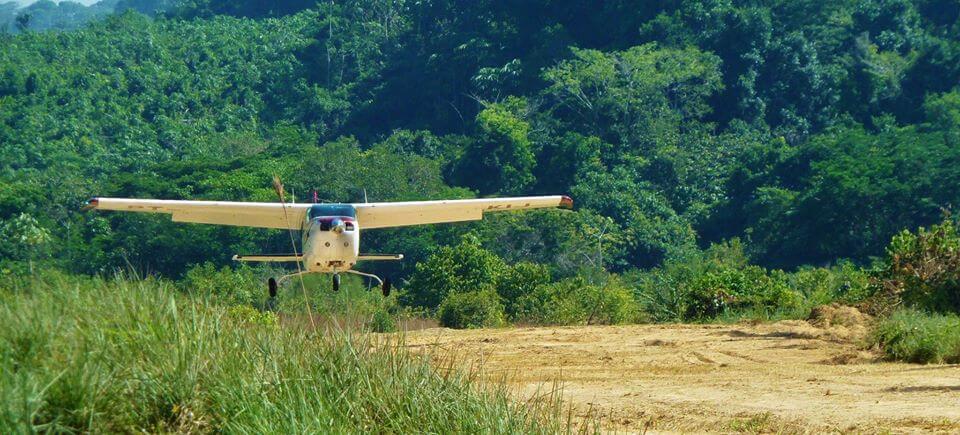 Comptoir de Toamasina sells the best tonka bean in France. We import it directly from Brazil, thanks to our local subsidiary in Brazil. We work with small producers. We buy it and sell it at the fairest price. Buy tonka bean at the best price.
Fève Tonka origine - fève tonka prix au kilo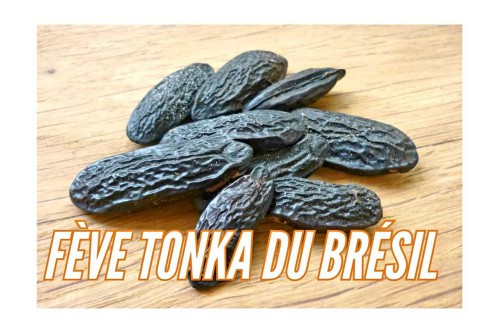 Le Comptoir de Toamasina suggests you buy a tonka bean from Brazil at the best price per kilo.
We work in partnership with rural producers in Brazil and Indians from the Amazon.
Two sources, one from agriculture in Para and the second from a tonka bean harvested by the indigenous populations of Amazonia.
Our two producers offer an incredible flavor, tonka beans from the Amazon of Brazil at the best price per kilo.
Tonka Bean Importer and Exporter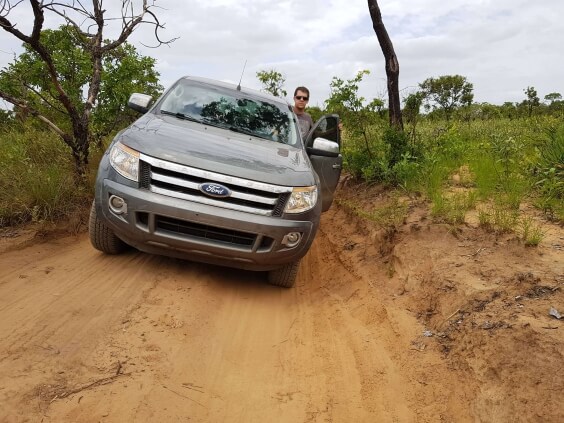 We suggest you buy tonka beans with an extraordinary taste and at the best price per kilo. A tonka bean with an origin.
At Comptoir de Toamasina, you can either buy your tonka bean directly from our Comptoir in France or simply have the tonka bean exported from our warehouse in Brazil.
From Brazil, we offer you the best price per kilo of Brazilian tonka bean.
Customers who bought this product also bought: