Sichuan Pepper is a pepper with a very special flavor and scent. Native to China, Sichuan Pepper has woody notes as a prelude and then a powerful and very warm flavor. Its scent is very lemony and a little resinous. It is a fresh, fruity and spicy pepper with a little bitterness. It is an ideal pepper to spice up both savory and sweet dishes.
Bay Power: 8/10
Main Notes: An explosion of flavors with citrus and floral notes
Use: Savory and sweet cooking
Origin: Sichuan China
Buy the best quality at the best price from Sechuan Bay (Sichuan). At Comptoir de Toamasina you go to the best Sichuan pepper and discover tasty recipes.
Discover and buy our Sichuan pepper online. It is here at Comptoir de Toamasina, Comptoir des peppres excellences that you will buy the best Sichuan pepper. You will discover, its history, tips for use and recipes. It was Marco Polo who imported this bay from China. It is a berry full of charm with its citrus notes.
Buy sichuan berry at the best price per kilo and quality
The origin of Sichuan Pepper is Central China and also Japan. It was discovered by Marco Polo in Venice in the 13th century, where it had its letters of nobility, in Venetian high society. It will disappear from European tables at the beginning of the XIX century before making its comeback at the beginning of the XXI century.
It is given the name of Clavalier pepper or Poivre-Fleur. The Sichuan pepper berry is harvested when ripe and dried in the Sun to become a reddish-brown color and are stripped of their hard and bitter seeds. The hulls are slightly crushed.
It is widely used in Tibetan, Sichuan and Japanese cuisine.
Today French cuisine mixes well with Sichuan pepper.
Did you know that we name Sichuan pepper: Szehaun, Chinese berries, flower pepper, 'Schuan, Fagara, Sichuan pepper.
This bay may be green or red.
The taste of green Sihuan Pepper
Green Sichuan pepper is a berry which will release fresh notes of eucalyptus which will mix with black lemon, combava and orange. It is a berry that will have very pronounced notes of fresh citrus. But be careful not to put too much the Zanthoxylum species to a tendency to numb the taste buds if you go too hard and you will have anesthesia of the tongue and lips.
By cons as for the red, it has a good length in the mouth.
The flavor and taste of red Sichuan pepper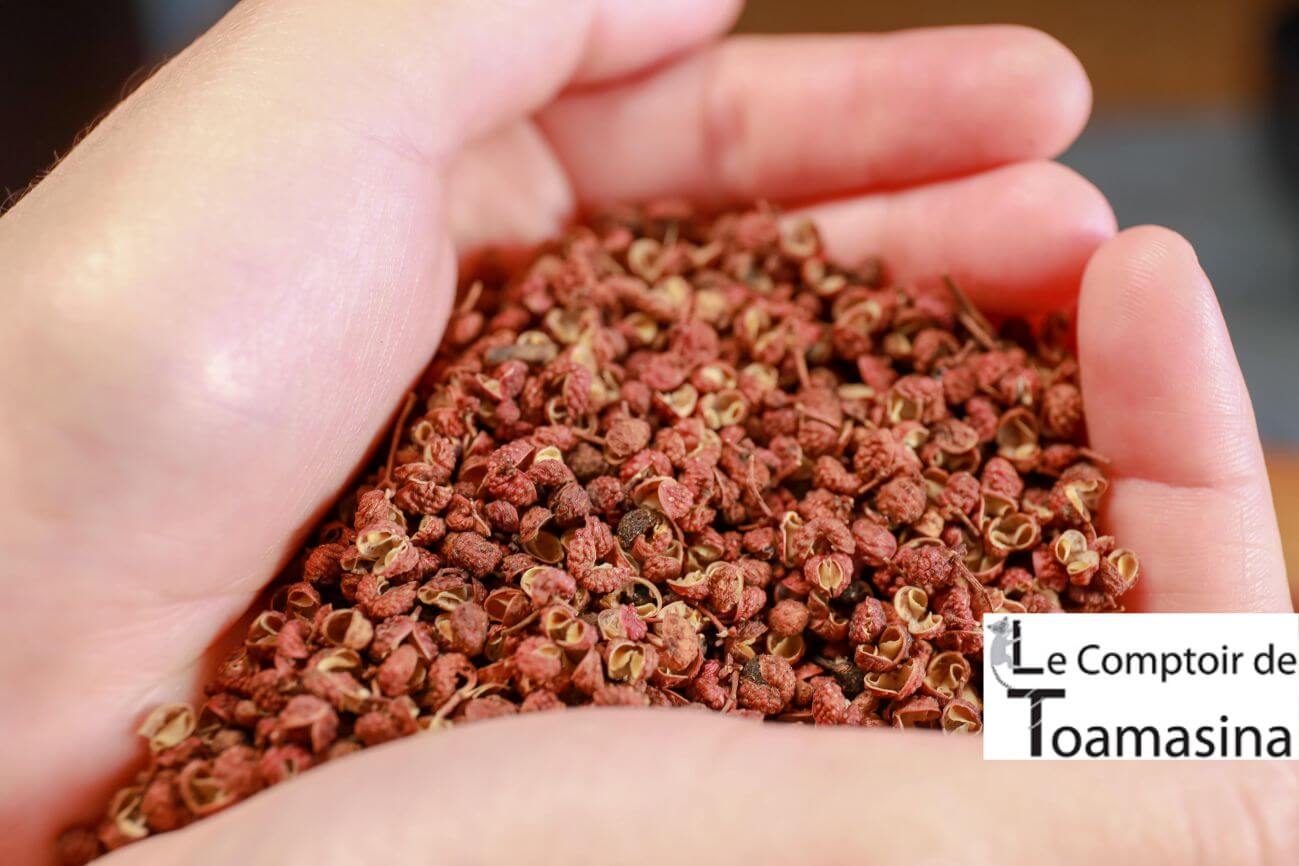 It is the most common in Sichuan Bay. On the nose it will be more subtle than the green berry. But in the mouth it is much richer.
Especially with woods (as for the wild pepper from Madagascar Voatsiperifery).
You will find an aromatic amplitude with warm, spicy and floral notes on the palate with a touch of lemon.
It has a good length in the mouth.
It will not have the same palette of citrus notes as timut pepper, but it does offer fresh notes.
Be careful, you can never put too much, otherwise it will anesthetize your mouth.
Sichuan Bay a Rare Pepper
Despite its name, Sichuan pepper is a berry. You should know that this is an abuse of language. Only the peper Nigrum can have the name pepper.
But in common usage we will use the term sichuan pepper.
Sichuan Bay comes from the southwest of China.
It is a rare pepper and a rare spice.
The bay is named after the province where it came from.
The history of Sichuan Bay
You should know that Sichuan pepper was reserved for the Chinese emperor in the 8th century. You should know that the emperor infused it in his tea.
The second name is Szechuan pepper.
It arrived in Europe in the 13th century, but it will disappear from our kitchens in the 19th century.
You should know that today it is making a comeback for creative cuisine.
It is a pepper that is rich in taste and aroma.
Did you know that Sichuan is one of the 5 Chinese spices: Anise, ginger, cinnamon, cloves and Sichuan pepper.
When is Sichuan pepper harvested
Sichuan berry is harvested from September to December.
There are two versions of this Sichuan berry:
The difference between the two is the degree of maturity.
The green is picked before full maturity.
While the red is fully ripe.
It is a woody and floral pepper.
Sichuan is matured for 2 months in a dark room. It is often in the attics that we will let it improve.
After one or two months of ripening in the producers's granaries, they will be transported to the nearest village.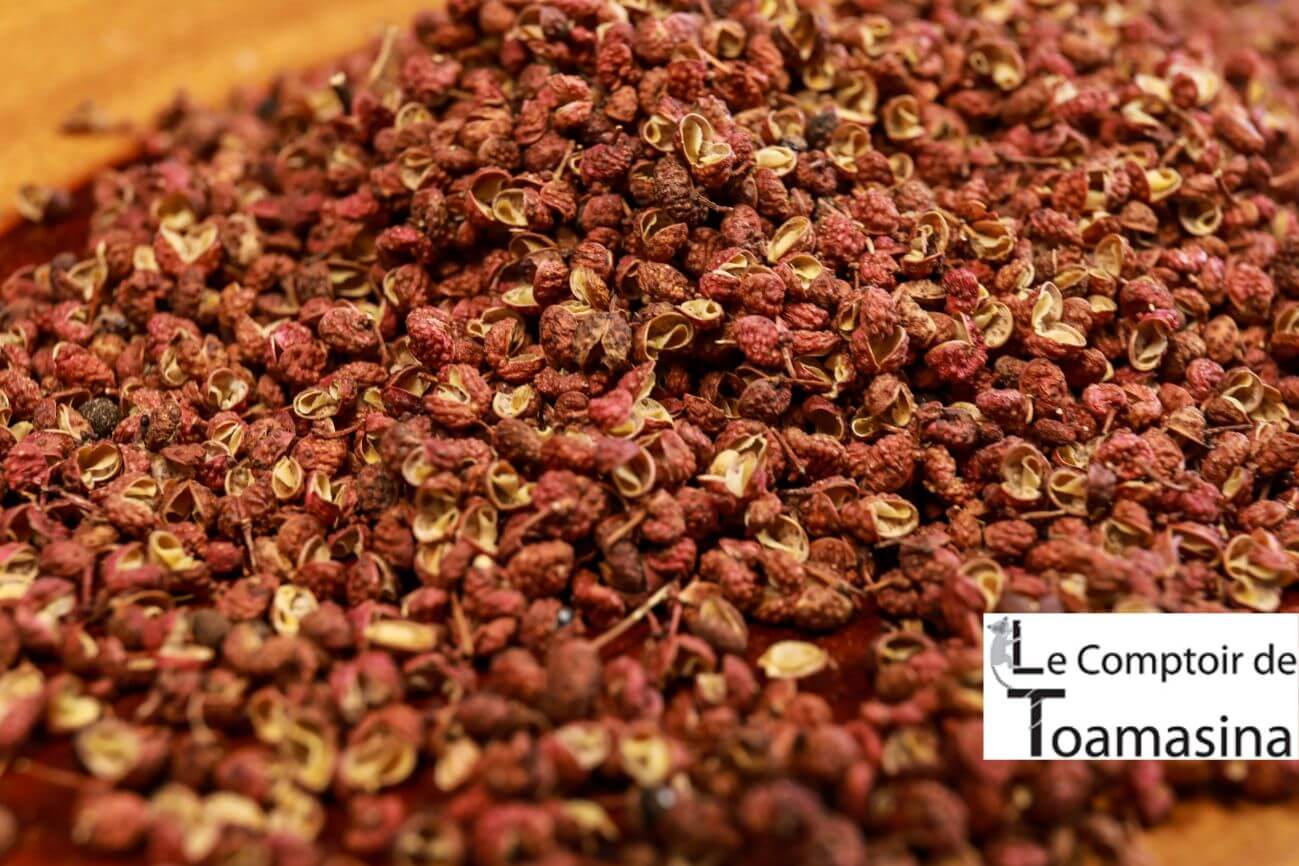 The Taste of Sichuan Pepper where the Sichuan Berry Flavor is very surprising on the palate. You will discover a fresh and slightly peppery berry to finish on a lemon note.
Be careful never to put too much Sichuan pepper, because it has a natural anesthetic effect.
It is a Bay to use sparingly in order to have the best dining experience.
Description
Product: Sichuan Pepper
Packaging Bottle of: 20g
Characteristic: A surprising character with a fresh and slightly peppery berry to finish on a lemon note
Origin: China
Other packaging available: 150g resealable bag, 500g vacuum bag
How to use Sichuan pepper in cooking?
It has a very vegetable flavor, we find notes of Combava and leaves a nice length on the palate.
It is very good to combine it with black pepper from Madagascar.
Good to know about using Sichuan Bay:
Always use Sichuan pepper at the end of your cooking so as not to alter its taste.
Did you know that you can lightly roast in the pan before using it.
As always, it must be ground, crushed with a pestle.
It is a sublime pepper which can sublimate your meat, fish and vegetable dishes.
It is a bay which is very versatile in cooking.
Do not hesitate to add to your soups.
The best recipes with sichuan pepper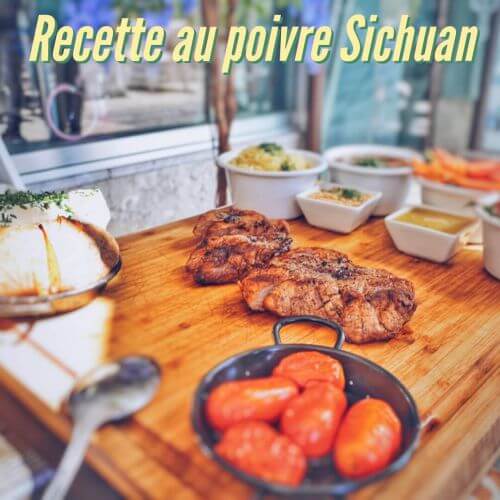 Sichuan pepper - Purchase, sale, use and recipes
Buy Sichuan Pepper (Xanthoxylum piperitum) ou poivrier de Sichuan, Sansyo, Clavalier, sansho, sansô, fagara, Sichuan pepper, Szechuan pepper, Anispfeffer, Pimienta de anis, Pimienta de Sichuan, pimenta de sichuan, pepe di Sichuan, перец Сычуань, sichuan πιπέρι, Sichuan 고추, 狡猾, 川椒, 胡椒, au Comptoir de Toamasina. 
Customers who bought this product also bought: