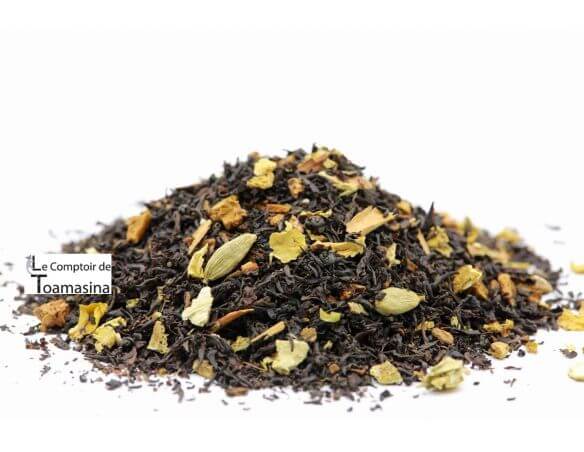 Black Tea Carioca (Ginger Orange Mango)
Carioca Black Tea is delicately scented with spices and exotic fruits from Rio de Janeiro. A tea that will remind you of the beaches of Copacabana, its palm trees, the tropical sun and the rhythm of Samba. A Tea to spend a hot afternoon under the Carioca Sun
Power of scented black tea: 8/10
Main notes: the spiciness of ginger with the sweetness of mango and orange
To savor: In the morning and after the lunch
Treat yourself to a delicious black tea with ginger, mango and orange. A fragrant black tea which is ideal for waking up in the morning and being in good shape.
Black Tea Carioca (Ginger Orange Mango)
Discover our black Carioca tea, the whole atmosphere of Cidade Maravilhosa in a cup of tea.
Le Comptoir de Toamasina en Comptoir of scented teas, you offer blends that inspire travel and escape.
Buy at the best price, a flavored black tea with notes of ginger, mango and orange.
Black Tea Ginger Mango Orange - Flavored Black Tea
Rio de Janeiro, its Copacabana beach, its palm trees, its blazing sun, its samba, its carnival ... It is impossible not to wave your hips!
Thanks to our black tea with exotic fruity notes and delicately spiced, you will be contaminated by this irresistible carioca euphoria.
Black tea swirls in its coppery color and carries the carioca orange, mango and ginger on frenzied rhythms.
A hot afternoon under the Carioca Sun
Product: Carioca Black Tea
Composition: Black Tea and Green Tea from China and Black Tea from Kerala, ginger, orange peel, mango, natural flavor, rose petals, mango, cardamom, blueberry flowers, pink pepper, cloves
Packaging: Resealable Sachet and Box
Quantity: 70 or 100g
Infusion: 12g per liter for 3 to 5 minutes
What is Carioca flavored tea
Carioca Black Tea is an inspiration that comes straight from Copacabana and the markets of Rio de Janeiro.
During our travels in Rio de Janeiro, we are always amazed by the scents and colors that live from the fruits.
For this creation of black tea we decided to combine the carioca orange with tommy mango and ginger.
Orange and mango are the two fruits that we see most often and in large quantities on the stalls, we decided to add ginger in order to give a frenzied rhythm to our creation of Carioca Tea.
Buy a flavored tea: fruity, gourmet or spicy
Did you know that we have been drinking tea for over 4,500 years? And it is in China, the cradle of tea production, that it all begins.
You should know that tea arrived in Europe in the 17th century.
It is good to know that green tea and black tea are obtained from the same Camellia sinensis plants.
After harvesting the tea leaves, the leaves will be steamed and then dried. (Method for green tea).
Perfumed Black Tea online store
Sale of flavored black tea
Le Comptoir de Toamasina is the sale of Artisanally Scented Black Tea. We create our original creations to satisfy all of our customers. All of our fragrant Black and Green Tea creations are made with 100% natural products, from reasoned agriculture and as close as possible to producers, when we are not producers.
Come buy and discover exceptional teas at the Comptoir de Toamasina. Le Comptoir de Toamasina is the sale of 100% natural flavored teas.
Customers who bought this product also bought: