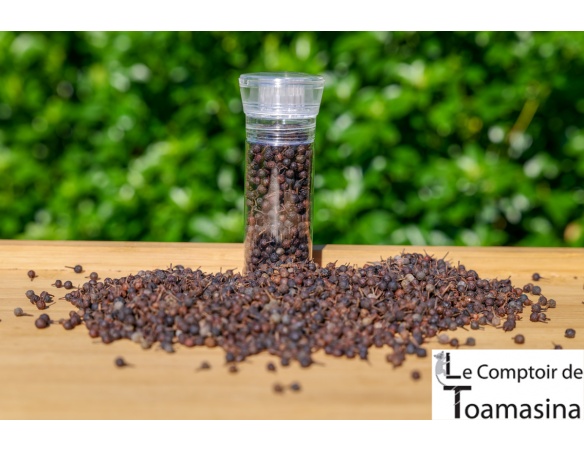 Cubebe Pepper (Tailed Pepper)
Cubed pepper with a fresh aroma and at the same time minty. Cubèbe Pepper is an excellent pepper, a gourmet pepper. The Cuban Pepper or Pepper with tail is very tasty with tasty notes and with a taste of fresh mint naturally. It is an ideal pepper to sprinkle with cavaillon melons.
Pepper power: 4/10
Main Notes: Menthol and Eucalyptus Notes
Use: Salad, dessert and Asian cuisine
Origin: South India and Indonesia
Discover the cubèbe pepper, pepper with tail which will make your food travel in a creative kitchen with its unique notes. A rare pepper. Buy cubèbe at the best in our pepper counter.
Cubebe Pepper (Tailed Pepper)
Our Comptoir offers you to buy cubèbe pepper, pepper to tail. Discover and make the purchase of cubèbe know its history, the use in a creative kitchen and buy it at the best price per kilo.
The pepper with tail will come from the island of java like the long pepper, it is subtle with a little bitterness and notes of mint.
It is a pepper that does not sting and does wonders in Asian cuisine.
The history of Cuban pepper
It is simply the fruit of a climbing and perennial plant of the Piperaceae family, native to the Indonesian islands, Java, Sumatra and India.
It is a pepper which is also cultivated in Sri Lanka. It is often grown in the middle of coffee plantations.
Cubebe pepper is harvested green before maturity and then the seeds of Cubebe pepper are dried in the sun which will give its dark color.
The use of the piper cubeba its scientific name has been known since the dawn of time in China. We do not hesitate to use it especially for its benefits on respiratory problems in traditional Chinese medicine.
It was the Arabs who imported Cube pepper into Europe in the Middle Ages.
It is a pepper which will become very rare in the 17th century, because the king of Portugal who will reign in putting on the road of peppers will ban it to favor black pepper.
It was first found in Europe in the 19th century and very little known today, the tail pepper still widely used in the Maghreb.
It should not be called pepper, which is a designation reserved for the Piper Negrum family, but it is commonly accepted to extend the term to other members of the piper such as cubèbe, a long java pepper. To find out more about pepper, see our article on pepper: "Peppers - from its history to its harvest".
what is cubèbe - tailed pepper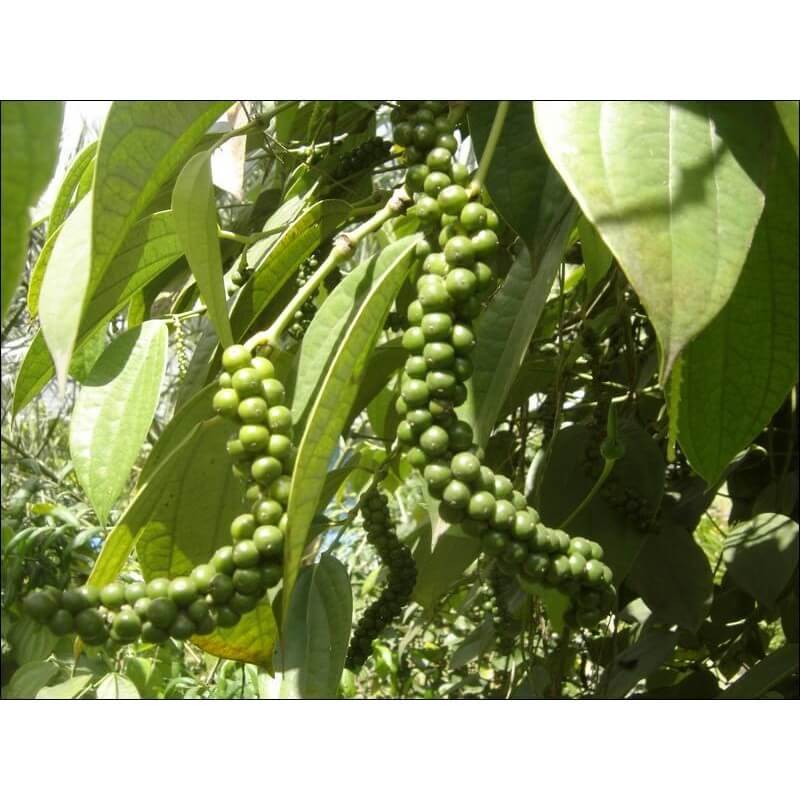 You should know that Cuban pepper is a very rare pepper that comes from Indonesia or southern India.
It is totally different from other peppers with its fresh notes, its own mint flavor and its small tail.
Cubèbe pepper is ideal to accompany braised endives, a fish or a cavaillon melon. It will perfectly enhance your citrus sorbets or even red fruit sorbets, all your chocolate-based preparations and, of course, all of your Asian recipes.
Atypical pepper there is a curiosity at each meeting.
Prouct Description
Product: Cubebe pepper or tail pepper
Packaging in bottle and sachet per gram and kilo
Characteristic: It is spicy with a mint note and a touch of bitterness
Origin: India / Kerala, Ceylon, Indonesia
Other packaging available: Cubed pepper in mill
How to use cubèbe in cooking?
The tailed pepper owes its name to the small tail attached to its seed. Be careful, it should not be confused with wild pepper from Madagascar.
Cubebe pepper can be used in crushed, ground or whole grain.
Like the vast majority of peppers, Cuban pepper can be used in savory or sweet cooking.
It is a pepper that is used in a salty, sweet marinade, sprinkle on an ostrich steak, smoked salmon, Indonesian cuisine as well as in dishes with rice.
Compared to the other peppers, the pepper with cubed tail will sprinkle at the end of cooking see on the plate directly.
Be careful, pepper can turn to bitterness if it is heated too long.
Tasting of Cuban pepper in the kitchen
When you go to taste the Cuban pepper, you will discover a fairly hot pepper with a long finish and notes of mint.
Bitterness in cooking today
Today bitter is a flavor that many can no longer love. It is absent from our daily diet.
The sugar we use in many dishes will soften the preparation. What will not hurt the taste buds.
But the bitter is delicious if it is well balanced. A few bitterness notes in a savory or sweet recipe is a sign that our gastronomy is delicious.
The note of bitterness in a dish or a dessert, is the note which will give relief to the flavors, and which will enhance all the other final flavors of the dish
The bitter we will find today in: chocolate, coffee, beer, following the slightly prolonged cooking of the sugar where we will get a bitter caramel. We also find a superb example of bitterness much appreciated in our Bitter Orange Bark powder from Bigaradier, and in our Cubèbe peppercorns.
Pepper-tailed pepper is subtle, incredibly fresh and has a powerful and intense fragrance.
It hardly stings on the palate.
It has a light and subtle aftertaste of cloves or even mint.
It is an essential pepper in Asian cuisines.
It is a spice that is often used with cottage cheese and eggs.
The flavor of cubèbe goes perfectly with all meat dishes (especially game), but also vegetables.
Do not hesitate to put it in fruit.
des idées recettes avec le poivre cubèbe
how to store cubed pepper
To keep the Cuban or tail pepper in the best conditions, the Comptoir de Toamasina recommends that you store protected from light and any temperature shock.
Where to Find and Buy Cubed Pepper
It is at Comptoir de Toamasina that you will look for the best Cuban pepper at the best value for money.
Buy a Cuban pepper with incredible flavors and a chef.
At the Comptoir it is the purchase and sale of the best Cuban pepper.
The virtues of Cuban pepper
Here are some good reasons to use Cubed Peppercorns.
In addition to its taste properties, cubed pepper has virtues.
Cubèbe has invigorating virtues, whets appetite, promotes digestion and is rich in mineral salt.
If you want to know everything about Cuban pepper, do not hesitate to consult a homeopathic doctor.
Customers who bought this product also bought: