100 Madagascar's Bourbon Vanilla Beans
100 Bourbon Vanilla beans from Madagascar, gourmet quality or quality extra, in sachet.
The Bourbon Vanilla beans from Madagascar are shiny, flexible, black, fleshy, fragrant, fluffy and smooth-skinned. This vanilla has notes of caramel and chocolate
Vanilla from Madagascar Harvest 2022 - 2023
Main notes:

 cocoa with a long taste of vanilla in the mouth

Size:

 14 to 16cm 

Aromatic: A grandiose vanilla bean. 

Respect for traditional Malagasy ripening. 

The most intense bourbon vanilla pod from Madagascar. 

Discover a vanilla that is off the beaten track with the report by 

Thalassa
Le Comptoir de Toamasina selects for the most beautiful bourbon vanilla pods from Madagascar, in our packaging, find our best value for money, of this prestigious vanilla .
Bourbon vanilla from Madagascar
100 BOURBON VANILLA BEANS FROM MADAGASCAR - THE BEST QUALITY AT THE BEST PRICE
Discover the 100 bourbon vanilla pods from Madagascar from Comptoir de Toamasina, the French vanilla pod specialist since 2010.
When you receive your packet of vanilla, think for a moment to open it to discover this exceptional spice that will enhance your dishes.
Immerse your nose in your vanilla bundle which will deliver a delicious vanilla scent with its touch of cocoa, specific to Madagascan vanilla.
And what about this magnificent black vanilla, shiny and overflowing with seeds. It's a superb vanilla.
We don't practice Pyrrhic victory with promotions that entice you to buy, but constant prices throughout the year.
The price of Comptoir de Toamasina vanilla is fair and represents our work. Because having your vanilla plantation, your pick-up and traveling to the plantations in Brazil represents a cost.
Our Madagascar vanilla is the most intense of Bourbon vanilla pods. The ultimate harvest, because there are 3 qualities of vanilla:
Red

traditional knowledge

Gourmet
The difference between all its vanillas and the moisture content. Gourmet quality is a grandiose vanilla, intense on the palate, shiny and very supple.
On our YouTube channel, you will discover the 8 tutorials on how to buy a good vanilla pod. 
For some, our packaging will be too expensive but beyond the price, Le Comptoir de Toamasina, offers you a culinary journey in the mode of spices and vanilla.
You can discover our vanilla route, comment on Arnaud's training on the purchase of the most beautiful vanilla in the world.
Madagascar vanilla is an exceptional vanilla that we buy to succumb to its wonderful aromatic palette.
You will fall under the spell of our magnificent very fleshy, shiny and perfectly greedy pods.
In addition to selling vanilla, every day we provide you with an article on our blog and the reference French article on   the price of vanilla per kilo . 
We offer 100 vanilla pods from Madagascar in its best quality, ie gourmet quality. 
Do not hesitate to discover bourbon gold vanilla from Madagascar , a vanilla pod which was created in 2013 by Arnaud, our creator, it is the Comptoir de Toamasina label, which will only bring together vanilla pods over 17cm and still in gourmet quality. 
I offer you a vanilla from Madagascar that I have selected for its quality. My passion for this exceptional spice pushes me to discover the best producers, from my old home so that your requirements are met. And especially to become a vanilla producer.
I continue to explore the planet in search of the best vanilla, whether from Madagascar, Tahiti, Mexico or Reunion, so that you can treat yourself.
Discover our:
DISCOVER OUR BOURBON VANILLA FROM MADAGASCAR AT AN UNBEATABLE PRICE - 100 VANILLA PODS FOR MAXIMUM FLAVOR - THE ULTIMATE IN MALAGASY VANILLA AT THE BEST PRICE PER KILO
If you are looking for the best bourbon vanilla from Madagascar in packaging of 100 pods at the best price per kilo, you have come to the right place . 
We offer you gourmet quality vanilla at an unbeatable price.
Our Malagasy bourbon vanilla beans are carefully grown and packaged with the utmost care in our workshop in northern Madagascar.
The government of Madagascar is doing more and more checks to ensure the quality of its vanilla. As you saw at the end of January 2023 with a control of bourbon vanilla from Madagascar in an Air France Cargo shipment. 
Bourbon vanilla from Madagascar is known for its chocolate flavor with intense and deep vanilla notes.
Which makes it one of the best vanillas in the world, for its value for money.
It is widely used in the kitchen, especially in baking, to add a unique touch of flavor to your dishes.
Our vanilla pods meet the strictest standards of the Arnaud Vanilla Plantation tests.
A vanilla, supple, fleshy and with incredible aromatic power.
We strive to give you the best value possible, which means you get gourmet quality vanilla without having to spend a fortune.
The packaging of 100 vanilla beans is practical for consumers who wish to buy vanilla for a period of 1 year.
However, if you are looking to buy in bulk, we also offer competitive pricing to buy vanilla by the kilo . 
WHAT IS MADAGASCAR BOURBON VANILLA
WHERE IS BOURBON VANILLA GROWN?
Originally, vanilla was grown in Mexico, as the variety is vanilla planifolia, which accounts for 95% of the world's vanilla production.
It was imported for the first time in the Indian Ocean, in Réunion, at the beginning of the 19th century.
But in the Indian Ocean, a little worker is missing, indeed, only in Mexico, you will have the melipone, a bee, which will fertilize the flower of the vanilla tree.
However, as this bee is not found in the Indian Ocean, it was not until 1841 that Edmond Albius, a young slave, discovered the principle of manual fertilization of vanilla.
You should know that it is a Belgian who will discover how to pollinate vanilla, first. A cork botanist. did you know that the Açaí can be pollinated by a provided.
Today, Bourbon vanilla, an AOP, ie a label created in 1964 for vanilla grown in the Indian Ocean.
This label distinguishes vanilla produced in Mexico, Uganda and planifolia vanilla from the rest of the world.
If you buy Bourbon vanilla,  here are the countries that can produce it:
Madagascar 

Reunion Island

Seychelles

Mauritius

Comoros

Mayotte
WHY ARE WE TALKING ABOUT BOURBON VANILLA?
Today, Reunion Island is a French territory.
The French kings from 1589 to 1789 and from 1815 to 1848 were members of the Bourbon dynasty.
In 1642, the French took possession of the island, which they naturally named "Bourbon Island". This is why planifolia vanilla grown in the Indian Ocean is called Bourbon vanilla.
You should know that the English will take over the island and grow sugar cane.
It is said that the vanilla plants that will be handed over will come from Asia.
You should know that Madagascar is the world's leading vanilla producer, with more than 2,000 tonnes per year and 30,000 hectares of vanilla plantations. 
The main region of vanilla production in Madagascar is Sava, in the northeast of the island, which is divided into four districts: Sambava, Antahala, Vohemar and Andapa. You should know that the Mananara-north region will have a late harvest of vanilla.
Madagascar vanilla represents around 80% to 85% of the world's vanilla bean production. 
Madagascar Vanilla from Comptoir de Toamasina
 Arnaud will discover his first plantation, in a small family production. A producer, collector and preparer of Bourbon vanilla in Madagascar who will provide us for years and above all train Arnaud in the selection of vanilla with a powerful and intense aroma.
But not only that, he will train as a vanilla producer. And the Comptoir de Toamasina is a vanilla producer, currently we have plantations and test plants. 
The flavor of vanilla can vary from year to year due to climatic conditions. Like acai powder which can taste salty due to the advancing sea.
At Comptoir de Toamasina, we say that the vanilla pod must have a minimum size of 14m Bourbon vanilla pods.
Our format of 100 bourbon vanilla beans from Madagascar is a selection, of a beautiful vanilla, a Prestige vanilla from 14 to 16cm. 
We also offer a vanilla over 20m .
But between, a small pod and a big kid, you will have the same notes, that is to say a touch of warm and gourmet vanilla with its cocoa note. 
The larger the pod, the fewer pods there are on the vanilla plant and the more the vanilla will have a better vanillin level. It's the aroma of vanilla, because it's during the last week, or even the last two weeks, that the vanilla plant gives the vanilla its flavor. 
Harvest too early and the vanilla will have less flavor, too late the vanilla will open up. Only the Tahitensis variety does not open and certain varieties of wild vanilla from Brazil . 
We strongly advise you to taste and try all of our vanillas to discover the world of vanilla.
Discover our vanilla box .
GROWING VANILLA PLANIFOLIA IN BRAZIL
Growing vanilla is a real test of patience, but you don't need to be an expert and have a green thumb to have your vanilla plantation at home. 
Vanilla is very easy to grow but requires a lot of attention to pollination.
The vanilla tree thrives in an area between 10 and 20 degrees north and south latitude, but beware, this is the postcard of internet travellers.
 Some colleagues like to recount this, but we discovered vanilla in Argentina and southern Brazil with wild varieties. 
You should know that the limit of 700 meters and a false altitude, we managed to grow vanilla in Belo Horizonte, in Minas Gerais, we saw it at 1000m in some Brazilian states.
Vanilla loves humidity, but it will need water stress for its flowers to appear and last for at least 3 years. The average temperature should be between 20 and 30°C for optimum production. But a little cold does not scare him.
We have seen it withstand 0°C, in Minas Gerais. 
Then it is necessary to pollinate manually. The flowering process will last about two months.
Then, we must hear, 8 to 9 months for the harvest. 
But, when harvesting, your 100 vanilla pods will have no smell, you will have to prepare them.
A funny thing, in Madagascar it is the women who are in charge of the pollination of the vanilla orchid, they are called "matchmakers" and in Brazil, it is mainly men. 
100 EXCEPTIONAL VANILLA PODS AT THE BEST PRICE
Buy 100 black bourbon vanilla beans from Madagascar r. This vanilla that Arnaud selection is the treasure of Madagascar. 
A pollinated vanilla, prepared, refined and bagged by hand. 
Our bundle of 100 vanilla pods are the most beautiful vanilla pods from Madagascar, ie gourmet quality. 
Unparalleled quality. 
Magnificent, fleshy, supple, oily vanillas with an incredible aromatic palette. 
A bewitching pod that will work wonders in your recipes.
Since our beginnings, Le Comptoir de Toamasina has been a real vanilla counter, offering you the best bourbon vanilla pods from Madagascar.
On our YouTube channel you will learn all about how to recognize good vanilla , how to buy good vanilla pods and above all discover our work in Brazil.
the 100 pods  are perfect for  buying vanilla in groups, for vanilla and pastry lovers and professionals. 
We offer you the finest quality of vanilla for an incredible culinary journey. 
WHAT IS THE BEST QUALITY OF THE VANILLA BEAN IN MADAGASCAR?
When we talk about the quality of the vanilla bean, we want vanillas:
Brilliant

 

Flexible

 

black

 

fleshy

shiny

 

Fragrance

 _

 

fluffy

 

Not split
Le Comptoir de Toamasina is the specialist in the sale of high quality vanilla pods and we will tell you all about how we select your 100 vanilla pods, so that you receive gourmet and delicious vanilla at home.
A remarkable quality Madagascan vanilla with its intense vanilla and cocoa notes. 
But how to buy quality vanilla from a vanilla plantation, from a vanilla seller or even on a market. 
Apply a rule of 4:
•  Scent: A good vanilla bean immediately releases a vanilla scent, for our Madagascan vanilla chocolate notes and intense vanilla, without smell of alcohol. A smooth, feminine and delicious vanilla.
• Flexibility: a good vanilla pod should not be rigid, but flexible, you should know how to tie a knot with it, there shouldn't be any liquid coming out of it when you squeeze it.
• Its appearance and color:  A good vanilla must have a uniform color ranging from dark black to dark brown. It should be shiny, with grains on the outside. 
• Size: the longer a vanilla bean, the better it will be. It's true, because it will have fewer vanilla pods on the vanilla plant, so it will be able to give more vanillin, produce longer and thicker vanilla. The minimum length is 14c for us. 
You see that the Comptoir de Toamasina, offers you a unique know-how, in the world of vanilla to  discover you   and   buy vanilla   from   Madagascar   in     its economical and inexpensive format, to satisfy all pastry lovers. 
ECONOMIC PACKAGING AT THE BEST PRICE DIRECT FROM THE PRODUCER ON CERTAIN BATCHES
We always offer vanilla from a small plantation directly from the producer and vanilla importing partner.
Today, regulations in Madagascar with export licenses are hampering direct purchasing with less than 100 exporters in 2022, you understand that small plantations can no longer export and must sell on the local market. 
The covid will lead to a restructuring of our company on all of our business. We wanted to completely rethink our company. 
But, we always select the best quality of vanilla to satisfy your taste buds.
You will rediscover the taste of vanilla with a long traditional ripening, a vanilla with a rare amplitude that will make your taste buds travel and especially a Grand Cru vanilla pod from Madagascar. 
WHERE DOES VANILLA AND ITS FLAVORS COME FROM?
All of France and the world loves vanilla. In our hexagon , it is the favorite flavor of the French . The essence, aroma, vanilla extract and vanilla pod accompany coffee, chocolates to remove the bitterness from it, like the Aztecs and is part of the composition of all the pastry for its flavors feminine, gourmet, warm that will make our taste buds travel.
He can't have a good vanilla flan without vanilla pods. Its flavor will give it its letters of nobility.
It is said to be   Bernal Diaz   a Spanish conquistador or who will go to the seat of civilization of the Aztecs   Moctezuma  .
This one loved to drink a chocolate drink in which vanilla is added.
Pure chocolate being very bitter, the Aztecs will simply mix in vanilla to sweeten it.
Look in chocolate with more than 80% cocoa you have vanilla, in fact red vanilla to be more precise.
But let's go back, the Spaniards taste this drink and Bernal decides to bring orchids back to Spain.
But it is in   Mexico that vanilla   was imported until 1841. Because we did not know how to replace the little Mexican bee;=.
With the discovery of new maritime route we will discover new vanilla:
Vanilla Pomona

 

The   

Vanilla Fragens 

  or called Planifolia: It is  

 the queen of vanilla pods

  

Vanilla Tahitensis

Vanilla Dubia

Vanilla Chamissoni
THE DIFFERENT VANILLAS IN THE WORLD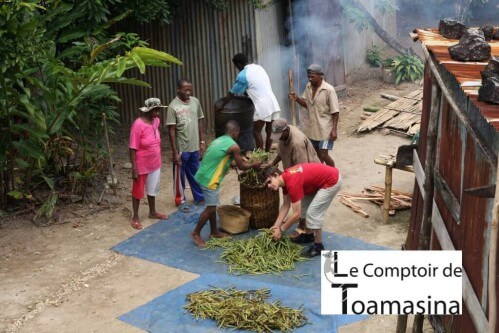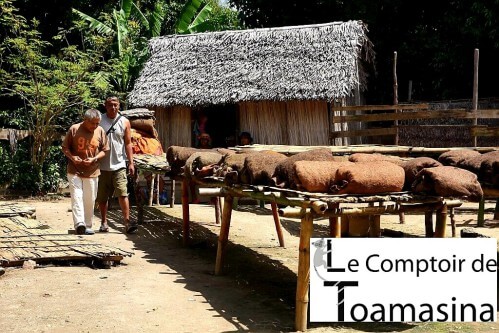 Bourbon Vanilla from Madagascar:

  Its real name, we can say the generic name Vanilla Planifolia, a vanilla tree that comes from Mexico. 

The Malagasy plant originates from the Ile de Bourbon, (old name of the island of Réunion). 

Its flavors are rich and balanced and its aroma powerful. 

The preferred type for making extracts. 

That's what most of us think of when we think of vanilla ice cream or cake. 

It can be used both in cold and hot preparations. 

Why bourbon vanilla, quite simply, because vanilla comes from the former bourbon island and especially because bourbon is an AOC which is reserved for vanilla from the Indian Ocean
Vanilla from Papua

 : Here, you will discover two varieties, the planifolia variety and the Tahitensis variety, but both vanillas will suffer from scalding. 

The Tahitensis variety will give a spicy vanilla with floral notes. 

While the Papouasie planifolia vanilla will have intense flavors, spices and leather that gives way to vanilla with an intense touch of chocolate.

Vanilla from Mexico:

   Here is the first vanilla bean in the world. 

Its flavor is sweet, creamy and spicy, with delicate notes of fruity aromas. 

It can be used in hot dishes, but is more suitable for cold preparations or those that project a short cooking time.

Caribbean vanilla:

 Caribbean vanilla is a lower grade vanilla than Bourbon/Madagascar, the pod has a naturally low vanillin content. 

Since it has a very poor flavor for culinary uses, it is mostly used to make perfumes. 

This vanilla is called pompona vanilla. 

It is a vanilla bean that is not recognized for its gastronomic virtues, but in Brazil, it is different. 

Discover this vanilla on our youtube channel. 

Tahitian Vanilla

 : It doesn't have as much natural vanillin as Bourbon, but the flavor comes from heliotropin (aldehyde from anise), which gives it a sweet, fruity flavor reminiscent of cherries or raisins. 

Although its pod is more fleshy than Bourbon vanilla, it does not have many seeds. 

It is best used in cooked foods such as sauces and jams and also works well with meats.
Discover our article all the vanillas in the world . 
Each year, Le Comptoir de Toamasina will extend its range of vanilla and spices and above all will make you travel through Brazil.
The preparation of Bourbon vanilla
When we talk about vanilla, we think production, cuttings, cultivation and production are the most important stages.
No, it is the pollination and the preparation of the vanilla scalding that is the most critical phase with the harvest. The harvest is very important.
To have a prestigious vanilla, the vanilla must be harvested at the right time. Too early and not enough vanillin, too late and the vanilla will open up.
Attention, there is a difference between vanilla tahitensis and planifolia that we will explain to you shortly, like the world of peppercorns .
The pods of the orchid will not have any flavor or smell in their natural state.
For the flavor to "appear" and be used in the kitchen, the vanilla must be dried and undergo refining. This process can take up to six months and is very similar to the method of drying cocoa beans.
scalding 

parboiling

drying

trunking

calibration
You should know that it takes 5kg of  fresh vanilla pods  (green) to make  1kg of black vanilla .
The  vanilla pod  offers an incredible aroma. But you still need to buy a  shiny, supple vanilla bean . 
You should know that there are two vanilla preparations, the bourbon method and the Tahiti method which is special to Tahitensis vanilla. Discover the preparation of vanilla .
When you want to use your vanilla pods. 
Flatten the vanilla pod with the back of a knife, split the pods in half lengthwise with the tip of your knife. 
Then he milked the longest of a single by holding the blade of the knife against his thumb and you've opened your sufficient pod.
Then you can put it infuse in your milk, boil your milk and then you can harvest the seeds. 
CAN THE SEEDS AND THE POD BE USED SEPARATELY?
The black seeds contained in the vanilla pods contain incredible aromatic flavors. 
Vanilla pleasantly perfume your preparation. 
The quantity and quality of vanilla seeds will depend on the pods, so check out our article on  how to select quality vanilla . 
When using vanilla, simply flatten the vanilla pod with the back of a knife and split the pods in half lengthwise with the tip of the knife.
Then you just have to go along it in one go, keeping your knife blade against your thumb. 
You can scrape out the inside and collect the wonderful seeds. 
Include it in your recipe. 
Vanilla seeds are used everywhere, in sweet cooking of course, where they flavor all desserts and all drinks, but also in savory cooking. Check out our  vanilla recipes  for ideas.
Check out our article on how to store vanilla . 
HOW TO USE HOLLOW VANILLA BEANS - VANILLA SOLD OUT
Vanilla pods  today are expensive,  Le Comptoir de Toamasina  gives you a solution not to waste it. 
When you go to take the seeds from the pods , do not throw away the hollowed pods, there are many tricks to reuse them. So why not make  a vanilla sugar , a  homemade vanilla extract ? 
Make homemade vanilla sugar: 

 You want to make vanilla sugar, you simply have to put your exhausted vanilla pods in your sugar.

Flavoring a liquid preparation: 

 You want to flavor a milk-based drink, a dessert with vanilla. 

Nothing's easier. 
Use your vanilla pod without the seeds, letting it infuse in milk, hot chocolate, your tea, syrup, jam, cocktail compote, infusion,  Rooibos  etc.... .
Make homemade vanilla extract: 

 Put the equivalent of  

6 vanilla pods

  with 20 cl of strong alcohol in a bottle, ideally white rum, or otherwise vodka with a more neutral flavor, for at least 3 months ideally 6 months, stirring about once a week at first.
You want to discover our recipe, see =>  Recipe for homemade vanilla extract
How to make vanilla powder: 

 Simply dry your empty vanilla pods and let them air dry for a few hours. 

Once dry you will mix them to obtain a fine vanilla powder that you will use in your recipes. 
Do not hesitate to read our article, what to replace vanilla with .   
Make vanilla salt: 

 Put  

2

  well-dried vanilla pods in your blender and mix, the vanilla powder must be very fine. 

Add 125 g of salt to the bowl of the mixer and mix everything in small pulses. 

Make vanilla rum the real recipe:

  The vanilla pod is one of the basic ingredients for homemade rum, but you can also make cocktails or punch, vodka, etc. 

You simply have to infuse the Madagascar vanilla bean in your drink with alcohol. 

Make vanilla pod flavored oil: 

 Put your 

 scraped pods

  to infuse for 1 month in olive oil or another oil of your choice to give it a subtle and irresistible flavor of vanilla from Madagascar.

Make flavored coffee: 

 We know  

cinnamon

 coffee , but I'll give you the recipe for vanilla coffee.
The recipe is super simple, you will simply leave your vanilla pod in an airtight jar for 3 weeks, stirring twice a week. 
PRESTIGE VANILLA PRODUCER FROM MADAGASCAR IN BRAZIL
It is said that by positioning your finger on a planisphere and looking into the tropics, you will discover the vanilla producing areas. 

Looking in particular at the altitude to be limited to 700m. 

This is false, we find vanilla in the south of Brazil, in Argentina in history. 

So, Le Comptoir de Toamasina offers you to know the producing countries and 

the top 5 of the vanilla producing countries:
Madagascar 

Tahiti

Papua 

Indonesia

Uganda
You have to have that everywhere in the world, we discover new varieties of vanilla, but the production methods are the same 
Here are the main vanilla producing countries in the world and the new producing countries: 
Brazil

Indonesia

Madagascar

Mexico

Uganda

Papua

India

West Indies

Comoros

Seychelles

France

China 

Ecuador 

congo

Sao Tome

Senegal 
The list is available on our blog. 
Take the opportunity to discover our flavors from Madagascar and Brazil
Customers who bought this product also bought: