100 Madagascar's Bourbon Vanilla Beans
100 Bourbon Vanilla beans from Madagascar, gourmet quality or quality extra, in sachet.
The Bourbon Vanilla beans from Madagascar are shiny, flexible, black, fleshy, fragrant, fluffy and smooth-skinned. This vanilla has notes of caramel and chocolate
Bourbon vanilla from Madagascar
100 Gourmet Quality Madagascar Vanilla Beans - Extra
Economic packaging at the best price directly from the producer
Purchase the vanilla pod of Madagascar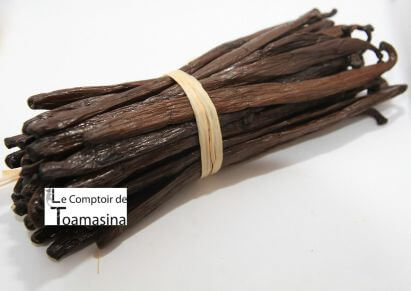 The Comptoir de Toamasina sells the best Madagascar vanilla AOC bourbon pods from the market. They are bright , supple , black , fleshy , shiny , fragrant , mellow and smooth-skinned . This vanilla releases much more aromas than dry vanilla usually marketed, with hints of caramel and chocolate. This is the top of the range vanilla from Madagascar.
Discover and buy our vanilla from Madagascar in its economical and cheap format, to satisfy all gourmands pastry.
Our Bourbon vanilla from Madagascar offers the highest aromatic concentrations with notes of cocoa and chocolate, in its economical format for gourmands pastry she will complete the happiness of the most demanding pastry chefs.
Notre vanille Bourbon de Madagascar offre les plus fortes concentrations aromatiques avec des notes de cacao et de chocolat, dans son format économique pour les gourmands de pâtisserie elle saura complet le bonheur des pâtissiers les plus exigeants. 
Vanilla producer in Madagascar
Come to discover the know-how of our producer in the report of Thalassa. Sale of the best vanilla from Madagascar . Discover the world of vanilla .
Product Description
Product: 100  vanilla pods from Madagascar quality Gourmet / extra *
Vanilla Type: Black Madagascar Bourbon Vanilla Bean
Quality : Gourmet / Extra
Size: 14 to 17cm
Characteristic: Soft vanilla pods, black, fleshy, shiny, fragrant, mellow and smooth-skinned .
Packing: In sachet
Provenance: Madagascar
It is said that it was Bernal Diaz a Spanish explorer or rather conquistador who went to see the Aztec emperor Moctezuma .
He loved drinking a chocolate drink and added vanilla.
The Spanish taste this drink and Bernal decide to bring back orchids to Spain.
But it is indeed in Mexico that the vanilla was imported until 1841. Because we did not know how to replace the little bee melopona.
With the great discovery of the world and the marine route we meet other vanilla pods:
• Vanilla Pomona which is cultivated in Martique and Guadeloupe . (This one has practically disappeared)
• Vanilla Fragens or Planifolia: This is the queen of vanilla pods
• Finally the vanilla pod of Tahiti or Vanilla Tahitensis which is cultivated in Mooréa since 1848
The best vanilla in the world
What is Madagascar's Vanilla?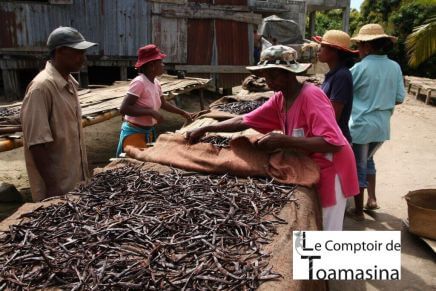 Tropical spice that has a unique aroma and flavor.
The vanilla pod makes you dive into a spellbinding fragrance that no spice can reproduce. It brings the exotic and tasty touch to your appetizers , dishes and will pleasantly perfume your desserts and recipes .
Bourbon Vanilla from Madagascar
Vanilla Planifolia - Vanilla Tahitensis, Vanilla Fragans
This little princess who is an orchid fruit is very fragile and only grown in specific places on the earth. She is from Mexico .
The vanilla pod of Madagascar is a vanilla that was produced at the end of the 19th century, in the Indian Ocean because a slave on the island of Reunion discovered how to pollinate it. It is to pay homage to this island that we created the AOC Vanille Bourbon.
The different vanilla in the world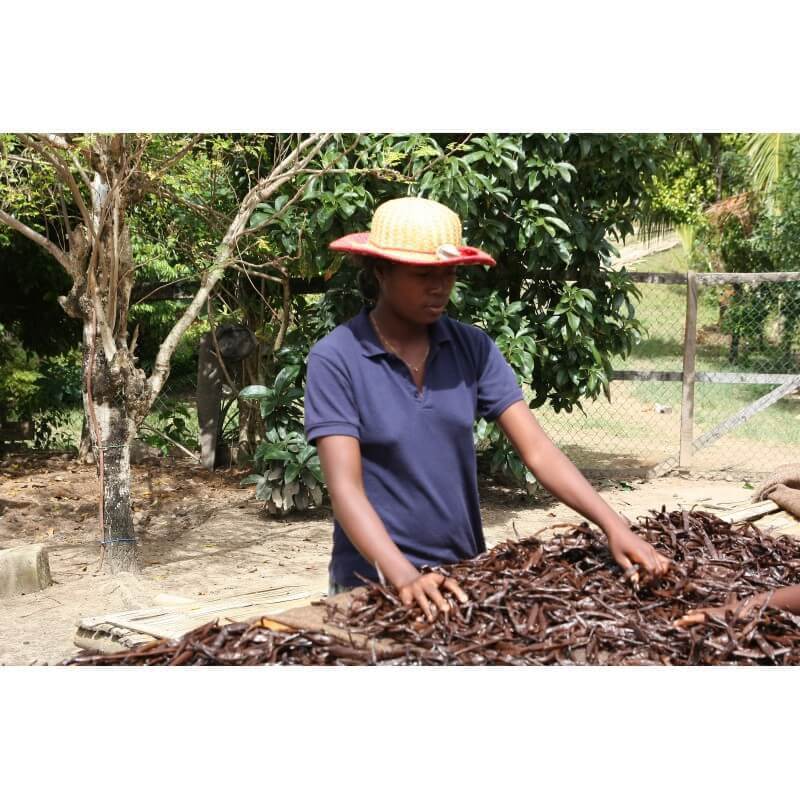 There is vanilla difference:
Vanilla from Mexico

 says 

vanilla Fragans

 : It's a 

vanilla bean

 with notes of spices and cocoa

Vanilla pod of Tahiti

 : 

Vanilla

 with notes of anise and prune continuing with a deep and very floral length.

Vanilla Bourbon

 ( 

Vanilla Planifolia

 ): This is the 

queen of vanilla bean

 gives it chocolate notes and an intense attack in the mouth.
Many countries are now going to vanilla India, Brazil, New Caledonia, Martinique, Comoros, Uganda.
At the Comptoir de Toamasina, we select the best pods for intense and deep pleasure for creative cuisine. Buy the true taste of spices at Vanilla Counter.
The preparation of Bourbon Vanilla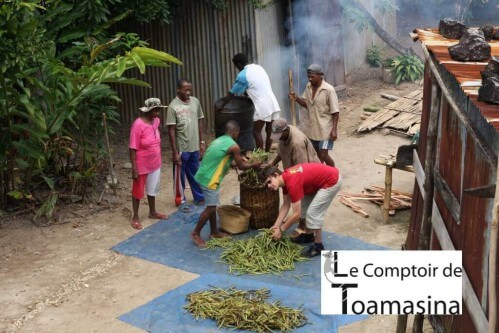 For bourbon vanilla pod its preparation is very simple but complex, it requires the know-how of ancestral producers.
scalding

parboiling

drying

trunk

calibration
You must know that it takes 5kg of fresh vanilla beans (green) to make 1kg of black vanilla .
Vanilla pod offers incredible aroma. But you still have to buy a shiny vanilla pod.
THE USE OF THE VANILLA PODS
How to use the Vanilla Bean
The best way to use vanilla is definitely to use the vanilla bean .
Here we give you all the tips to use your vanilla pod without spoiling it.
We tell you all about the use of Madagascar vanilla beans .
Do not hesitate to discover the vanilla pods of Comptoir de Toamasina.
4 different origins and high quality!
Use the seeds of the vanilla bean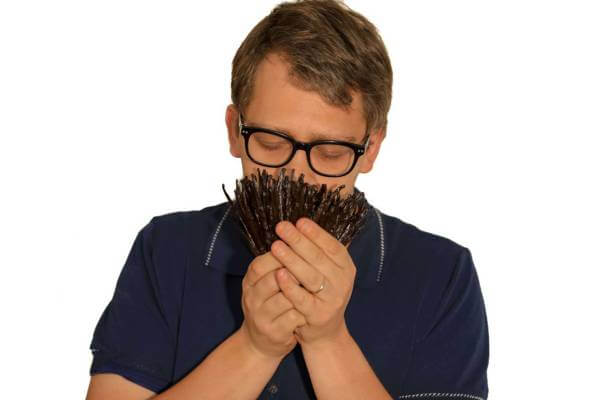 The black seeds in the vanilla beans contain incredible aromatic flavors.
Vanilla pleasantly perfume your preparation.
The quantity and quality of vanilla seeds will depend on the pods so check out our article that explains how to select a quality vanilla .
When using vanilla, simply flatten the vanilla pod with the back of a knife and split the pods in half lengthwise with the tip of the knife.
Then you just have to follow it in one go holding your knife blade against your thumb.
You can scrape inside and pick up the wonderful seeds.
Put it in your recipe.
Vanilla seeds are used everywhere, in sweet cuisine well understood, where they perfume all the desserts and all the drinks, but also in the salty cuisine. Discover our recipes based on vanilla to find ideas.
Read our article to learn how to preserve vanilla .
How to Use Vanilla Seed Pods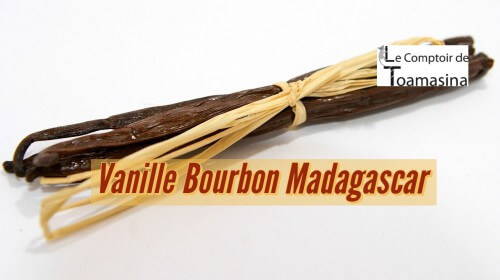 Vanilla pods today are expensive, The Comptoir de Toamasina gives you a solution to not waste it.
When you take the seeds out of the pods , do not discard the cored pods, there are many tips for reusing them. So why not make vanilla sugar or  homemade vanilla extract ?
Make home

made vanilla sugar
You want to make a vanilla sugar, you just have to put your vanilla beans exhausted in your sugar.
Flavor a liquid preparation
You want to perfume a milk-based drink, a dessert with vanilla. Nothing's easier.
Use your vanilla pod without the seeds, letting it steep in milk, hot chocolate, your tea, syrup, jam, stewed cocktail, infusion, Rooibos etc .....
Make homemade vanilla extract
Put the equivalent of 6 vanilla pods with 20cl of strong alcohol in a bottle, ideally white rum, or otherwise vodka with a more neutral flavor, for at least 3 months ideally 6 months, stirring about 1 time weekly at the beginning.
You want to discover our recipe check out => Recipe for homemade vanilla extract
How to make vanilla powder
Simply dry your empty vanilla pods and let them air-dry for a few hours.
Once dry you will mix them to obtain a fine vanilla powder that you will use in your recipes.
Do not hesitate to read our article, what to replace vanilla .
Make vanilla salt
Put 2 vanilla pods, well dried in your blender and mix, the vanilla powder must be fine.
Add 125 g of salt to the mixer bowl and mix in small pulses.
Make vanilla rum the real recipe
Vanilla pod is one of the basic ingredients for homemade rum, but you can also make cocktails or punch, vodka, etc.
It will simply infuse the vanilla pod of Madagascar in your drink with alcohol.
Make flavored oil with vanilla bean
Put your scraped pods to infuse for 1 month in olive oil or another oil of your choice to give it a subtle and irresistible scent of Madagascar vanilla.
Make flavored coffee
We know the cinnamon coffee, but I give you the recipe for vanilla coffee.
The recipe is super simple, you will simply leave your vanilla pod in an airtight jar for 3 weeks stirring 2 times a week.
Recipe with vanilla from Madagascar
Comptoir de Toamasina offers you irresistible recipes with vanilla beans from Madagascar, in a creative savory and sweet cuisine.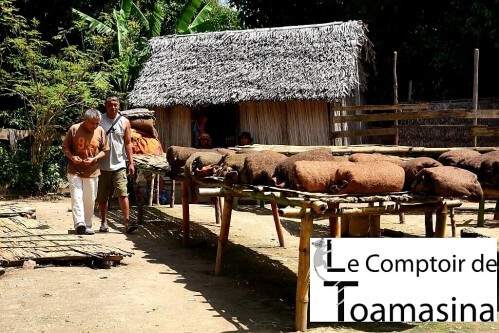 You will buy the best vanilla pod Planifolia Bourbon Madagascar at the best price at the Comptoir de Toamasina or  Madagascar Vanilla's Comptoir. 
A vanilla that has a round and rich smell with a note of cocoa for an intense and deep taste .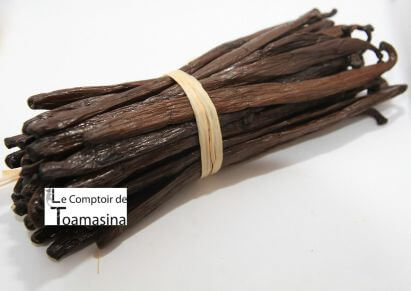 Enjoy to discover our flavors of Madagascar and Brazil
Customers who bought this product also bought: