2 Madagascar's Bourbon Vanilla Beans
2 vanilla pods of Madagascar AOC Bourbon, gourmet quality,14 to 16cm, tube freshness. Our Bourbon vanilla beans from Madagascar are flexible, black, fleshy, shiny, perfumed, fluffy and smooth-skinned. In a tube design. It offers a extraordinary flavor with notes of cocoa.
2 Bourbon vanilla beans from Madagascar in tube. 
Madagascar's AOC Vanilla directly from the 

producer
2 Vanilla Pods in special packaging
The Comptoir de Toamasina or vanilla's bean Comptoir gives you the best vanilla pod in Madagascar.
Our pack of 2 vanilla beans proposes to you a vanilla bean with a freshness that will endure over time.
This vanilla packaging is specially designed for lovers of the Vanilla Bean to keep its authentic and extreme flavors in aroma.
Madagascar Vanilla has a singular intensity and mild cocoa note.
Buy Vanilla beans from Madagascar for pastry
The Comptoir of Toamasina offers from 2010 the Best of Madagascar's Vanilla beans from a small plantation.
We have particular care to select the best Vanilla beans from the great island. We only sell the best quality. Our Madagascar Vanilla beans are: bright, flexible, fleshy, fragrant, soft and smooth-skinned.
In particular, the 2018's Vanilla Bean is a vanilla bean that offers cocoa and intense vanilla notes.
HOW TO CHOOSE WELL 
YOUR VANILLA?
Bourbon Vanilla from Madagascar the choice of Excellence
To choose well your vanilla bean you must first know your story. This little princess was discovered in Mexico or among the Aztecs she did wonders.
What is the vanilla history?
The vanilla bean that is a favorite of pastry lovers will no longer be a secret to you!

Vanilla bean is called vainilla en espagnol and vanilla in Portuguese.

Vanilla is from Central America and more specifically from Mexico. It is alleged that the Aztecs already used it to soften the bitterness of cocoa. As we still do today with over 80% cocoa tablets.

Mexico maintained the exclusivity of vanilla culture until the 19th century.  A French slave from Reunion Island is the one who discovered how to pollinate the vanilla flower in 1850.

Edmond Albius discovers how to pollinate male and female organs of the orchid flower. Since in Reunion Island there is no Mexican bee.

With his discovery, he was released. 
The vanilla's preparation 
The preparation of vanilla bean requires a lot of care, patience and ancestral knowledge from the producers. Madagascar is a pioneer in vanilla production.
The vanilla producer in Madagascar will perpetuate the know-how that is handed down from generation to generation.
Harvesting, ripening and sorting are completely manual and will require great rigor, patience and love.
The Fresh Green Vanilla Bean will be first scalded, then cooked in steam and lightly dried in the sun for about 2 weeks. Then the vanilla bean will be placed in the shade for 3 months.
Did you know that the aromas of vanilla beans come from the vanillin that will give your notes.
How to choose well a vanilla pod?
To choose a good vanilla bean, you must first know the tradition. Arnaud Sion, the creator of the Comptoir of Toamasina was trained by a vanilla producer in Madagascar to select the best vanilla bean from Madagascar.
If the vanilla bean is in the category Extra Gourmet quality, you should be able to tie a knot without breaking it.
Another thing, the more the vanilla Bean is aged and refined, the more it can offer an intense and exceptional aromatic palette.
The vanilla fava of Madagascar should be refined for at least 6 months. You should know that it takes 1 year between pollination and export.
We give you quality criteria when you travel: buy the vanilla bean, with a fascinating fragrance, a minimum length of 14cm, a pod that has no cracks and no traces of mildew, its color should be black or brown you should be able to make a knot and not be wet.
The differents vanilla beans :
Vanille de Madagascar (Vanilla Planifolia AOC Bourbon): 

This vanilla was introduced in the late 19th century on the large island by Reunion planters. First cultivated in the Nosy-Bé region. She migrated to the northeast coast of Madagascar. Today production will extend from Ambanja, Sambava, Antalaha and Mananara-Nord. Madagascar vanilla is the patisserie queen with chocolate notes and an intense vanilla aroma.

The Papouasie Nouvelle Guinée Vanille Pod (Vanilla Tahitensis): 

Vanilla cultivation in Papua New Guinea is confidential. It's a few tons a year. It offers notes such as Tahitian vanilla floral and anise. It is an ideal bean for salty cooking, but also for creams and macarons.

Tahiti's vanilla  (Vanilla Tahitensis): In the mid-19th century, this vanilla bean was introduced into Tahiti: 

It was Admiral Hemlin who introduced it. Unlike Madagascar vanilla, Tahiti vanilla does not separate. She will stay for 3 months in the orchid and will begin to mature directly in the liana. An aromatic palette that goes from plum to anise and then a long floral chord. It is the empress of vanilla.
Mexico's Vanilla (Vanilla Planifolia) : 

Mexico's pod production east of Veracruz is confidential. It is a medium quality vanilla compared to the vanilla queen and empress. But from year to year production improves. Today we offer only to professionals.
Product description
Product: 2 gourmet / extra quality Madagascar vanilla beans *
Vanilla Type: Bourbon Black Vanilla Beans from Madagascar
Quality: Gourmet / Extra
Size: 14 to 16cm
Feature: Bright, supple, fleshy, fragrant, soft vanilla beans have no cracks.
Packing: PET tube, UV protection
Provenance: Madagascar 
The best vanilla in the world
Everything you need to know to conserve Madagascar vanilla bean
The enemy of vanilla is temperature and UV shocks.
To preserve Madagascar's best vanilla beans, they must be preserved from their aggressors.
But be careful, never put your Madagascar vanilla in the fridge and freezer.
The ideal place to store vanilla is in a wooden cabinet, if possible, in our specially designed vanilla bean packaging.
When using vanilla bean, be careful not to smell other products on your hands, because the vanilla pod is a chameleon and it will take on the taste of the spice you touched if it is more potent than it.
Be aware that the unique aroma of Madagascar's Bourbon vanilla improves over time.
How to use Madagascar vanilla bean
Using vanilla bean for pastry
Simply cut the Madagascar vanilla bean lengthwise to extract the seeds. You should know that you do not have to cut the vanilla bean along its entire length, you can simply cut a few inches.
Separate the Madagascar vanilla bean by 2 and you have to scrape the vanilla bean to extract the seeds.
Let the seeds and the rest of the Bourbon vanilla heat for about ten minutes in milk or greasy solution. Never let the solution boil.
The longer the seeds stay, the stronger the flavor will be. For salty cuisine, vanilla blends well with white meats and coconut milk preparations.
Recipe with Madagascar Bourbon Gold Vanilla
2 Madagascar AOC Bourbon vanilla beans, gourmet quality *, 14 to 16cm, in tube. Our Madagascar Bourbon vanilla beans are shiny, supple, fleshy, fragrant, soft and have no cracks. In a tube design. It offers an extraordinary aroma with cocoa notes.
2 Bourbon vanilla beans from Madagascar in special packaging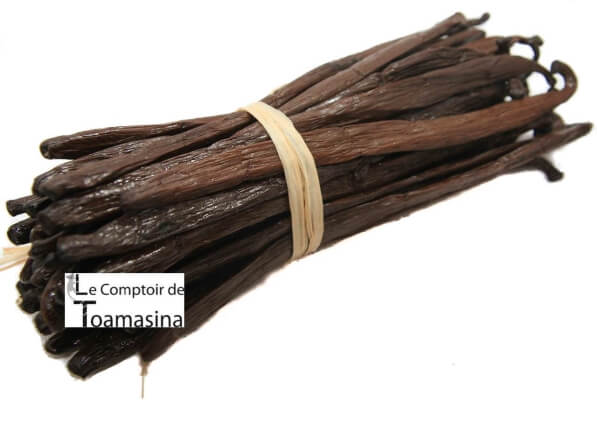 Customers who bought this product also bought: