Madagascar Bourbon Vanilla - Categoria Ouro - 18 and 23 cm
Le Comptoir de Toamasina launches gourmet quality Bourbon Gold vanilla from Madagascar. This vanilla pod is superb and it is the fruit of research and testing in our plantation in Minas Gerais to select an intense vanilla.
Main Notes: Cocoa and Caramel
Aromatic: The star of pastry. A vanilla pod with an intense fragrance of gourmet vanilla, the most intense of vanilla
Quality: Gourmet - Extra with the respect of a long ripening
The Comptoir de Toamasina gold label is a vanilla pod over 18cm with a traditional ripening at the best value for money. A vanilla pod for pastry chefs and vanilla lovers.
Buy the vanilla pods from Comptoir de Toamasina.
Bourbon vanilla from Madagascar - Gourmet quality + 18cm - Gold category - discover the unique and intense notes of our pod
Bourbon vanilla from Madagascar is recognized as one of the best in the world.
When we enter the world of vanilla we can ask ourselves this question, is vanilla a spice or a fruit? Vanilla is the fruit of the vanilla orchid. And that's the only orchid that's going to produce a fruit. The most cultivated variety in the world is the planifolia variety but the rarest is the Dubia and Bahianaise variety. Brazil is the country in the world that will have the most varieties of native and wild vanilla plants in the world with more than 40 varieties listed, unlike Madagascar which is the leading vanilla producer with more than 80% of world vanilla production. , with only vanilla planifolia.
Cultivated on the island of Madagascar, this vanilla is characterized by its rich and complex flavor, with notes of classic vanilla that will give nuances of caramels and chocolates.
The Bourbon vanilla pods from Madagascar are harvested when ripe and then carefully selected, the vanillas are separated into split vanilla and unsplit vanilla, because the particularity of vanilla planifolia unlike vanilla tahitensis is a vanilla that will open at full maturity if it stays too much on the stalk.
So you have to harvest on a certain date to avoid the opening of it. Then the vanilla will undergo a preparation. The preparation of vanilla is long and complex. After more than 4 to 6 months of preparation, the vanilla is exported.
Arnaud, will select his quality bourbon vanilla from Madagascar of +18cm up to 23cm as a sommelier searches for his wines or a chef selects his spices and Arnaud is a private chef in Brazil.
Working with prestigious chefs in Brazil and pastry chefs, he created the Gold category which can be translated as the Gold category. As for cachaça see the different tequila varieties which will have a classification in White, Silver and Gold.
The classification of vanilla is simple, we will distinguish three categories which range from red vanilla through tk and quality vanilla.
Arnaud explained it in videos about the world of vanilla.
To differentiate the best gourmet vanillas from the traditional ones, chef Arnaud will create a GOLD category, which will bring together only the best vanillas, spices and peppers. For peppers, a weight of 450g per liter is necessary to have this quality distinction specific to our company.
He will select himself upon receipt of the batches from Madagascar vanilla importers and our partners in Madagascar the most beautiful pods and we will put them in premium packaging in order to preserve all their organoleptic qualities.
These vanilla pods, over 18 cm in length, are of superior quality, called gourmet quality vanilla with a beautiful color, an elastic texture and an elongated shape. Vanilla pods of +18cm are of superior quality to vanilla 14 - 16cm because there is less vanilla on the vanilla stalk and this one can give a better yield in terms of vanillin. It is good to know that it is during the last two weeks that the vanilla will give the vanilla flavor.
Bourbon vanilla from Madagascar is ideal for all culinary preparations, from pastries to confectionery, including hot drinks and spicy dishes.
Order this superior quality vanilla now to add a touch of sophistication to all your culinary preparations.
Destination vanilla - the vanilla route of arnaud creator of the counter of toamasina and the arnaud vanilla plantation
​Madagascar is a tropical gem located in the Indian Ocean, known for its idyllic beaches, unique wildlife and colorful landscapes. Because depending on the time of the year, you will not have the same colors, in the rainy season fluorescent greens and in winter duller greens due to the dry season. And it is because of the dry season from May to early September that the vanilla tree will produce flowers due to water stress. Discover our article how vanilla grows.
But we must remember that the island is not known only for vanilla, even if for Arnaud, the vanilla coast is the most beautiful coast in the world, which can be found in Bahia on the cocoa coast.
The Vanilla Coast is found on the EAST coast of the island, a verdant coastal region dotted with lush tropical forests, crystal clear rivers and turquoise lagoon. But beware it is very dangerous in the rainy season with tracks and hurricanes without forgetting the heavy rains.
When you take this road the landscape is breathtaking and offers a glimpse of the natural wealth of Madagascar.
But beware, the roads are worthy of the roads of the extreme and you saw it in vanilla destination the report of Thalassa.
The vanilla coast will start in Mananara-north and will extend to Diego-Suarez via Sambava, Antalaha, Vohémar, Andapa and Mananara-north. In the latter you have late harvest of vanilla because it is the last region to have its decree due to its climate and its mountainous region.
In Madagascar vanilla is grown on the coast and also in the mountainous regions of the island up to 30km.
But when we talk to you about the vanilla region, you should know that the track between Mananara-north and Sambava see Ambilobe is often impassable. 4x4s do not pass. And you saw in Destination Vanille by Thalassa and during our first trip in 2010, each time the vehicle broke, the transmission or the wheel.
For the wildlife of the Vanilla Coast, it is as unique and diverse as its landscape. The region is home to many endemic species, such as lemurs, colorful birds and giant chameleons.
Rainforests are home to many species of trees and plants, many of which are used in vanilla cultivation, especially to protect the vanilla plant from light.
Because the cultivation of vanilla in Madagascar is a way of life that dates back centuries.
Local vanilla producers are proud of their ancestral know-how and are passionate about producing top quality vanilla.
Vanilla beans are grown with care and are carefully selected to ensure their quality and flavor. The government of Madagascar is carrying out more and more control so that vanilla arrives in Europe with quality. Because you should know that vanilla was sold vacuum-packed at a time when it was prohibited.
In conclusion, the vanilla coast in Madagascar is a must-visit place for vanilla lovers and travel enthusiasts. Offering a perfect combination of stunning landscape, unique flora and fauna, and ancient culture, this area is a true tropical gem not to be missed.
Bourbon vanilla from Madagascar - Gourmet quality + 18cm - Gold category - discover the unique and intense notes of our pod
Buy the best bourbon vanilla pods from Madagascar in the Gold category + 18cm on our site. Unique and intense flavors for an unforgettable experience. On our youtube channel you will discover recipe ideas how to make flans and other incredible dishes a simple cuisine and which will cross with the cuisine of Minas Gerais for a creative cuisine on a daily basis.
Le Comptoir de Toamasina, invites you to discover the wonderful bourbon vanilla pod from Madagascar over 18cm up to 23cm.
In 2015, we wanted to create the Gold category for all of our World flavors, we want to find the same intensity of flavors as the one we cultivated and tested in our test plantation in Brazil, the Arnaud Vanille plantation.
Bourbon Vanilla from Madagascar - Gold Category - Excellence in quality and flavor - an award-winning belo horizonte beer with our vanilla
In 2015, Arnaud will introduce this vanilla to the manager of Koala Cerveja in Belo Horizonte, which will go into the composition of BadMotorfinger, an espresso coffee beer and bourbon vanilla from Madagascar.  We are currently developing a beer with yellow bourbon coffee and Madagascar bourbon vanilla to try to win the gold medal, a gold medal with our bourbon vanilla in a beer. He even had a beer made with coconut and vanilla at Jardim Canada in Nova Lima with our exceptional vanilla. What you saw on our youtube channel
Let's talk about this bourbon vanilla from Madagascar over 18cm up to 23cm.
Arnaud, the creator of Comptoir de Toamasina, invites you to discover a vanilla pod from the fruit of our research. We wanted to offer you an exceptional vanilla bean. A vanilla with an intense and deep flavor that will make you travel.
The gold category of Comptoir de Toamasina is a vanilla that has a length of more than 18cm with notes of intense cocoa which is traditional with Planifolia vanilla. But, here, the selection of the vanilla pod among vanilla importers is more rigorous with in particular a calibration which must be between 18 and 23cm a weight of the pod which must be close to the vanilla of the cerrado which has been tested by the Arnaud Vanille plantation in Brazil for 5 years.
Other criteria such as flexibility, the absence of red traces and other points that you may have discovered in our series on how to recognize good vanilla on youtube.
The only difference is the size? The bourbon vanilla pod from Madagascar gold category is a pod that is longer, so there will be less vanilla on the foot and this one will be able to give vanillas that will be more intense and loaded with vanillin. But you may know this if you have discovered our series of reports on youtube, on our vanillas.
If you want to buy the best bourbon vanilla bean from Madagascar, long it is here at Comptoir de Toamasina, Counter of rare and exceptional vanillas that you will make this purchase for creative cuisine.
Bourbon vanilla from Madagascar of Gourmet Gold Category quality: 18 to 23 cm at unbeatable prices
Arnaud, the vanilla specialist, is proud to offer his customers the best bourbon vanilla beans from Madagascar, in the Gold category. With a length of 18 to 23 cm, these vanilla pods are gourmet quality, offering an intense and unique aroma that stands out from all other varieties of vanilla available on the market.
The production process of Madagascar bourbon vanilla is carefully supervised by the producers, especially during vanilla flowering, because the vanilla flower will only bloom for a few hours and pollination must be done by hand.
Local producers work with passion to create bourbon vanilla beans perfect for pastries, rum arrangé and other culinary applications. And it is true that vanilla from Madagascar offers the best value for money.
Arnaud, works on the project of a vanilla plantation in Minas Gerais in Brazil with native varieties. For the Comptoir de Toamasina to be the first delicatessen to become a producer of rare vanilla in Brazil. The project will combine cocoa and acai plants to have a plantation that will produce 3 different products.
Le Comptoir de Toamasina, managed by Arnaud, is proud to offer one of the best vanilla pods from Madagascar sold in France.
Arnaud is not just a simple vanilla seller, but he tries vanilla production at an altitude of more than 800 meters in Brazil, as a true expert in the field, who knows all the subtleties of cultivation, production vanilla, preparation and also how to use vanilla. Do you know how to infuse vanilla? On our blog videos and explanations on the method.
Arnaud's goal is to share his love for vanilla with the world. It offers bourbon vanilla beans from Madagascar at affordable prices, without compromising on quality.
By purchasing Gold Grade Vanilla from Comptoir de Toamasina, our guests can be assured of getting the best value for their purchase.
In summary, if you are looking for one of the best bourbon vanilla beans from Madagascar, you can't go wrong with Comptoir de Toamasina. Arnaud and his team are here to help you find the vanilla of your dreams, at an affordable price and high quality vanilla. Only gourmet quality vanilla.
Do not hesitate to contact us if you are unsure
Discover the work of our creator, Arnaud, on the land of spices, rare peppers and vanilla.
Each year, we offer reports and travels in the world of spices and flavors of the world. 
How is the vanilla bean prepared and refined? Why do we speak of ripening in a trunk on certain sites when the majority of the drying is on a rack
Bourbon vanilla from Madagascar is considered one of the best varieties of vanilla in the world. Especially in terms of quality.
First of all, you should know that planifolia vanilla is the vanilla that offers the highest vanillin rate in the world of the most cultivated vanillas in the world. But it is Bahian vanilla and Dubia vanilla from Minas Gerais that will be the vanillas with the highest vanillin content. Bahia vanilla has 4 times more vanillin than planifolia vanilla. But this vanilla is rare and expensive.
When we talk about the price of vanilla, 1kg of planifolia vanilla from Madagascar is between $250 to $600 per kilo depending on the quantity purchased, while Bahian vanilla is more than 2000 euros per kilo.
Vanilla planifolia is grown on the island of Madagascar, which is now the largest vanilla producer in the world with more than 2,000 tons per year of vanilla production for a very good year.
The cultivation of bourbon vanilla begins with the selection of vanilla plants.
Plants are grown from cuttings and not seeds because the seed technique is too time consuming.
When you cut the foot of vanilla to make a cutting you should plant it immediately because they have a very short lifespan. Arnaud practices vanilla cuttings in water to develop his vanillas and this technique is tested in Belo Horizonte on a small scale.
Once the seedlings are established, they need to be cared for and maintained with care, which includes providing support, adequate lighting, regular irrigation and proper fertilization.
It takes 3 years for the vanilla plant to produce a flower and more than 6 years to become an adult. Then you practice water stress and you will be able to pollinate your vanilla.
The harvest of bourbon vanilla begins when the pods are ripe, it is a Malagasy decree which will authorize the harvest. It takes 7 to 8 months before harvesting the vanilla pods. Which takes place in November, then the vanilla is picked by hand and then it will undergo a preparation. Because vanilla is green at first.
Vanillas are separated into two categories split vanillas and unsplit vanillas. Then, they are immersed in a bath at 70°C maximum ideally 63°C for 2 to 3 minutes with up and down movements. Then the vanilla is put in woolen blankets for padding. The vanilla here will become graceful and it will undergo sun drying for 2 hours a day. Each clove should be massaged and turned by hand. If a vanilla is too exposed to the sun, it will turn red with too low a humidity level.
The vanilla must pass after this stage through refining. And he doesn't have a wooden trunk when we visited small plantations, but rather racks in a dark room where the vanilla will be aged for 2 to 3 weeks. It is during this stage that the will develop all its aromatic power and its characteristic aroma.
Bourbon vanilla from Madagascar is known for its sweet and chocolatey aroma, as well as its balanced and subtle flavor. It's a bit like the vanilla of our childhood, as I like to say.
This variety is often used in food products, such as pastries, drinks and sauces, because it brings a unique and delicate flavor to each recipe.
In conclusion, bourbon vanilla from Madagascar is a variety of high quality vanilla, grown with regulations that are becoming increasingly strict in Madagascar, carefully prepared and refined with rigor to meet the requirements of the export process in Madagascar. .
Do not hesitate to discover our video of the retrospective of the year 2019, the Comptoir de Toamasina goes off the beaten track to offer you high quality vanilla pods and spices.
What is bourbon vanilla? It is first of all an AOC, which will bring together the islands of the Indian Ocean such as Madagascar, the Comoros, Mayotte, Mauritius, Reunion Island and the Seychelles.
Did you know that vanilla was planted in Madagascar in the 20th century.
This vanilla quickly became world famous thanks to the quality of its ripening, its aromas and the know-how of the planters and preparers in Madagascar.
Did you know that Madagascar will produce more than 80% of the world's vanilla production.
Read our article, the price of vanilla, the SEO article on vanilla.
Le Comptoir de Toamasina has specialized in the importation of vanilla beans since 2010.
Bourbon vanilla from Madagascar will offer you an intense and deep aromatic amplitude.
You will become addicted to it like our tonka bean from Brazil.
The Comptoir de Toamasina epic: discover the story of our gourmet quality vanilla, the ultimate in vanilla quality
It is at the age of 20 that Arnaud, the creator of the Comptoir de Toamasina will know the vanilla bean.
When his father comes back from a trip to Madagascar, he comes back with the vanilla. He simply wanted to make this flavor accessible to everyone at the start.
Before opening the Comptoir de Toamasina, Arnaud organized cultural outings for high school students with the association of his high school student.
It is on the Sebastopol market in Lille in March 2010 that our adventure will begin.
We were the first seller of vanilla on the market in Lille.
Our vanilla bean will quickly meet with great success with its sensual and cocoa notes.
In 2014, it is the consecration with the report of Thalassa on our vanilla road.
In September 2010, Arnaud went to Madagascar to train and meet his vanilla pod producer.
He will discover the job of producer and preparer of vanilla.
Arnaud will participate in the scalding and 48 hours after this step, the vanilla will begin to be oily and have notes of intense vanilla.
On the other hand, it does not have an omnipresent smell of vanilla when getting off the plane, but only a wall of heat typical of the tropics.
Arnaud will forge links with producers in Madagascar.
By dint of traveling in vanilla-producing countries, Arnaud will want to select the ultimate in vanilla, only the most beautiful vanilla pods, the one with a rare aromatic power, it is gourmet quality vanilla that is the best. vanilla quality.
In 2015, Arnaud will live in Brazil and immediately he seeks to forge partnerships with local producers and produce vanilla pods in Brazil. To become a vanilla producer like the vanilla producer from Madagascar who will train Arnaud in the world of vanilla.
Today, we have a test plantation to discover the profession of vanilla producer and offer you our vanilla from Brazil.
The vanilla pod is Arnaud's little princess.
We offer a selection of only the best bourbon vanilla pods from Madagascar, the best vintages from Madagascar for you.
For you, we offer you a vanilla that is like a grand cru in the world of wine.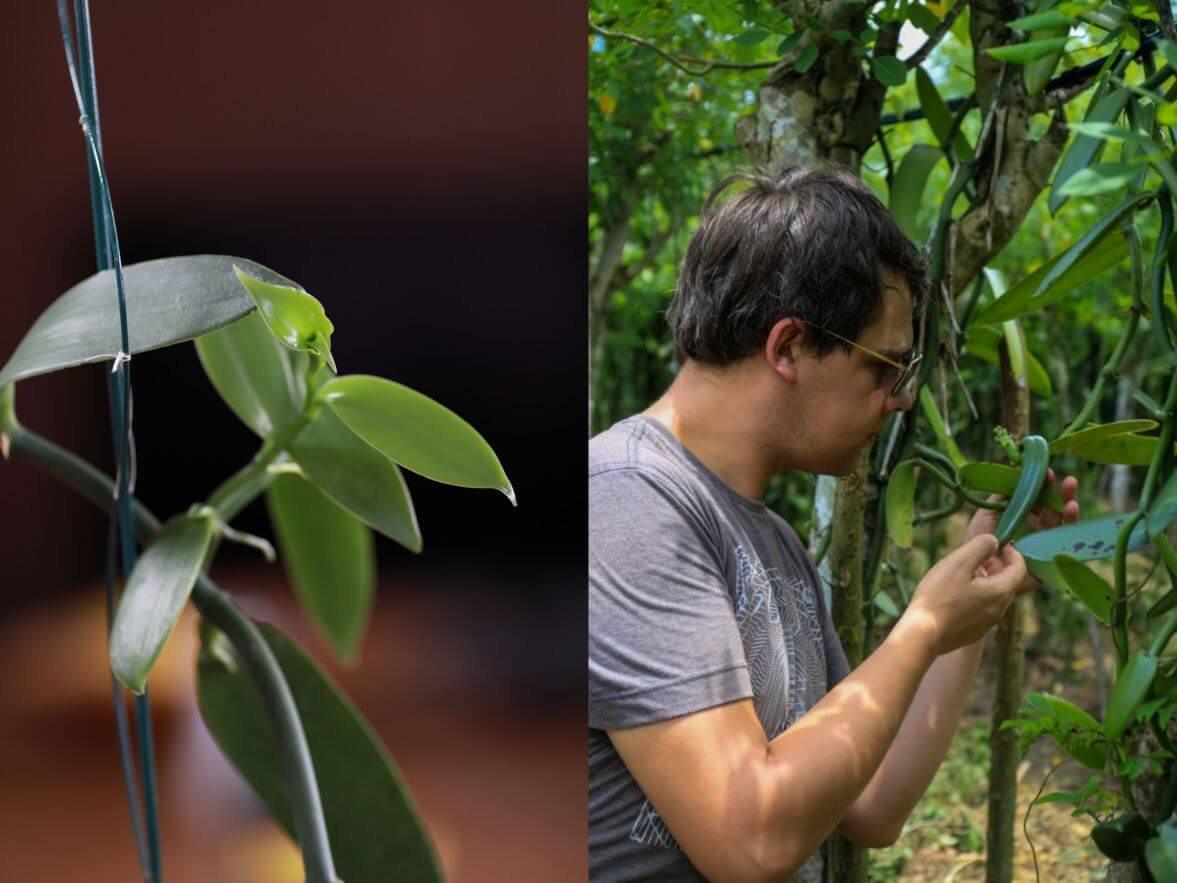 Why did you create the Gold category ?
In order to differentiate between the most difficult vanilla pods to produce and select, we have a category, such as you can find in tequila, coffee and cachaça for example.
We want to offer you a vanilla bean that is off the beaten track and that will make your taste buds travel in a world that is an explosion of flavor.
For each batch vanilla to have the Gold category in our company must have the following prerogatives :
Bourbon vanilla from Madagascar over 18cm up to 23 cm
The vanilla must be gourmet quality, it must not have a reddish line and must have an intense black, shiny, fleshy or dark brown color
A vanilla that must weigh at least 5g
The vanilla must be flexible and you must know how to tie a knot and no liquid must come out when you squeeze the vanilla
The vanillin level must be at least 1.6%
The smell must be greedy and suave with a touch of cocoa
Perfect preservation of vanilla - The best methods to preserve your Madagascar bourbon vanilla of +18cm over time
 How to store vanilla to take full advantage of it for at least 1 year without losing the suppleness of this princess of pastry?
Vanilla is an indispensable ingredient in many cooking recipes, imparting a delicate, sweet flavor to everything it touches. However, to fully enjoy its flavors, it is important to know how to store vanilla correctly. Here are some tips to help you keep your vanilla in pristine condition for future use.
Storage at room temperature under cove r: Vanilla can be stored at room temperature, in a dry and dark place, such as a cupboard or cupboard. But it must be in a PET or glass jar or even a metal or wooden box and not be exposed to other spices because vanilla is a chameleon and takes on the smell of all the spices around it. It is especially important to avoid storing it in a place exposed to direct sunlight or heat, as this can reduce its quality by losing its humidity and flavor
Storage in an airtight container : It is important to store vanilla in an airtight container to preserve its flavor and freshness. Metal or glass tins are popular choices for vanilla storage. But the Comptoir de Toamasina PET bottles are ideal. Because we have chosen the best bottles to preserve the flavor of your vanilla. Make sure the container is sealed to prevent the entry of air or moisture. Because the humidity will cause the vanilla to mold and here it will destroy your pod and the air will dry out the vanilla. Discover our article why moldy vanilla
Storing vanilla in sugar : This is a very good way to immediately put your vanilla pods in sugar. The sugar will prevent the air from entering the jar and will take on the taste of vanilla and you will have vanilla sugar. But this can capture a little of the humidity level and you will have a vanilla pod that will be less fleshy because it will have lost its humidity level but not its aroma which will always be the same
Preserving vacuum-packed vanilla : This is a method of choice for preserving vanilla because it will retain its flavor and aromatic power. Here, you will have a vanilla bean with the same aromatic power, a soft, shiny and above all intense vanilla. But be careful, you should never take a poor quality plastic to vacuum your vanilla otherwise take method 1 and 2
Vanilla is not a spice that is imported by frozen container or frozen storage, you should know that a seller who will tell you to keep vanilla in the rum and in the freezer will modify the flavor of the vanilla. The first method in the freezer you will cook your vanilla with the cold and it will lose its moisture content because the cold removes it. At -20°C vanilla will lose its suppleness and aromatic power. Storing in rum will simply give the vanilla a rum flavor and keep it from getting moldy, this is ideal if a vendor is selling poor quality vanilla.
Find our tips for storing vanilla on our blog.
Discover the best techniques for using the vanilla pod
The creator of Comptoir de Toamasina became a private chef when he arrived in Brazil, in particular to make his vanillas known to the world.
And as you know, vanilla pod is one of the most used spices in cooking and baking.
It brings a touch of sweetness and fragrance to many dishes and desserts.
Here you will discover the best techniques for using your Gold category bourbon vanilla pod from Madagascar to enhance your dishes with recipe ideas for starters, main courses and desserts, which you will find on our blog.
First of all, it is important to know how to prepare your vanilla bean.
To do this, you must cut it in half lengthwise and scrape the grains inside with the blade of a knife. You can then use the beans or the empty pod.
To add vanilla to your preparations, you can use the grains directly in your mixtures or infuse them in milk or cream to obtain a fragrant base.
It is also possible to use the empty pod by macerating it in sugar, rum, to make a perfumed oil or vinegar to make a perfume.
For the starter, you can use vanilla to flavor a vegetable soup, a carpaccio or simply a summer salad
For the dish, you can add vanilla beans to a sauce to make vanilla chicken or fish, such as vanilla julienne fillet, or use the empty pod to marinate vegetables
For dessert, vanilla is a must. You can use it to flavor a crème brûlée, a flan or a cake. You can also use it to make cookies or ice cream. Find more recipes on our blog.
To tell you in the kitchen, the vanilla pod is an essential ingredient to flavor your dishes and desserts.
There are many ways to use vanilla, whether using the beans directly or infusing your vanilla bean.
Do not hesitate to play with the different techniques to discover the unique flavors of your vanilla pod and make creative recipes with chef Arnaud by subscribing to our youtube channel.
Maximize the use of your vanilla pod in tips for reusing your vanilla pods from chef Arnaud and the Arnaud Vanille plantation
Vanilla is a valuable spice used in many cooking recipes, such as pastries, drinks and meat dishes. However, after extracting the contents of a pod, it can be difficult to know what to do with it. Luckily, there are several ways to reuse a hollowed-out vanilla bean to maximize its use and not waste this expensive ingredient. On our blog, you have surely discovered the trick of vanilla salt.
First, you can use the empty vanilla pod to flavor the sugar. Simply place the empty pod in a sugar jar, close the lid and leave to sit for about 2 months, then the sugar will take on a delicate vanilla flavor, which can be used to sweeten coffee, tea or pastries
Second, you can use the empty vanilla pod to flavor other drinks such as milk, juice, rooibos or even alcohol. Simply place the used pod in a saucepan with water or milk for example and leave to infuse for about 30 minutes. This mixture will then have a delicate vanilla flavor, which can be used to add an extra touch of flavor to your favorite drink, such as our vanilla rooibos recipe
Third, you can also use the hollowed-out vanilla pod to flavor dried fruits. Simply place the dried fruit and the empty pod in a jar, close the lid, and let sit for about three weeks. The dried fruits will then have a delicate vanilla flavor, which can be used for a healthy and delicious snack
Fourth method, you can use the hollowed-out vanilla pod to flavor olive oils. Simply place the empty pod and the olive oil, for example, in a jar, close the lid and leave to infuse for about 3 months. This flavored oil can then be used to cook all kinds of dishes, including vegetables, meat and pasta, discover our vanilla flavored oil recipe
The fifth method is one of Chef Arnaud's favorites at Apogée Bar is to use the vanilla you just used and dried in to make a vanilla salt. Discover his recipe on our blog how to make vanilla salt. A simple recipe, take 8 hollowed vanilla pods, a cup of fleur de sel or coarse salt and you can either grind the vanilla very gently so as not to heat it or let it infuse in a jar with the salt for 1 month. Putting it in powder is better because use within 15 days
In summary, there are many ways to reuse a hollowed-out vanilla bean. Whether you use the empty pod to flavor sugar, beverages, dried fruits or cooking oils, you'll be able to maximize the use of this valuable spice while adding a touch of delicate flavor to your favorite dishes. So the next time
You want to know everything about how to properly use your vanilla pods and how to reuse them.
Then discover our article on how to use the vanilla pod and especially how to make a homemade vanilla extract.
The best vanilla producers in the world - discover them on our site
The world is filled with many vanilla producers, each offering unique and different varieties. Some regions are known for their rare and prized vanilla, such as Brazil while others are known for high quality vanilla at an affordable price. Among the best vanilla producers in the world, Papua, which has been releasing in good quantities since 2018 - 2020, and Madagascar stand out for their unique qualities.
Brazil is famous for its rarest vanilla in the world, called cerrado vanilla and its variety Bahian vanilla. This variety of vanilla is highly appreciated for its delicate, floral aroma with a hint of acidity. It will go perfectly with fish and cold desserts such as tiramisu for example. Unfortunately, Bahian vanilla and Cerrado vanilla are two vanillas that are very difficult to grow, they are the most expensive vanillas in the world.
Madagascar has become the world leader in vanilla production, offering a variety of high quality bourbon vanilla at an affordable price. Bourbon vanilla from Madagascar is considered one of the best in the world, with a powerful and intense aroma that goes perfectly with a wide variety of sweet and savory dishes. Bourbon vanilla from Madagascar is also easier to grow than planifolia vanilla, making it a more affordable choice for consumers.
Ultimately, the choice between different vanilla-producing countries comes down to your personal flavor and price preferences.
If you are looking for a rare and expensive vanilla, Brazil is the ideal choice.
However, if you are looking for high quality vanilla at an affordable price, Madagascar is undoubtedly the ideal destination. Whichever option you choose, you can be sure to find exceptional vanilla from the best producers in the world.
Here, you will buy vanilla which will come from Madagascar, Tahiti, Brazil and Papua New Guinea.
Have you ever asked this question why vanilla beans are so expensive? Vanilla beans are expensive because all of the work from pollination to preparation, grading and packaging must be done by hand. You should know that to produce a vanilla pod, it can pass through about ten hands between the person who plants the vanilla pod, the pollinator, the person who will pick it, prepare, calibrate, export and package.
Bourbon vanilla from Madagascar Gourmet quality + 18cm up to 23cm for the ultimate flavor in your pastries and arranged rums
In conclusion, the bourbon vanilla from Madagascar over 18 cm offered by the Comptoir de Toamasina is undoubtedly the best vanilla from Madagascar that you will find on our site.
This exceptional vanilla pod is grown in one of the regions of the world with an incredible ecosystem and above all a soil, climate and the experience of Malagasy farmers which make all the difference compared to vanilla from other origins. Bourbon vanilla from Madagascar over 18 cm offers an intense and unique aroma, which goes perfectly with a wide range of sweet and savory dishes.
Local producers work with passion to produce gourmet quality vanilla, using traditional methods to grow and harvest the vanilla beans.
Arnaud, the creator of Comptoir de Toamasina advises you to discover our gold category bourbon vanilla pod from Madagascar in gourmet quality.
Customers who bought this product also bought: