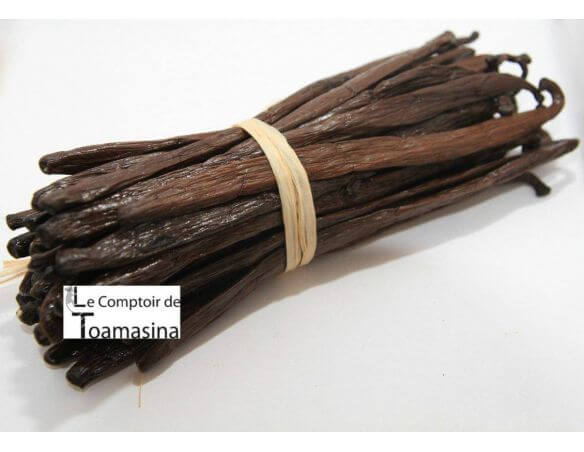 20 Madagascar's Bourbon Vanilla Beans
Vanilla Bourbon from Madagascar owes its name to producers who have introduced this variety on the Big Island in 1880. Vanilla Gourmets is a constant year after year, it owes its balanced alliance and scent to the "know-how" of the Malagasy farmers.
The Comptoir de Toamasina offers you a rich and voluptuous bean. We are happy to propose you one of the Best Vanilla of the World. 20 vanilla beans pack. 
Madagascar Bourbon Vanille Beans Grade A 




20 Madagascar's Bourbon Vanilla Beans
Madagascar vanilla pods : 20 vanilla pods from Madagascar AOC Bourbon, in its Gourmet / Extra quality , black . The best vanilla from Madagascar in a pack of 20 vanilla pods from Madagascar, shiny, fleshy, supple, black, mellow, full of seeds and smooth-skinned.
Importation of vanilla from Madagascar
Sale of the best vanilla beans from Madagascar - Madagascar's Vanilla
Purchasing the best vanilla from Madagascar in the USA
The Comptoir de Toamasina specializes in the importation of the best vanilla pods from Madagascar AOC Bourbon , small plantations . We take the greatest care in the selection of vanilla beans in Madagascar . All of our vanilla pods are bright, supple, fleshy, shiny, fragrant, black, mellow and smooth-skinned. For this year our vanilla beans have cocoa notes. The Comptoir de Toamasina sells only the best vanilla pods from Madagascar selected each year by Arnaud Sion.
Find the scent and flavor of vanilla of yesteryear at Toamasina counter, specialist in the the purchase and sale of very high quality vanilla beans . Our partner, the vanilla producer from Madagascar assures the assembly of stages, he is a family vanilla producer . Buy a vanilla pod with confidence at the Comptoir de Toamasina.
Product Description
Product: 20 vanilla pods from Madagascar quality gourmet-extra *
Vanilla Type: Black Madagascar Bourbon Vanilla Bean
Quality : Gourmet / Extra
Size: 15 to 17cm
Characteristic: Soft vanilla pods, black, fleshy, shiny, fragrant, mellow and smooth-skinned.
Packing: In sachet
Provenance: Madagascar
The conservation of the vanilla bean
For the conservation of the Madagascar Aoc vanilla bean in its economic size, it is sufficient to put it in a wooden or glass box in a room protected from light and any temperature shock. Avoid the cork stopper which will promote the development of mold.
You want to know our bourbon vanilla pod of Madagascar its history, the stages of pollination, flowering, harvest or preparation, see our history all of its information is available on our blog .
The 5 Best Recipes with Madagascar Vanilla Bean
Here are quick and easy recipes with Toamasina Counter Madagascar vanilla pod:
All about Madagascar vanilla bean
The properties of Madagascar vanilla bean
Madagascar Bourbon Vanilla Bean is a natural stimulant for the nervous system and a general stimulant. It thus makes it possible to fight against the intellectual and physical fatigue.
Thanks to its perfume, it soothes and relaxes. Vanilla would also be an antispasmodic, it would fight against stress.
It will facilitate digestion and help fight against depression like chocolate.
To make the most of the aroma of your vanilla pod
In the milk: you just have to split the vanilla pod in its length before using it and scratch with the flat of the knife blade the inside of each half vanilla pod. Then put the vanilla beans and the pod in warm, non-boiling milk for 10 minutes. If possible cover and let stand overnight, so the milk will be perfectly flavored with vanilla from Madagascar.
In cold infusion: for a few days, you can put the split vanilla pod with the seeds in fruit juice, in a cocktail, in alcohol or in a fruit salad.
To make a rum: put 2 to 4 vanilla pods in a bottle for 2 to 6 months.
To learn more about our vanilla pod
Since the early 1990s, the vanilla market in Madagascar has been totally transformed. It entered globalization with the arrival of the Chinese who took full control of the black gold market to the detriment of the French. This takeover will bring about a total change in the way of working and this economy, which contributes 35% of the country's GDP.
From preparation to commercialization
To make a good vanilla pod of Madagascar AOC Bourbon , you need all the traditional knowledge of Malagasy producers and here are the steps.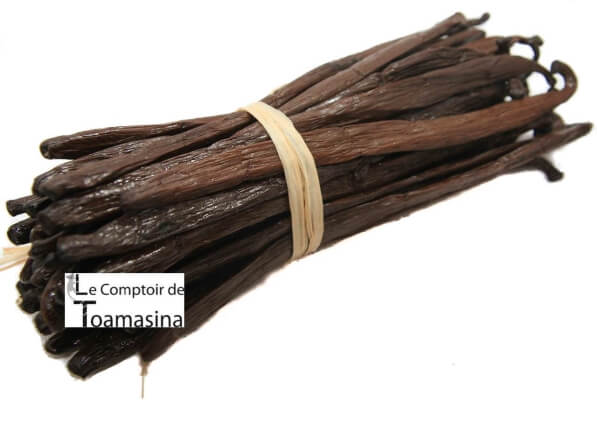 The preparation of Madagascar Bourbon AOC vanilla pod
Madagascar Bourbon AOC vanilla pod before preparation / Baunilha antes da preparação
Packaging Bourbon vanilla pod of Madagascar AOC Bourbon Understanding the different vanilla pods of Madagacar and the world
Fresh pods
Split or not, it is the vanilla pods of Madagascar whose content is still high (+ 30% moisture content)
Dry pods
Split or not, having reached a so-called normal degree of drying with a humidity rate of 25 to 30%
fermented pods
altered giving a sour odor
Moldy pods
A black coating formed on the stem
The mothed pods
Vanilla beans from Madagascar have been stung by acarsens or moths, causing an unpleasant odor
The peach pods
The vanilla pod has broken peas leaving small traces in its upper part
The flabby pods and cuts
Vanilla cut are pods cut or out of standard lower than ten centimeters, the pods can be puddles or immature.
We are in the phase of sorting vanilla from Madagascar, here the producer-preparer will proceed to the classification of pods which consists in distinguishing and arranging the different qualities. In this first phase he will have 4 categories:
black and shiny vanilla beans

vanilla beans with slight defects

vanilla pods with more pronounced defects

rough or flabby vanilla pods
After this sentence, Madagascar Bourbon AOC vanilla pod will be measured and packaged for export. Madagascar Bourbon AOC vanilla pod should never be evacuated during export and the preparation if it is vacuumed is the sign of a bad vanilla. (even during the sale). Packaging of vanilla will be done by 80 pods or a package between 250 and 500 grams depending on the length and category of the pod. Then the vanilla will be put in a tin box lined with a special waxed vanilla paper. Before being exported in cartons with waxed paper inside.
Madagascar vanilla bean "extra" Not split
Madagascar vanilla pods, not cracked, supple, healthy, of good taste, of uniform dark brown or chocolate brown color, which may have some stains or rakes not exceeding one-third of the length and whose water content is 38% and a minimum length of 14%
At the Comptoir de Toamasina we sale this vanilla pod . This is the top of the vanilla pod of Madagascar . The weight of our pod and between 2.8 to 7 grams.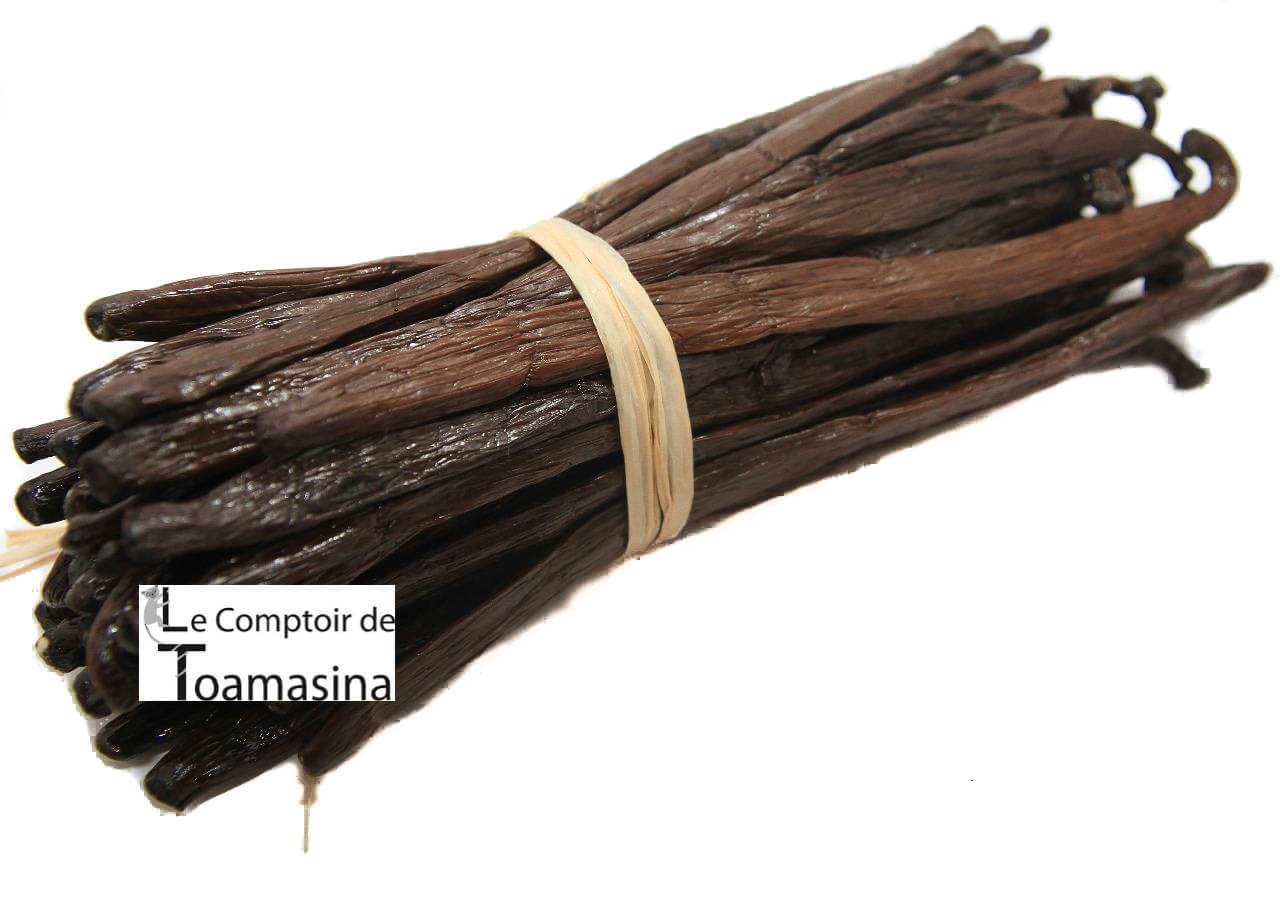 Red fillet: fine longitudinal stripes on the vanilla pod of reddish brown color.
Vanilla pod from Madagascar: Trade term for whole fruit.
Brand: brownish scar patch due to the application on the pod of a special punch.
Spot: localized accident giving a coloration or a different brightness of the normal aspect.
Vanilla Woody: Vanilla strongly desiccated, rigid and brittle with reddish threads often not uniform.
Creosote Vanilla: Vanilla with a characteristic creosote odor.
Vanilla from Madagascar: "moth": Vanilla parasitized mainly by mites.
Vanilla from Madagascar: "poiquée": vanilla with blisters 
Split vanilla: pod partially open in the longitudinal direction from the heel.
Frosted vanilla : Vanilla with naturally exuded vanillin crystals
Moldy vanilla : Vanilla with a moldy smell
Vanilla prepared: green vanilla having undergone a suitable treatment in order to develop its aroma.
Healthy Vanilla: vanilla that has not been altered by natural or artificial circumstances such as mold, insect attack, injury or disease.
Dry vanilla : vanilla more or less dehydrated having partially lost its flexibility
Soft vanilla : fleshy and flexible vanilla.
Since 2010 Comptoir de Toamasina offers on the markets of Place du Sebastopol on Saturday and Sunday on the Place du Concert in the markets of the city of Lille, a vanilla pod of Madagascar AOC Bourbon rare and exceptional and since 2014 via its e-commerce site. Our vanilla always comes from our partner plantation for packaging:
Our vanilla pod of Madagascar AOC Bourbon is one of the best on the market, it offers the best value for money on the market. No vanilla pods have an average of 3 to 5 grams but can reach 7gram. We can say that we sell a cheap vanilla as we work mainly live with the producer. To test the vanilla pod of Madagascar AOC Bourbon of Comptoir de Toamasina it is to adopt it.
If you want to watch a report on globalization one click on Public Senat
Customers who bought this product also bought: