Tonka bean is originally from Brazil, it gives a fragrance with notes of almond, vanilla, caramel and cinnamon. It is an incomparable fruit. Its taste is warm and delicious.
It can be gently infused in milk for pastries, but it can be used on veal like grilled shrimp.
Bean power: 9/10
Main notes: Almond, caramel, vanilla, cinnamon and tobacco
Use: Savory and sweet cooking
Dosage: Grate the bean until you get the power you want
Origin and plantation: Brazil, Amazonas state harvested by the indigenous population and Para rural producer
Sale of Tonka Beans from Amazonia directly harvested by the indigenous populations of Amazonia and our producer in Para.
Tonka Bean - Brazil
Buy Tonka Bean
Tonka Bean Pastry - Brazil - Amazon
Tonka Bean from Brazil Redenção District in the State of Pará and the Amazon
The Comptoir de Toamasina, thanks to its creator Arnaud, meets each year with its producer of tonka bean from Brazil. We directly import the best tonka beans sold in France and without intermediaries.
We have two sources of supply, a tonka bean harvested by the indigenous population and another from a partner plantation in Redençao.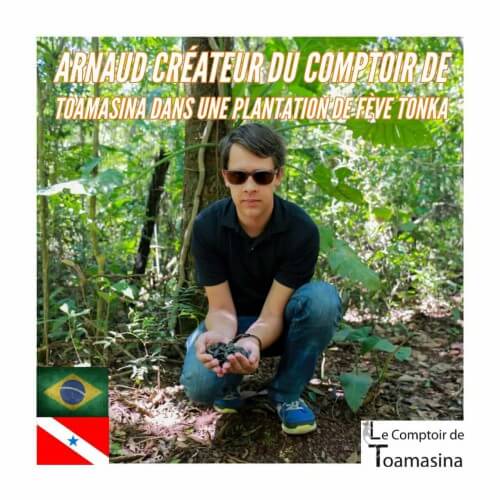 In Brazil it is called cumaru fava, it also bears the name Tonka bean (Dipteryx odorata) or Tonka bean, Tonkaboon, Tonkabohne, Tonkowiec wonny, cumaruzeiro, Sarrapia or Haba tonca, Боб тонка, ト ン カ ビ ー ン ズ.
This little is not very well known in Brazil, but it is the fruit of the Dyptérix Odorata or the Tek.
Can this tree measure between 20 and 30 meters?
Its popular name is cumaru, cumaruu-ferro, cumaru de folha grande.
It is a tree that has a very long life.
We will find it mainly from Acre to Maranhao. In forests with high humidity.
Fruits look a bit like fruit to make chocolate. The pod will fall to the ground, then the fruit is split in half and there are two beans. Ebony in color.
Then the beans will undergo sterilization and drying in the sun.
Good to know, as you must have read on our blog, when the tonka bean with a high rate of coumarin it will have its surface that shines. It is quite simply the essential oil which gives this aspect.
Unfortunately, many resellers speak of frosted tonka bean, but this bean does not exist.
Tonka bean has a complex flavor and aroma. It is very sweet and bewitching.
The taste of the tonka bean is very difficult to say there are notes of spices that will remind of almond, caramel, chocolate, vanilla and tobacco.
But it is above all intense almond notes.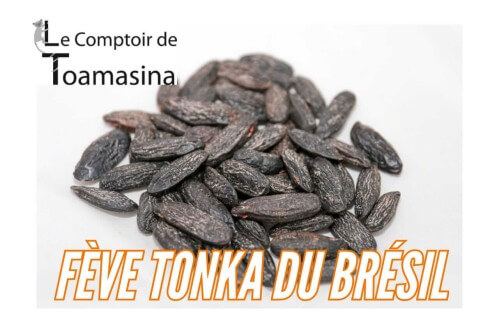 History of tonka bean and cumaru
Tonka bean is a small black bean which comes from Brazilian Teak.
The tree is gigantic, they grow in the Amazon.
Its size can go up to 30m and its life expectancy is around 1000 years.
This small spice is produced only in South America, Venezuela, Guyana and especially in Brazil more particularly in the State of Pará.
The best tonka beans in the world are produced in the state of Pará.
Le Comptoir de Toamasina is the only direct importer with producers of Tonka beans in Brazil in France.
Each year Arnaud Sion goes to Pará to discover the best tonka beans.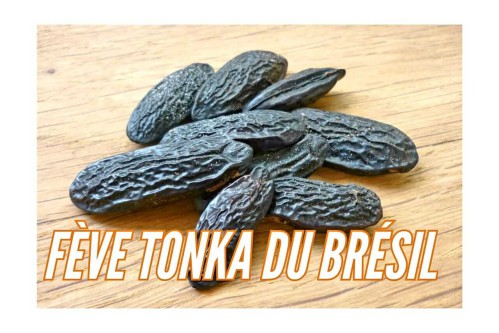 The teak fruit will produce a fruit the size of a small mango and will enclose two tonka beans inside.
During the harvest, the tonka bean is red in color.
The tonka beans will then be left in the sun for drying.
It takes about 1 year to make a delicious tonka bean.
At the end of the harvest, they are the size of a large almond.
The word tonka designates the fruit of Brazilian teak, in the Tupi language. Tupis are an Indian tribe in the Brazilian Amazon. More particular in the State of Amazon and that of Pará
The Tonka bean harvest from Amazonia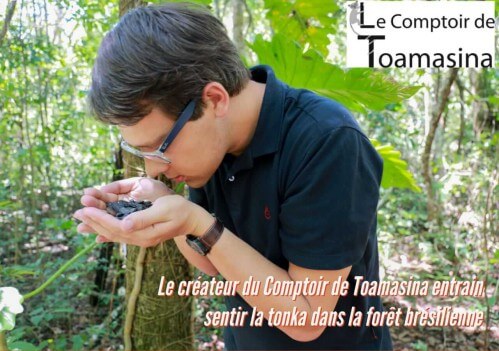 The creator of Comptoir de Toamasina is here on a plantation that produces tonka bean.
The Dipteryx Odorata tree is about 20 to 30 meters tall. It is a tree that has a long life cycle and is used to take the tonka bean but when it gets too old, it can be used to make furniture.
This tree needs very moist soil and a hot and humid climate, that's why it goes from acre to Maranhao.
It is under the equator in the tropics.
It has a cycle almost like the pinot palm to put it simply, it will flower in March and April and will give its first fruits in June and September.
The fruits that fall to the ground will be harvested and split in half to harvest the two seeds inside.
After the tonka will be sterilized and then exposed to the sun. It takes about 1 year to prepare this little bean.
Arnaud himself chooses his tonka beans from the Amazon. We offer a tonka bean directly imported from the Amazon without intermediaries.
Each year, it is always a great joy that we receive the new harvest at Belo Horizonte.
Authenticity and quality not found elsewhere than at Comptoir de Toamasina, the specialist in flavors of the world.
Product Description
Product: Tonka bean from Pará in Brazil and from the state of Amazonas in Brazil
Packaging in resealable bag: 10, 25, 50 and 100 Tonka beans from Brazil
Feature: Notes of almond, vanilla, caramel, cinnamon and tobacco
Provenance: Brazil from the State of Pará and Amazonas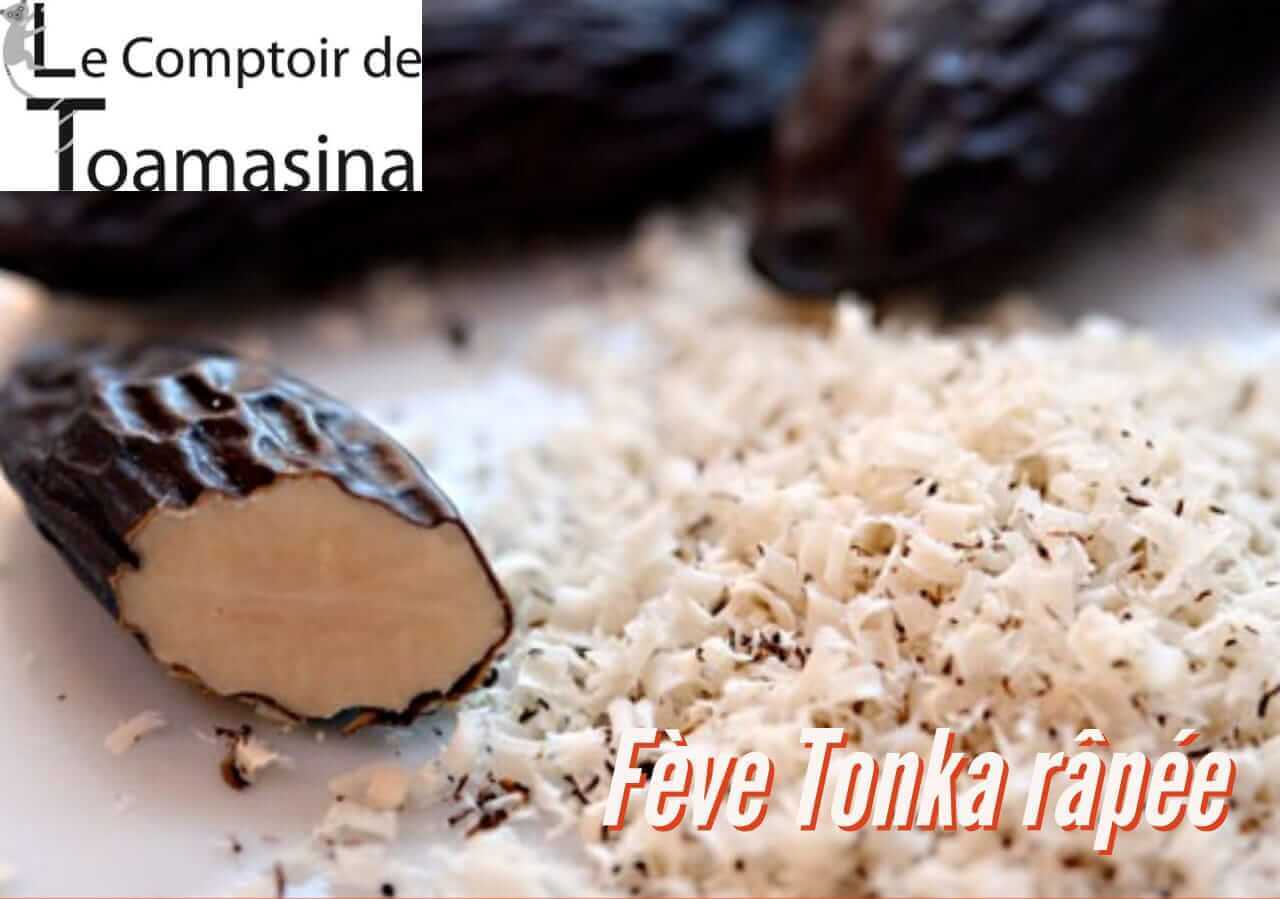 The production region of our tonka bean is around 50 tonnes of tonka produced per year.
The tree that produces the tonka bean will produce approximately 20kg of prepared tonka bean.
Today more than 50% of the tonka bean which is sold by our partner producer goes into the cosmetic industry preparing soap, perfume. For example Guerlain makes a great fragrance with tonka or natura brasil which makes cream with tonka bean.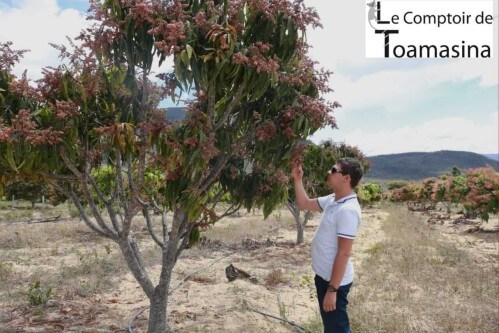 How to use tonka beans in the kitchen?
The tonka bean from Brazil presents an impressive aromatic palette.
It only takes a tiny bit to give this exotic touch to your preparation, recipes or even your creative cuisine.
It is used in salty as in sweet.
It is a bean with a powerful aroma that will do wonders. Then consult our blog to discover our recipes with Brazilian tonka bean.
Tonka bean in sweet recipes
Pour To use the Tonka bean in desserts, in savory cooking, we advise you to grate or grind it at the last moment in order to preserve all its flavors.
Tonka bean has a very pronounced taste, so it must be used with great care, so do not hesitate to put it in a small dose, then readjust it afterwards. You can also let it infuse so that the scent diffuses.
A Tonka bean can easily replace Madagascar vanilla.
The Tonka spice will go very easily with chocolate, you will be able to make chocolate mousse, creams, cakes, truffles, chocolate pie.
This little pastry princess Tonka bean works wonderfully with creams, crème brûlée, custard or tonka vanilla cream.
Tonka bean will be used very well in pancake dough, waffle dough, pie dough. You can also use it with fruit salads, compote and baked apple.
It goes wonderfully with creams, whether it be crème brûlée, buttercream, custard, vanilla cream, etc.
You want to make a flavoring sugar, use 500g of powdered sugar for 2 Tonka beans.
Le Comptoir de Toamasina, invites you to buy the best tonka beans in France. Each year Arnaud Sion, the creator of Comptoir de Toamasina goes to the Amazon in search of the tonka bean.
Arnaud goes there with our pick-up, in order to control the supply chain.
If you want to buy authentic tonka beans from our partner producer then come buy tonka beans at the best price.
Customers who bought this product also bought: