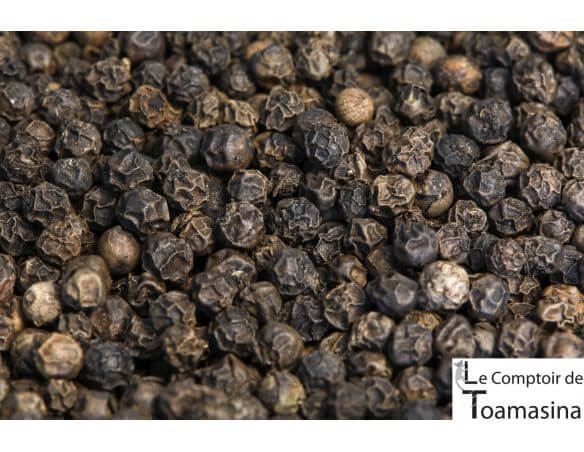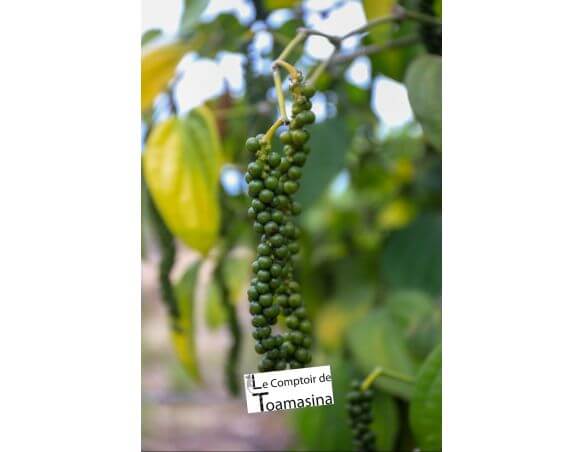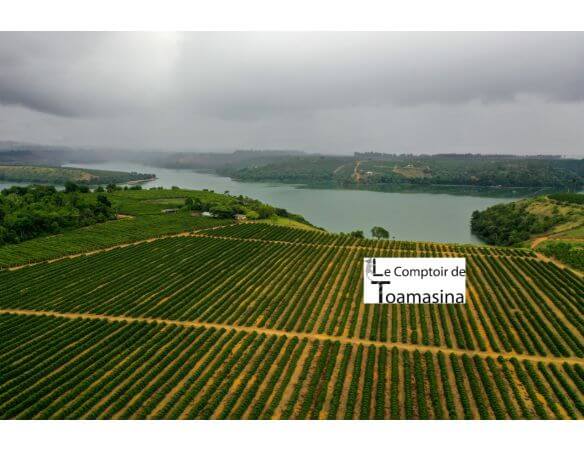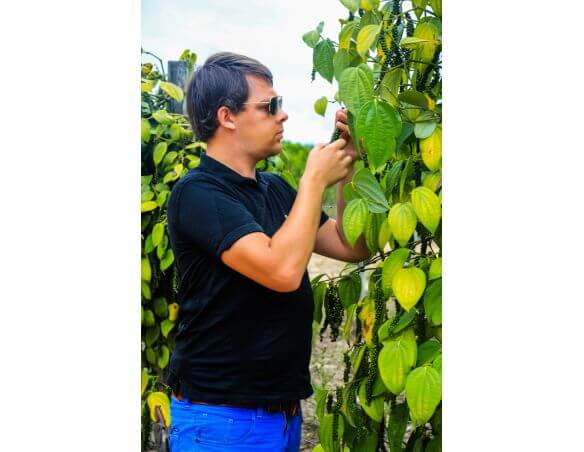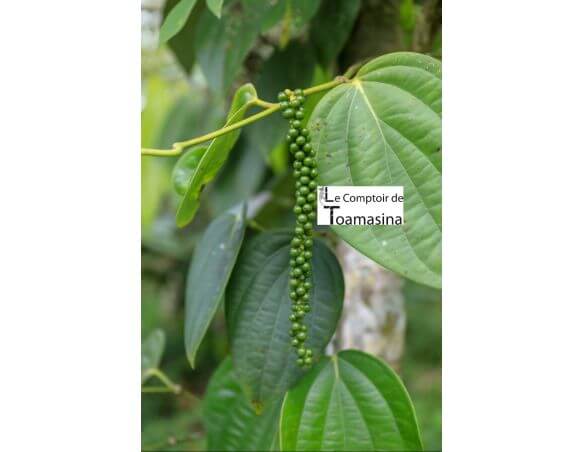 Brazilian black pepper is extraordinary with wild and intense notes.
It offers a strong and refined spiciness with notes of citrus and musk.
A Brazilian black pepper comes from three states: Cidade de Nova Venécia Espirito Santo, Bahia and Pará. Comptoir de Toamasina has its own branch in Brazil to pick up excellent peppers.
Pepper power: 7/10
Main notes: wild, with a hint of citrus and musk
Use: Ideal for all savory dishes, especially meats
Origin: Madagascar
Discover and buy online the best black pepper from Brazil. Arnaud, the creator of Comptoir de Toamasina selects for you the best peppercorns in Brazil, directly from the producer.
Black pepper - Brazil
Black pepper from Brazil and its magic notes. At Comptoir de Toamasina, a real pepper hunter of excellence, we are going to offer you 3 origins, Belem pepper, Bahia pepper and that of Espirito Santo, the leading pepper producer in Brazil.
Brazilian black pepper with very wild, animal notes with a fresh side.
We will soon offer you white pepper from Brazil, we had samples in November 2019 and we found this sample very promising with citrus notes for a white pepper and all organic and demeter. He will be arriving soon.
Buy and Sell Brazilian Black Pepper
Thanks to our subsidiary in Brazil, Abaçai, created by Arnaud Sion creator of Comptoir de Toamasina. We are the first Franco-Brazilian grocery store to market black pepper from Brazil, directly from producer to consumer.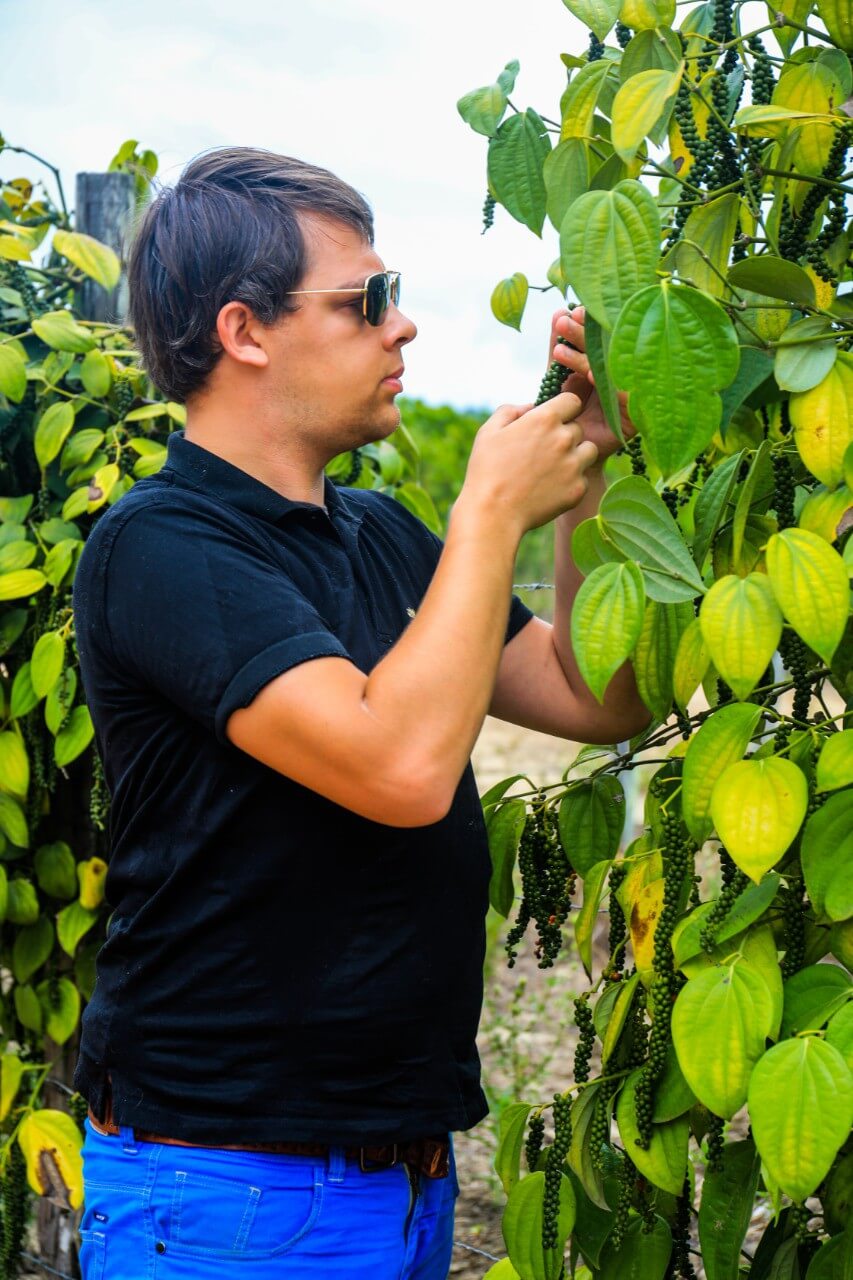 The Origin of Brazilian Black Pepper
The Origin of Brazilian Black Pepper PEPPER FROM THE SOUTHERN KINGDOM OF BAHIA AND ESPIRITO SANTO
At the time of the great navigations, in Portugal, a phenomenon is being born and Portugal is the pioneer.
The sea as a commercial expansion. Knowing and mastering the maritime routes means mastering the economy.
Portugal sets out to conquer new roads and people in search of food and spices.
The Piper nigrum pepper is a liana from the Piperacea family, originally from India and introduced to Brazil in the 17th century by the Portuguese.
At that time the main use was food seasoning, in particular, cold meats and sausages. Today pepper is everywhere in the pharmacy industry, including perfumery, food and finally on our table.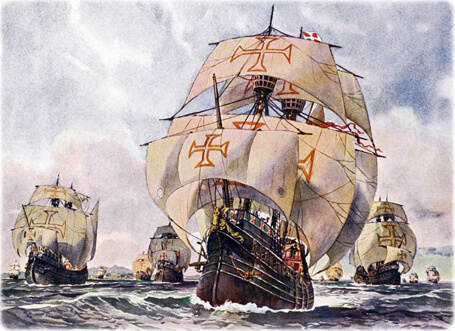 World Pepper Production in Brazil
World production varies from 300,000 tonnes to 400,000 tonnes per year with Vietnam as the largest producer, Brazil is 4th and this represents 10% of world production.
According to IBGE, Research Institute in Brazil, Brazil produces around 50 tonnes of peppers on 19,400ha.
The main states are Pará, Espírito Santo and Bahia, with 75%, 15% and 9% of Brazil's production.
The cities of Açu (PA), Thomas-Açu (PA), Matthew (ES), Jaguaré (ES) Ituberá (BA) and Prado (BA) are the main cities where Brazil black pepper is produced.
85% of Brazilian production is exported. You should know that pepper farming in Brazil is done by small farmers.
Pepper consumption increases by 3% each year on average, particularly with India, China and the Middle East.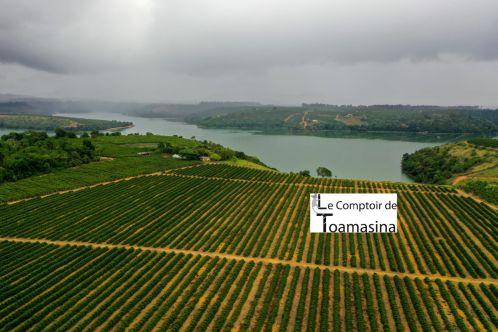 Black Pepper from Brazil Nova Venécia Espirito Santo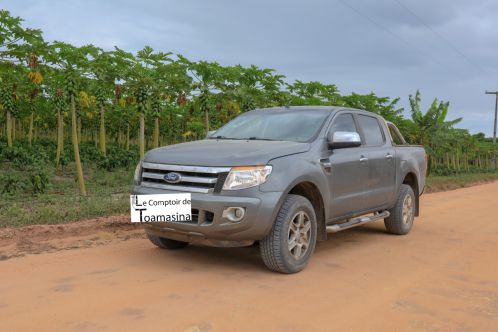 Amazing taste and aroma - Brazilian taste and nature on your plate
The Espirito Santo pepper is a very surprising pepper with its aromatic features
I wanted to share with you one of the jewels of Brazil. With our Ford Ranger, we go straight to the plantation every year to get the best black peppercorns from Brazil.
Espirito Santo is a bit the port of Minas Gerais, it is in this state that a lot of goods leave Minas Gerais to sail to Europe.
Arnaud Sion, the creator of Comptoir de Toamasina encountered during a trip to Brazil, a pepper plantation with peppercorns with a rare and remarkable aromatic quality.
The grain of pepper from Brazil, does not crunch under the teeth, it offers an incredible aromatic palette and you will discover a symphony of flavors on the palate.
The discovery of a pepper region in Southeast Brazil and Brazilian flavors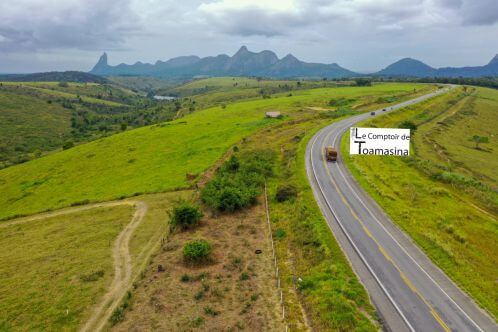 To do this, we must return to the origin. Arnaud Sion left France and Europe in November 2015, to settle in Brazil, in Minas Gerais.
In a first, he made discover our vanilla of Madagascar of excellence to the chefs of Belo Horizonte, then over the meetings, he went to discover the producers through.
First by bus, he crossed Brazil to meet coffee producers in Sao Paulo, Minas Gerais, super food Guarana and Açai here it was 3 hours by plane.
Then in July 2017, we buy our own 4x4 in order to buy Brazilian flavors directly from the plantation and meet them. Because in the rainy season, it is very difficult to move inland and the Ranger makes all the difference.
Brazilian Black Pepper from Espirito Santo
We wanted to offer you a sun-drenched pepper that will go off the beaten track. To get to the plantation only dirt roads.
Espirito is one of the main producers of pepper in Brazil, thanks to its land and its climate close to the sea.
Description:
Products: Black Pepper - Brazil (Bahia or Espirito Santo)
Quality: Extra
Characteristic: a fresh pepper with wild notes
Packaging: In bottle or sachet
What is the difference between Brazil black pepper and the others?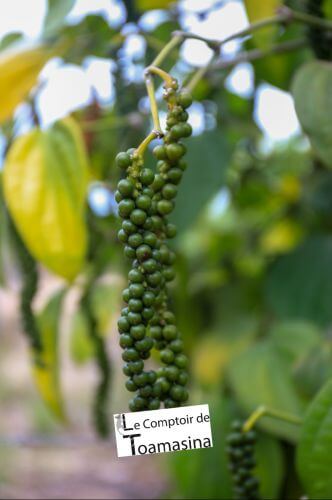 Brazilian pepper will translate into its wild and fresh notes.
It is a real pleasure that we make you discover a pepper of excellence.
It is during a weekend in the state of Espirito Santo, in heavy rain that Arnaud Sion gets lost in a dirt road.
He arrives in front of the Fazenda and asks for his way and discovers that it is pepper.
An appointment is made for the next day and the rain gave way to the Sun.
You should know that the work of Brazilian farmers are remarkable. After a few discussions and a new visit to see if the plantation respects our desire for sustainable and responsible agriculture, we buy our first bags.
Which we bring back to Minas Gerais and shipping to France.
We offer black pepper accessible to the greatest number from sustainable and responsible agriculture.
In which recipes should you use your Brazilian black pepper?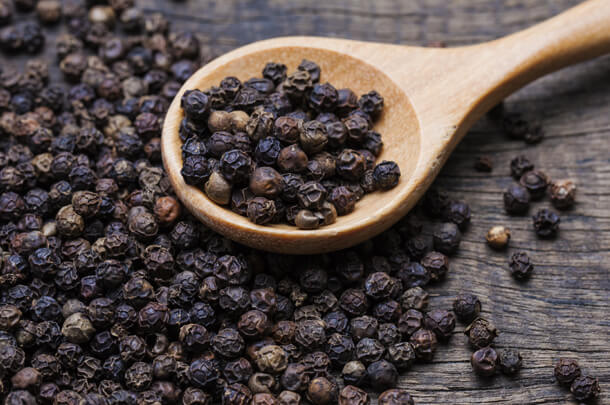 Brazil black pepper is a pepper for your. It will allow you to discover its animal notes.
You can actually use it anywhere.
It is a symphony of flavors that will take you out of the traditional pepper routes.
Black Pepper - Brazil in salty cuisine
It is the great friend of salt, you will be able to use it on all types of savory dishes: meats, fish, vegetables, sauces.
It will do wonders in breadcrumbs, chicken, cheese or tofu.
We recommend that you beat it with a pestle just before serving. It will at best exclude its symphony of flavors.
Do not hesitate to do like the Brazilians and barbecue with black pepper from the ground and crushed to put it on your meat.
How to store and use your Brazilian black pepper?
Pepper is sold too often in powder in the trade is sad.
In this form, it will quickly lose its aromas to leave only a taste with no tessitura.
To make the most of the scent of pepper, it is best to always buy whole grains and grind it at the last moment with a coarse-mill or pestle.
Store your pepper away from light and temperature shock. Especially if you buy in a 500g vacuum bag. The packaging of 50g PET bottle and sachet up to 200g are specially designed to preserve the flavors of pepper and not to let UV rays pass.
Be careful never to leave it for too long in cooking, it can become bitter. Add it unique at the end of cooking.
A little advice: Never have your hand too heavy on the pepper or it can simply transform your dish.
Buy and Sell Brazilian Black Pepper
Buy and Sell Brazilian Black Pepper Buy Brazilian Black Pepper at the best price
Thanks to our subsidiary in Brazil, we are going directly to the plantations to finally guarantee you black pepper - Brazil in high quality.
Our black pepper is selected by us directly on the plantation.
Our partnerships with local producers (pepper producer) reduce the middleman and thus reduce the price.
Buy black pepper from Brazil at the best price per kilo at Comptoir de Toamasina.
Our Brazilian black pepper is of very high quality and it is a fresh black pepper.
If you want to buy directly from Brazil, please contact us.
Customers who bought this product also bought: