Sri Lanka White Pepper (Ceylon)
Sri Lanka white pepper (Ceylon) is a white pepper with a powerful nose and its animal flavor. It is balanced and very fine on the palate.
It is ideal for marrying vegetables and salads. It will do wonders on white meats and fish.
Pepper power: 7/10
Main notes: Camphorated and sweet, slightly floral
Use: White meats, vegetables and Sauces
Origin: Ceylon
Sri Lanka is an island known as Ceylon. It is highly known for its tea plantations. At Comptoir de Toamasina you will buy the best quality of white pepper in bulk at the best price. Discover our best white pepper selected by us.
Sri Lanka White Pepper (Ceylon)
Discover the white pepper from Sri Lanka (Ex Ceylon Island) a white pepper picked at full maturity. You will buy the best high quality Sri Lankan white pepper and discover its history and recipes.
Buy and Sell Sri Lankan white pepper (Ceylon)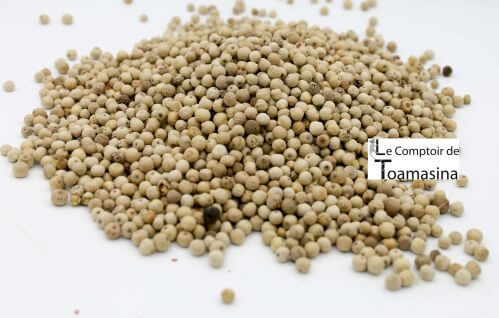 Sri Lanka is a land of spices and a land of pepper. It is an island that we know for its Ceylon tea. But you will find exceptional spices, such as Ceylon black pepper and cinnamon. In Sri-Lanka we offer you only the best of the gardens, the selection of the best shiny and tasty peppercorns on the palate.
What is Sri Lankan white pepper?
It is a white pepper that we buy organic. It is part of the Piperaceae family. It is a white pepper with an incomparable flavor. It is a grand cru of pepper.
Did you know: That Sri Lankan white pepper like white peppers in the world is harvested red then it will be immersed in water to remove its pericarp.
Then it will be dried to take on its beautiful white color.
The Flavors of White Pepper from Sri Lanka
The flavor and taste of white Ceylon pepper is a pepper with frank and balanced notes.
White pepper gives you beautiful animal notes and very balanced.
Description:
Product: Ceylon White Pepper
Packaging Bottle of: 60g and Bag of 250g and 1kg
Characteristic: pepper which will be very lively on the palate and keep a good presence in the mouth
Origin: Ceylan
Other packaging available: 250g resealable bag, 1kg vacuum bag
How to Use Sri Lanka Ceylon White Pepper - White Pepper Cooking
In the mouth it is the least powerful of the peppers but the white Ceylon pepper is also the most subtle of the white peppers.
It is a pepper that will work wonders in poultry, vegetables and fish.
Many chefs will use white pepper not to color the sauces and for its incredible flavor
The white Ceylon pepper in grains is a white pepper which is ideal for creative cooking in food: soups, meats, vegetables, sauces and in desserts, especially in chocolate.
Ceylon white peppercorns work wonders, especially in white sauces, fish and poultry.
Feel free to use Sri Lankan white pepper in salads or salad dressings.
Always add the white pepper at the end of cooking.
Come discover:
Recipes with Ceylon White Peppercorns
You can use your high quality white pepper with white meat and fish. Sri Lankan white pepper is often used to make mild white sauces.
Buy the Best Ceylon White Pepper A white pepper with a rare and intense aroma
Ceylon piper nigrum white pepper is a nice regular white pepper.
It will offer you our very well balanced and wild.
A real white pepper that comes from the Piper Nigrum liana.
Buy whole grain Ceylon Piper Nigrum white pepper at the best price online at the best price.
Customers who bought this product also bought: