The acerola cherry is a cherry that wishes you well. The acerola is first of all a tree in South America. More particularly from Brazil from the Amazon to Minas Gerais. Its fruit is the Barbados cherry or West Indian cherry. It is a small red berry known as a natural source of vitamin C. It is 20 times more than a glass of orange juice.
Power of the cherry: 7/10
Main Notes: Slightly tart notes
Use: Every morning
Active Principle: Vitamin C, minimum content 17.61 in accordance with Brazilian regulations
Native: Minas Gerais, Sao Paulo - Brazil
Discover powdered acerola, a superfruit rich in vitamin C and invigorating. This is where you will buy it at the best price per kilo and of high quality.
Acerola Powder


Vente de poudre d'acérola 100% Naturelle du BrésilSale of 100% Natural Acerola Powder from Brazil
It's right here at Comptoir de Toamasina, a real counter for superfoods and a counter for acerola from Brazil. That you are going to buy the best acerola cherry powder with the highest concentration of vitamin C.
Discover the acerola powder rich in vitamin C. Our acerola powder contains at least 17% vitamin C in accordance with Brazilian regulations.
Buy raw powdered acerola at the best price per kilo. Do not hesitate to discover our acerola powder 1kg packaging.
Producer, Importer of acerola powder from Brazil
100% natural acerola powder Abaçai, the 100% Brazilian brand from Comptoir de Toamasina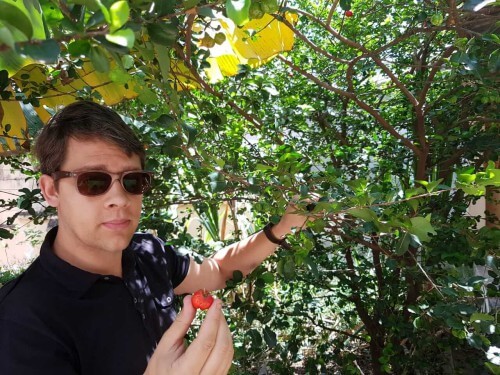 Online sale of acerola powder vitamin C 100% Natural
Highest Concentration of Vitamin C Powder in the World
Le Comptoir de Toamasina is the specialist in importing the best products from the Amazon since January 2016, thanks to our Brazilian subsidiary.
Le Comptoir de Toamasina has been a Franco-Brazilian company since November 2015, specializing in spices and 100% natural products.
We import our acerola directly from para. So come and buy the difference, come and discover an acerola that comes directly from Minas Gerais, buy a quality powdered acerola, which is harvested and powdered by ourselves. Buy the difference, buy acerola powder from Comptoir de Toamasina.
What is the acerola cherry?
A little cherry that wishes you well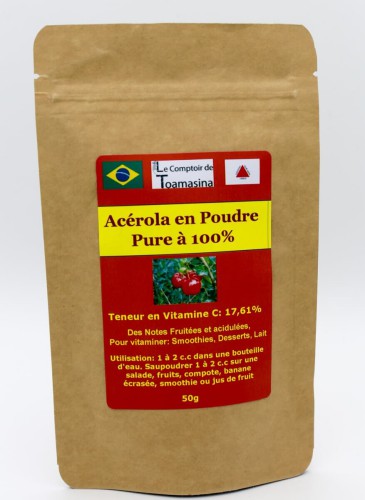 The acerola (malpighia emarginata) is a small tree that grows from Cerrado to swamp areas in the Amazon. But today this tree grows in practically all the states of Brazil. The acerola fruit is the Barbados cherry or West Indian cherry because it looks very much like a cherry. The acerola shrub is an evergreen from the malpighiaceae family. Our Brazilian acerola grows spontaneously in tropical regions. Especially in Brazil in the State of Para, Minas Gerais, Amazonia. It is therefore 100% natural. The leaves of the shrub are oval or elliptical and end in a sharp point.
The flowers are brightly colored, beautiful red, open three times a year. They are grouped into auxiliary inflorescences. Its fruit, the acerola fruit is edible and has a tangy taste. The acerola fruits will reach maturity soon after flowering. The fruit of the acerola, the Barbados cherry does not support heat. So they must be handled with the greatest care. Before turning it into powder.
The acerola fruit is a super fruit and contains 20 to 30 times more vitamin C than oranges. This makes it one of the richest vitamin C fruits in the world. 1000mg to 2000mg per 100g. After well on the Camu Camu. Powdered acerola is also rich in vitamin B and vitamin A, as well as flavonoids and minerals. (Iron, calcium, phosphorus, potassium and magnesium.
The acerola is a treasure of the Amazon, a treasure of the Indians, which is cultivated all over the country today. This little wild cherry will concentrate the highest content of vitamin C in the world. It is a perfect stimulant for the production of collagen, detoxifying the skin, it is also called to be an antioxidant and for the ability to remineralize the skin. Acerola powder can also be used in your creams.
Our acerola is 100% pure.
Product Description:
Product: Acerola powder from Minas Gerais in Brazil
Packaging in resealable bag: 50g, 150g and 500g
Feature: Vitamin C, Vitamin A, Flavonoids, Minerals
Vitamin C content: 17.61%
Percentage of Acerola: 100%
Provenance: Brazil from the State of Minas Gerais
Other packaging available: acerola powder in economic packaging
The properties of pure acerola in raw powder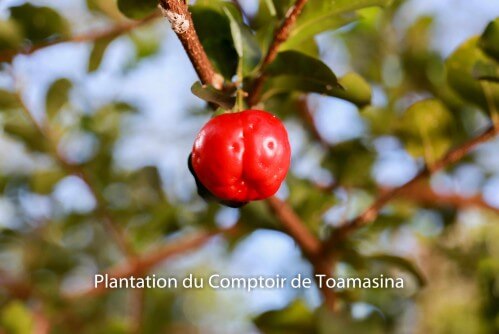 Acerola powder naturally contains properties and health benefits.
Powdered acerole naturally contains an antioxidant effect. It fights against the aging of cells.
Powdered acerola naturally contains a detoxifying effect. It naturally cleanses the body.
Powdered acerola naturally contains a stimulating effect, acerola is very effective in winter. Acerola stimulates the body's natural defenses.
Powdered acerola with remineralizing effects.
The powdered acerola has a restructuring effect, it will participate in the construction of collagen and therefore in the strengthening of the structure and resistance of bones, cartilage, teeth, vessels and skin.
Powdered acerola with a tonic effect, its composition is excellent for restoring vitality, to weakened organisms. It will help revitalize and soothe nervous fatigue, stress, exhaustion and overwork.
Acerola is recommended by Brazilian doctors as an exceptional dietary supplement, in addition to a healthy and balanced diet. It provides an exceptional amount of vitamin C, in order to participate in the stimulation of the organism. In winter it is the ideal weapon. Powdered acerola cures are highly recommended for people whose diet is low in fresh fruits and vegetables.
Acerola is a super fruit, one of the fruits richest in vitamin B6, B1, B2, vitamin A and especially in vitamin C. Its concentration in vitamin C is extreme around 1745mg per 100g. It's 30 times more than an orange juice.
How to use acerola cherry powder
Take acerola cherry powder as a dietary supplement
For the use of the acerola powder, we advise you to dilute 1 teaspoon in an orange or apple juice. You can also dilute 3 spoons in a bottle of water and drink it all day.
A recipe idea with acerola powder
200ml milk
1 teaspoon Camu Camu powder
1 teaspoon acai powder
1 teaspoon acerola powder
Grate a little Tonka bean, according to your taste
Customers who bought this product also bought: