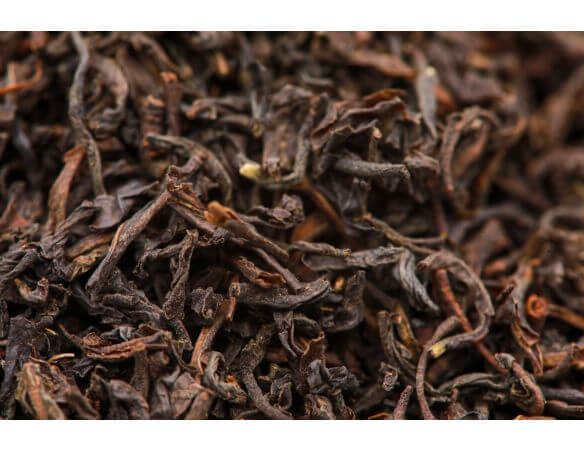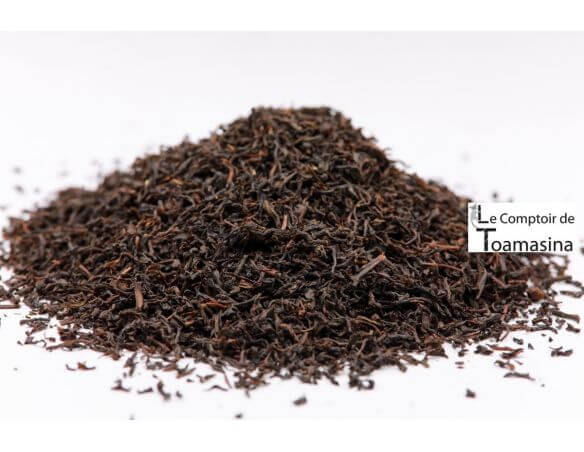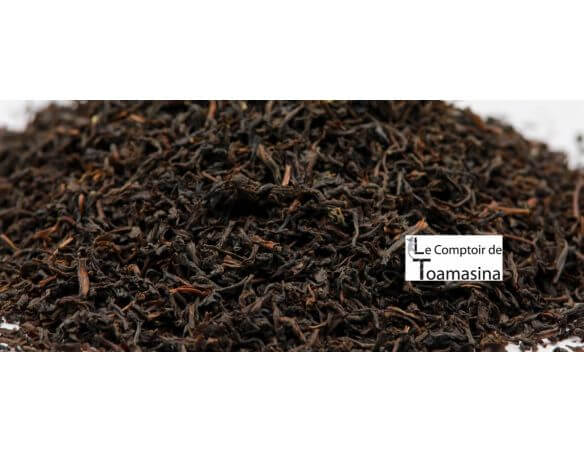 Ceylon Black Tea PETTIAGALLA OP
Pettiagalla Orange Pekoe black tea is a very high quality black tea with beautiful long and regular leaves with slightly spicy notes of Sri Lankan soil.
You are going to buy a black tea with a cup of dark red color with a powerful aroma of spicy and honeyed notes.
Power of scented black tea: 7/10
Main notes: spices and honey
To savor: In the morning
Buy the best black tea from Ceylon online and discover its history, tips to prepare it and especially make the purchase of the king of black teas at the best price per kilo.
Celan black tea gives you a fairly dark liquor with a typical Ceylon flavor, round notes of spice. For us the best black tea for breakfast.
Ceylon Black Tea PETTIAGALLA OP
It is here at the Comptoir de Toamasina that you will discover a black tea from Ceylan Pettiagalla O.P at the best price per kilo.
We offer you a large garden black tea. Our Ceylon black tea will surprise you with its sweet and suave flavors. A tea with a round and mellow aroma on the palate, for your enjoyment. Do not hesitate to add a little milk to your Ceylon black tea.
Don't hesitate to discover our black Ceylon pepper and our white pepper from Sri-Lanka.
Did you know that the island of Ceylon changed its name to become the island of Sri-Lanka.
Purchase and Sale of Black Tea from Sri Lanka (ex Ceylon Island) Pettiagalla, OP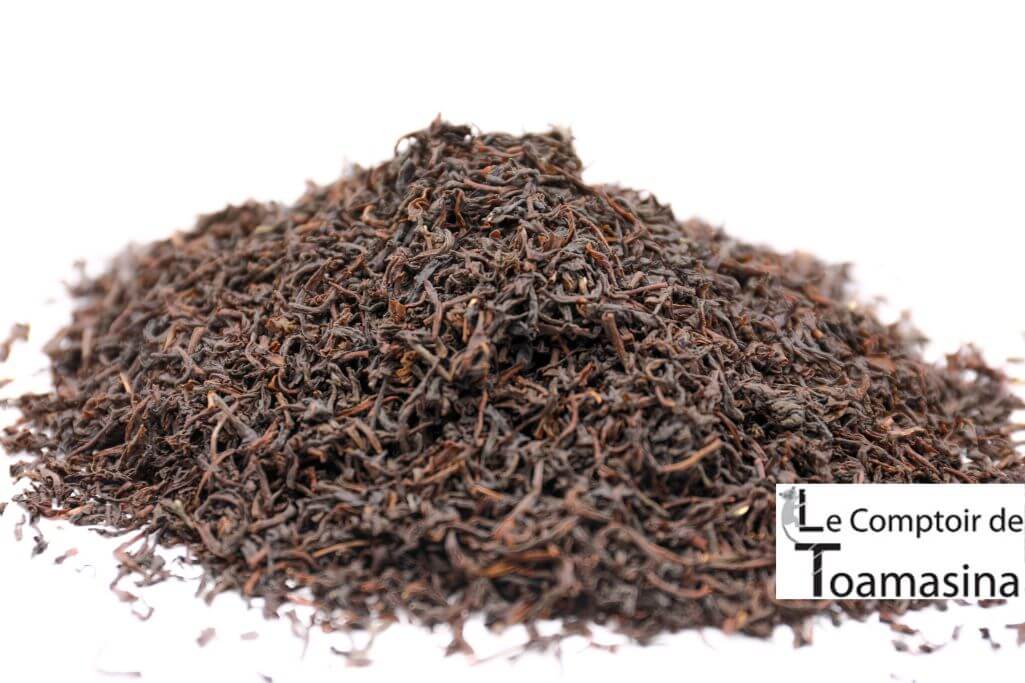 For many tea lovers, Ceylon tea grown in Sri Lanka is one of the best teas in the world. It is an exceptional tea, a tea with character. The taste of Ceylon tea will depend on the altitude where it is grown but also on the type of Dilmah or Pekoe tea plant. Ceylon tea is grown between 600 and 1,200 meters above sea level. Our premium Ceylon tea offers a unique taste that is very characteristic of the great Ceylon teas.
Black tea from Ceylon Pettiagalla OP at the best price
The old name of Sri Lanka is Ceylon. Sri Lanka is a land of spice but also of tea, it is the 3rd World producer of Tea. Ceylon tea is recognizable by its coppery color or an amber color which makes it a tea of ​​excellence.
Our Ceylon tea named Pettiagalla, OP. He comes from the prestigious gardens which only produce Pettiagalla Orange Pekoe black tea. It is a tea that is grown on the highlands. The altitude gives it a particular characteristic, it makes it an exceptional tea with a long and very regular leaf. The Pettigalla OP makes a tea very rich in aroma and full-bodied. One tea for the whole day.
It is a black tea with very rich notes. This tea does not offer bitterness. High quality tea.
Product Description
Product: Ceylon Black Tea
Sachet packaging: 80g - 500g
Packaging in Box: 100g
Characteristic: a long and very regular leaf, for a tea without bitterness
Flavor: Tea with hints of spices
Ingredient: Ceylon Black Tea, Pettiagalla OP
How to properly prepare your Ceylon, Pettiagalla, OP black tea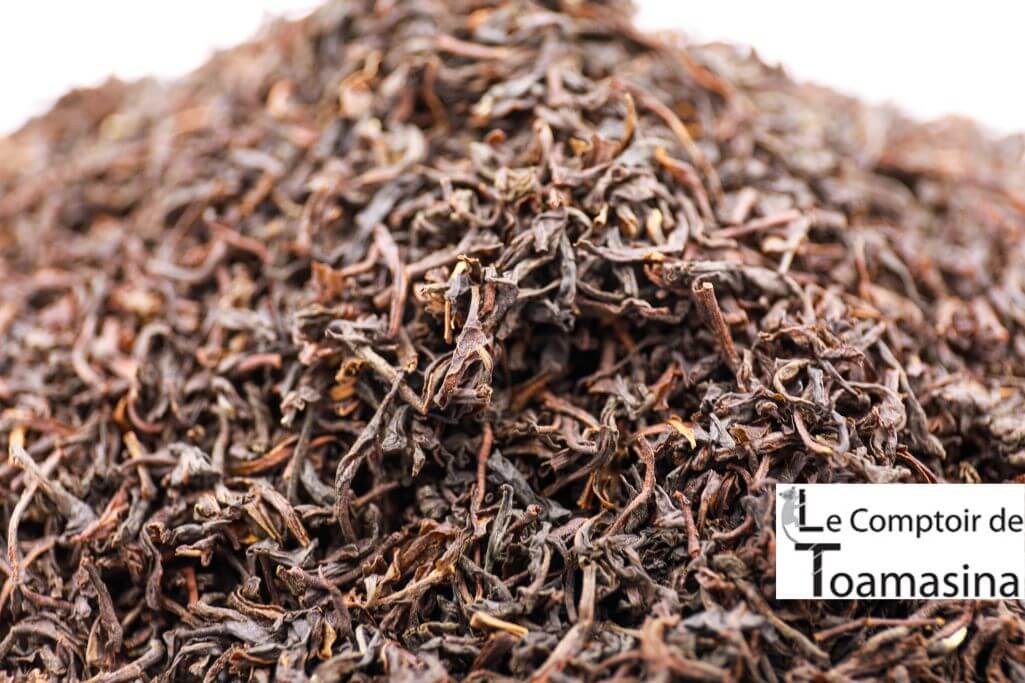 On our tea route we loved Ceylon black tea. We also like to add a little cinnamon of ceylon to give it a little sweet note.
For infusion nothing could be simpler:
Preparation 5 minutes
Water temperature: 95 ° C - Infusion time: 3 to 5 minutes
quantity of tea per person: 5g
Water 700ml
Teapot, no preference
Black tea will swell and gain volume. It needs little space for it to release its flavors. To prepare it, all you need is a teapot with a basket. The use of paper socks for one person is possible.
Put the tea freely in the basket.
Pour the water, in the teapot, almost boiling. Cover, let steep 3 to 5 minutes, open the teapot and close
Serve your tea hot.
Customers who bought this product also bought: