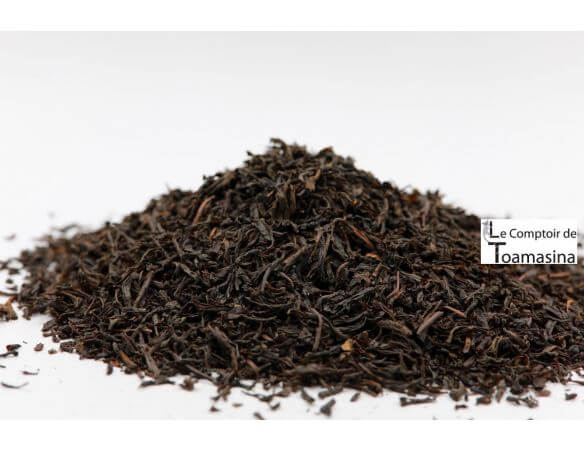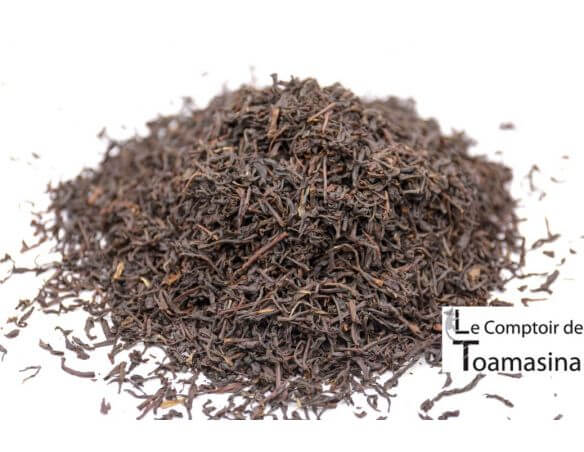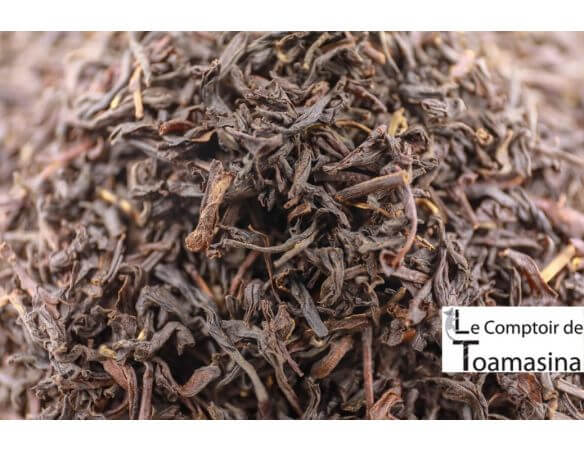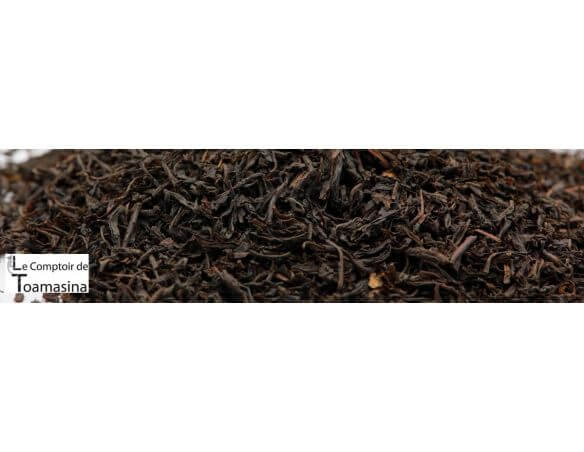 Black tea from India from Nellimyampathy gardens will be characterized by an intense taste, it develops a note of hazelnut and honey, specific to the province of Kerala. An ideal tea for breakfast with or without milk.
Power of black tea: 8/10
Main Notes: Hazelnut and Honey
To savor: In the morning
The plus: maybe enjoy with milk
Buy Kerala's best black tea online at Comptoir de Toamasina. We suggest you purchase a black tea from Nelliyampathy's garden with a regular, finely rolled leaf offering a dark, full-bodied and well-balanced liquor.
Black Tea Kerala OP
It is here at the Comptoir de Toamasina that you will buy the best black tea from India in Kerala. The Comptoir tea of original teas.
Our black tea from Nellyampathy gardens is tasty and it is an invitation to travel and discover black teas.
A tea with a regular leaf, finely rolled offering a tasty liquor and intense in taste.
Buy Kerala OP Black Tea Online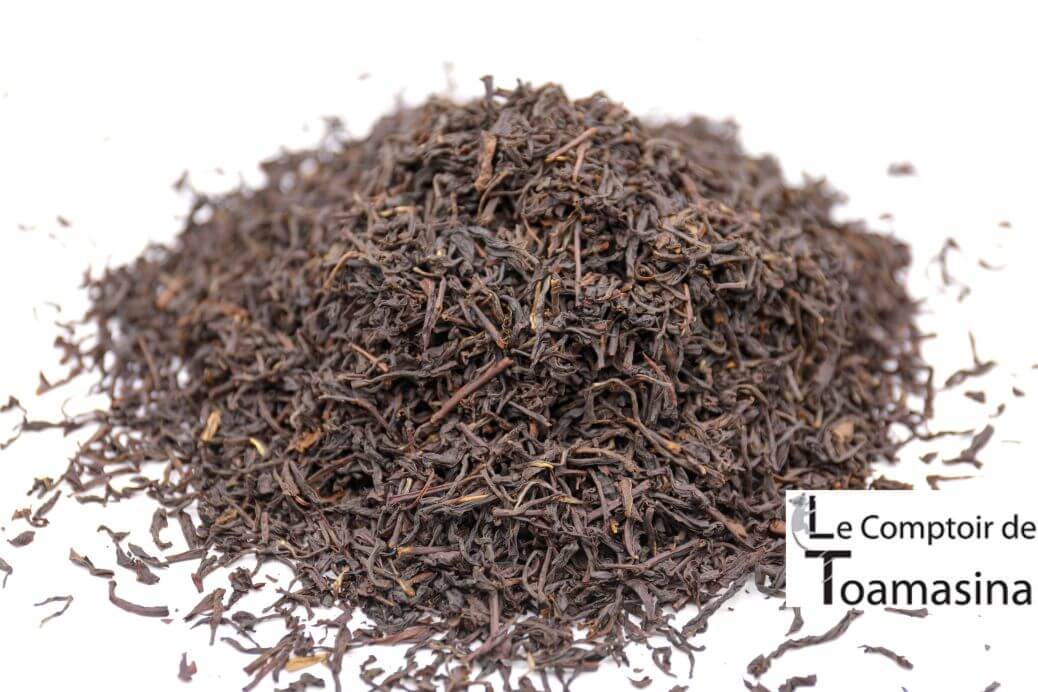 India is largely the first producer of tea in the world, largely ahead of China. Indian tea will be very different from one region to another. There is a big difference between teas (Darjeelings, ASSAM, black tea from Kerala ....) due to its environment, a very different climate from one region to another and its great variety in types of tea plants. The best Indian tea is undoubtedly Darjeeling, but Kerala tea offers different flavors of honey and hazelnut.
Black Tea from the Garden of Nelliyampathy
Purchase of Black Tea Jardin de Nelliyampathy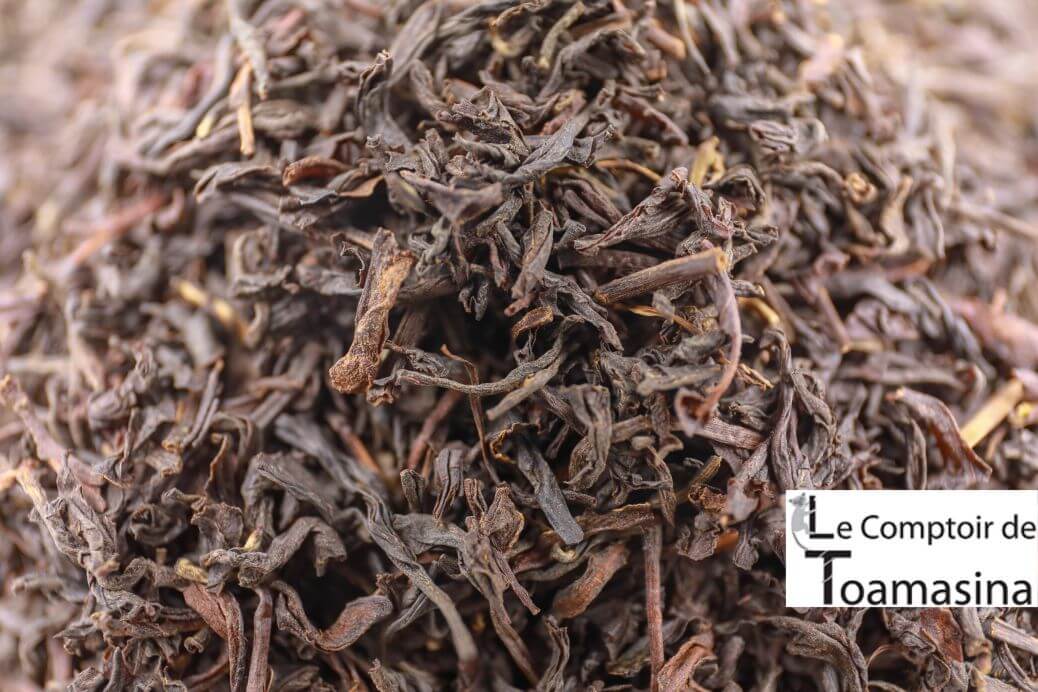 South Indian tea is an extraordinary tea with notes of hazelnut and honey. Our black tea from Kerala comes from the gardens of Nelliyampathy in southern India in Kerala. It comes from an organic plantation which is also engaged in fair trade *. It is a tea with a rich and very fresh aroma, without bitterness or astringent with a subtle and very delicate note of hazelnut and honey.
It is an ideal tea to start the day with milk or not. A breakfast tea.
Product Description
Product: Indian Black Tea from Keral OP Jardin Nelliyampathy
Feature: Black tea with notes of honey and hazelnut rich and fresh aroma
Ingredient: Orange Pekoe Indian Black Tea, Jardin Nelliyampathy
Other packaging available: 50g bag - 500g bag
Preparation of Black Tea from Kerala
Find out how to prepare your Kerala black tea in this traditional way.
Preparation 5 minutes
Water temperature: 95 ° C - Infusion time: 3 to 5 minutes
quantity of tea per person: 5g
Water 700ml
Teapot, no preference
Black tea from India will swell and gain volume. It needs little space for it to release its flavors. To prepare it, all you need is a teapot with a basket. The use of paper socks for one person is possible.
Put the tea freely in the basket.
Pour the water, in the teapot, almost boiling. Cover, let steep 3 to 5 minutes, open the teapot and close
Serve your tea hot.
Be careful not to overdose black tea. Its flavor is actually very concentrated. Dispersed and diluted in an insufficient volume of water, it can give a liquor or bitterness dominates all other tastes.
In the same way, do not let it brew more than necessary, 4 to 5 minutes are more than enough to extract all the subtleties of a good black tea. After this time, the liquor becomes saturated with polyphenols and takes on an undesirable bitterness.
Our different Black Teas as well as our creations: Ceylon, Darjeeling, Lapsang Souchong.
Customers who bought this product also bought: