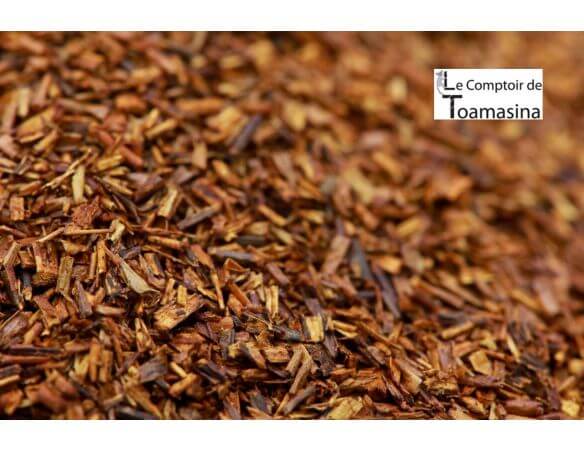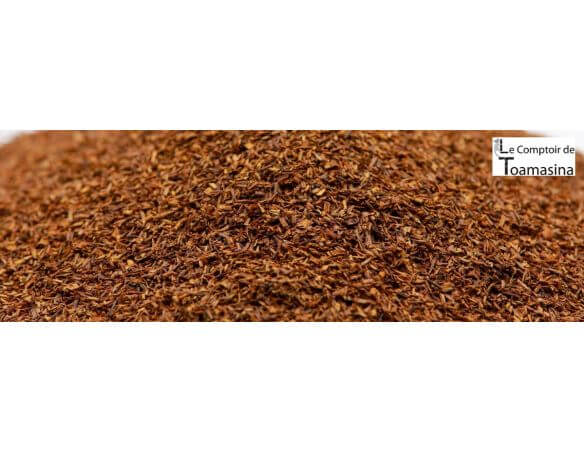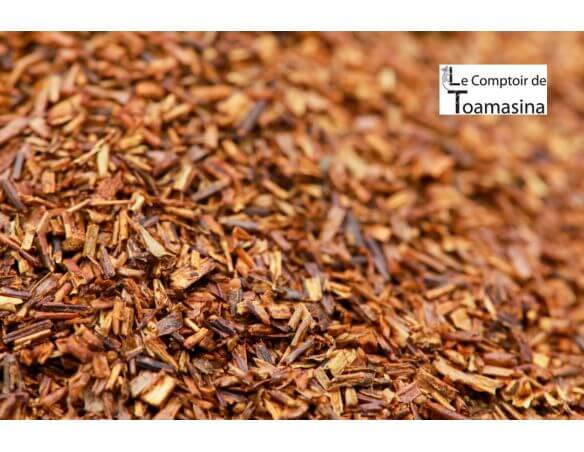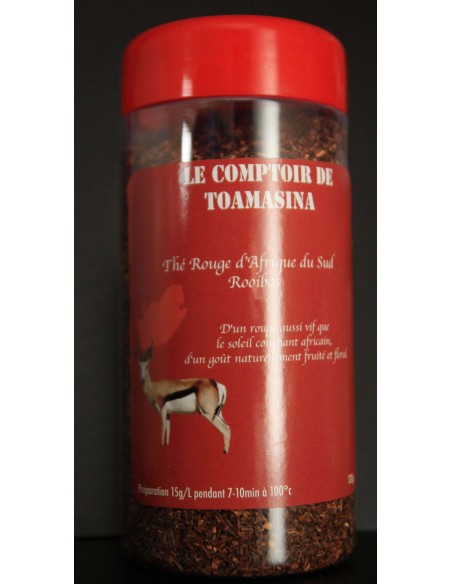 Rooibos Nature Super Grade Premium
The Rooibos Nature Super Grade Premium or red tea gives a pleasant drink in the mouth, without any caffeine, a round, slightly sweet taste and a note of red fruits. Light tea, without bitterness, very pleasant for an afternoon or evening.
Power of the rooibos: 9/10
Main notes: red and round fruit
To savor: The afternoon and to night
You will buy here, in the best shop selling rooibos online a red rooibos of high quality and always at the best price per kilo. Rooibos is the queen of drinks in South Africa. It is drunk all over the world and especially in the evening because it does not contain theine.
Rooibos Nature Super Grade Premium
Rooibos is so famous that it is called red tea. Even if this one is quite simply a grass which comes from South Africa.
It is here at Comptoir de Toamasina that you will buy the best natural rooibos, you will discover its history, how to use it and its virtues.
Rooibos is a delicious drink for the evening.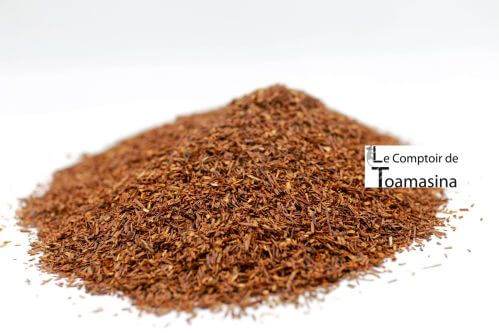 The name Rooibos comes from the color of the bush which is reddish. It is called red tea in many around the world because this herbal tea is so famous.
Rooibos is a shrub that does not belong to the family of teas (Camellia sinensis). It is part of the Fabaceae like acacias for example. It is found in the mountains in South Africa only.
All you need to know to buy a High Quality Rooibos
Rooibos is called red tea, although it is not a tea in the botanical sense of the term. But its popularity will justify the name we give it red tea. The rooibos is a plant, more specifically a shrub by the name of Aspalathus linearis which grows only in South Africa. This shrub grows exclusively in the mountainous regions of Cederberg 200km north of the city of Cape Town.
It is a shrub adapted to poor and acidic soil. rooibos tea particularly likes a hot and dry climate. Rooibos or red tea does not contain theine.
The red rooibos offers a very pleasant infusion on the palate with a round and slightly sweet note. Plain rooibos is rich in antioxidants, low in tannin. Unlike other teas that do not contain theine, plain rooibos does not contain theine. It is an ideal tea for the whole day, a tea for the evening, to sleep, the tea of ​​pregnant women.
The Rooibos gives a robust, dense and almost velvety liquor to the palate, so it will be very aromatic and with some notes of spices or red fruits.
The Star of Herbal Teas for the evening and in South Africa
Rooibos is the star of the drink in South Africa. We like it with milk with or without sugar.
Did you know that after the harvest, the twigs and its leaves are rolled to start the fermantation. The process will break all of the shrub's fibers.
Then the leaves will ferment in the open air for a few hours a day and vaporized regularly.
Then it's like for Madagascar vanilla, Tahiti vanilla for example.
The rooibos is exposed to the sun for a few hours a day for drying.
The more red your rooibos, the better the quality.
It is a red tea that does not contain theine (caffeine). It is ideal for evening and children.
There are many varieties of rooibos like the green rooibos.
Buy and Sell Rooibos Premium Super Grade at the Best Price
Le Comptoir de Toamasina offers a selection of tea from the best gardens to discover our selection of black and green teas.
Product Description
Product: Rooibos Super Grade Premium Nature
Packaging in Box: 120g or 500g sachet
Feature: Rooibos nature
Flavor: Round and sweet note with a taste of red fruit and slightly spice
Preparation of Rooibos Super Grade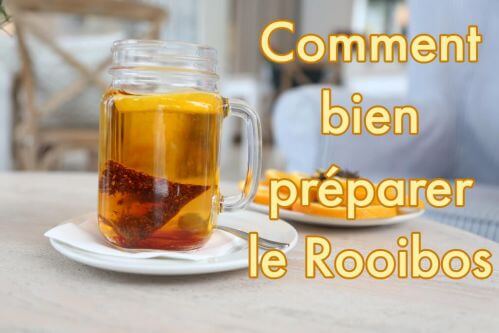 The preparation of rooibos is simple, quick and not very complex. Not to say not at all complex.
Water temperature: 95 ° C
Tea quantity: 20g
Time: 10 minutes
Water: 1 liter
Teapot: indifferent
Pour the rooibos in a sock or in a basket inside a teapot. Pour the simmering water, almost boiling, in the teapot and immerse the rooibos in it. Close the teapot and let it steep for at least 7 minutes, or even 3 minutes more depending on your taste. Serve the tea and let it cool for a few moments before tasting.
The properties of Rooibos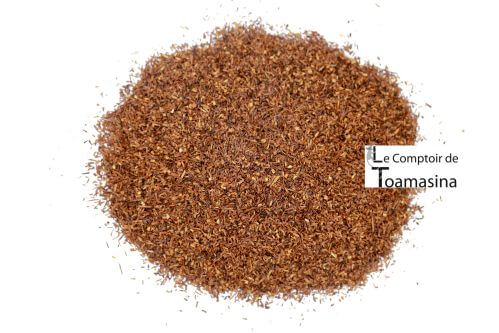 rooibos is said to have medicinal properties, it has a beneficial effect on eczema and skin allergies.
Rooibos is an infusion rich in antioxidants but there are less than green tea. You should know that it is the green rooibos that will contain the most active antioxidants.
Antioxidants serve many benefits. They are considered to have an important role in the prevention of diseases such as Parkinson's and Alzheimer's in particular. It is said to be beneficial against cardiovascular disease. Rooibos is said to be ideal for pregnant women.
In South Africa, we will prescribe it against colic as well as all digestive disorders. It is a tea, a red tea without caffeine, very low in tannin.
Customers who bought this product also bought: