250g Vanilla Pods from Tahiti
250g of  vanilla pod of Tahiti  with a length of 16 à 20cm. This vanilla of Tahiti is extraordinary and will be characterized by a vanilla pod very oily, oily with a beautiful dress rippled. The vanilla is very bright with extraordinary fragrance. For this year the vanilla pod of Tahiti will have a taste of prunes and liquorice. 250g of vanilla under vacuum
Main notes: anise and prunes which gives way to a taste of floral vanilla
Aromatic: The star of pastry. A vanilla pod with an intense fragrance of gourmet vanilla, the most intense of vanilla
Quality: Gourmet - Extra
Category: Grand Cru
In our Vanilla Counter, you will buy the best vanilla pod at the best price per kilo of high quality.
Vanilla from Tahiti Tahaa Pastry format
Tahiti a great vanilla used by the greatest chefs in the world, because its vintage is exceptional.
It is a unique vanilla pod with a complex and captivating flavor.
If you want a vanilla pod that will make your recipes travel and make you realize a creative cuisine then this vanilla pod is made for you.
Vanilla from Tahiti, black vanilla and not split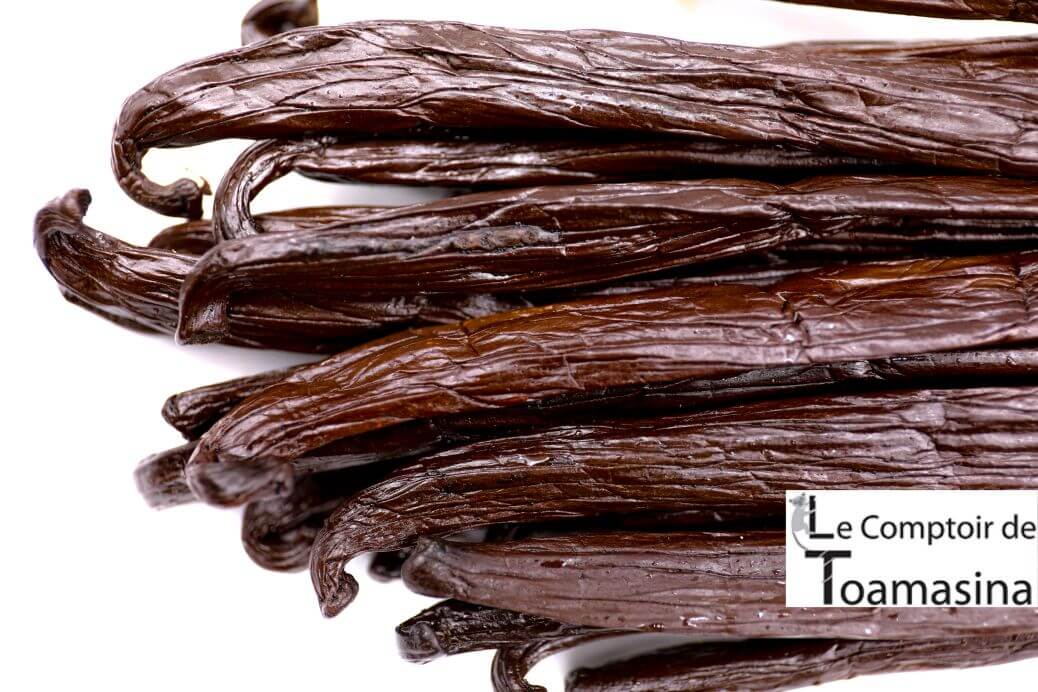 That es that the vanilla from Tahiti
Wonderful vanilla pod of Tahiti in special packaging Pastry Chef, master craftsman and  gastronomy. This format of vanilla of Tahiti economic or format of vanilla from Tahiti not expensive is specially designed for professionals or individuals use a lot of this vanilla Top of range. The vanilla pods of Tahiti are all, fleshy, tender, wrinkled, very perfumed, which offers a subtle taste and very fruity. A Grand Cru for you the pastry chefs or the gastronomes. He must know that the vanilla from Tahiti is use by all the greatest perfumers, because it releases naturally a scent of exception. Ideal for the whole of the cold preparations as the fresh cream, the blanks, fruit salads and soups of fruit.
Online sale of vanilla from Tahiti Economic format
Our vanilla pods of Tahiti is the best vanilla in the world. It is an explosion of flavor to the opening of the packet of vanilla. At the opening of the packet, an explosion of flavor will come out with notes of vanilla very fine, floral and fruity. The vanilla pod of Tahiti is very oily, fleshy, a beautiful dress wrinkled, very shiny with a perfume as a note of tea anisée, prunes and a background note floral Very typically of the vanilla from Tahiti Tahaa. It is a great vanilla, a vanilla of exception. Buy the vanilla from Tahiti in Tahaa in confidence of the counter of Toamasina thanks to our experience and our know-how.  
Description of the product
Product: 250g of vanilla pod of Tahiti 
Quality: Gourmet
Size: 14cm até 20cm
Weight of the Pod:  between  5G and 13G
Feature: product of exceptional quality. Vanilla pod very oily and oily, a beautiful dress wrinkled, very shiny with a perfume intoxicating. With an aroma of anise taste and prune.  
Packaging:  sachet under vacuum
Conservation of the vanilla pod of Tahiti
To keep the vanilla pod of Tahiti 50g in the best conditions, the counter of Toamasina recommends that you store the extract to the shelter of the light and any impact of temperature.  
Customers who bought this product also bought: