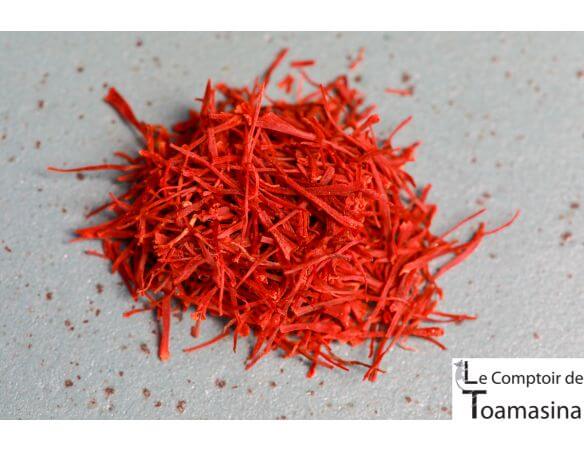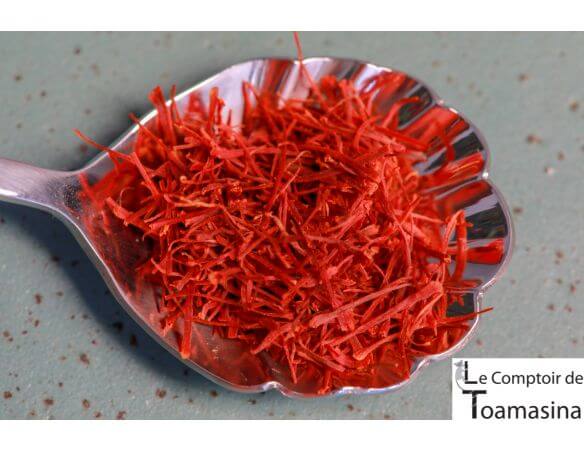 The flavor of saffron is enveloping, slightly bitter with a persistent fragrance and a blood red color. (Color of a high-end Saffron).
Saffron is the king of spices with the vanilla queen, our Iranian saffron from the origins is of high quality.
Saffron power: 10/10
Main notes: Tannic, slightly honeyed and metallic
Saffron Category: 1 (Best Saffron Quality)
Origin: Sabzevar, in the North-East of Iran
It is here at Comptoir de Toamasina that you will buy the best pistil saffron, neguine saffron. We suggest you buy a saffron of category 1 which will correspond to the best quality of saffron. It is an exceptional saffron that will do wonders in cooking and fine dining.
Iranian Saffron Pearl in Neguine Pistils - Buy quality Iranian Saffron
Discover Iranian saffron, A pistil of premium quality saffron. We offer you a very good quality whole saffron, which is called grade 1 in the regulations.
In our Comptoir aux épices, you will buy the purest saffron and above all at the best price.
We suggest in addition to the description of our flavor, to know everything about what is the price of saffron per kilo.
We only offer you the Iranian jewel, a saffron in pistil of superb quality, the gram of pure neguine saffron.
A superb, powerful aromatic that will transform your kitchen.
A few pistils of saffron are enough to flavor your dishes.
It is intense and long in the mouth for notes in the mouth of honey and metallic.
Buy and Sell Saffron from Iran online at the best price in France
The crocus is the most expensive spice in the world, well ahead of the vanilla pod.
Iran is the world's largest producer of saffron.
Our saffron has a beautiful blood red color, a sign of the large pistils of Saffron.
Pistil of Saffron Grade 1 - Pure Saffron Neguine in Gold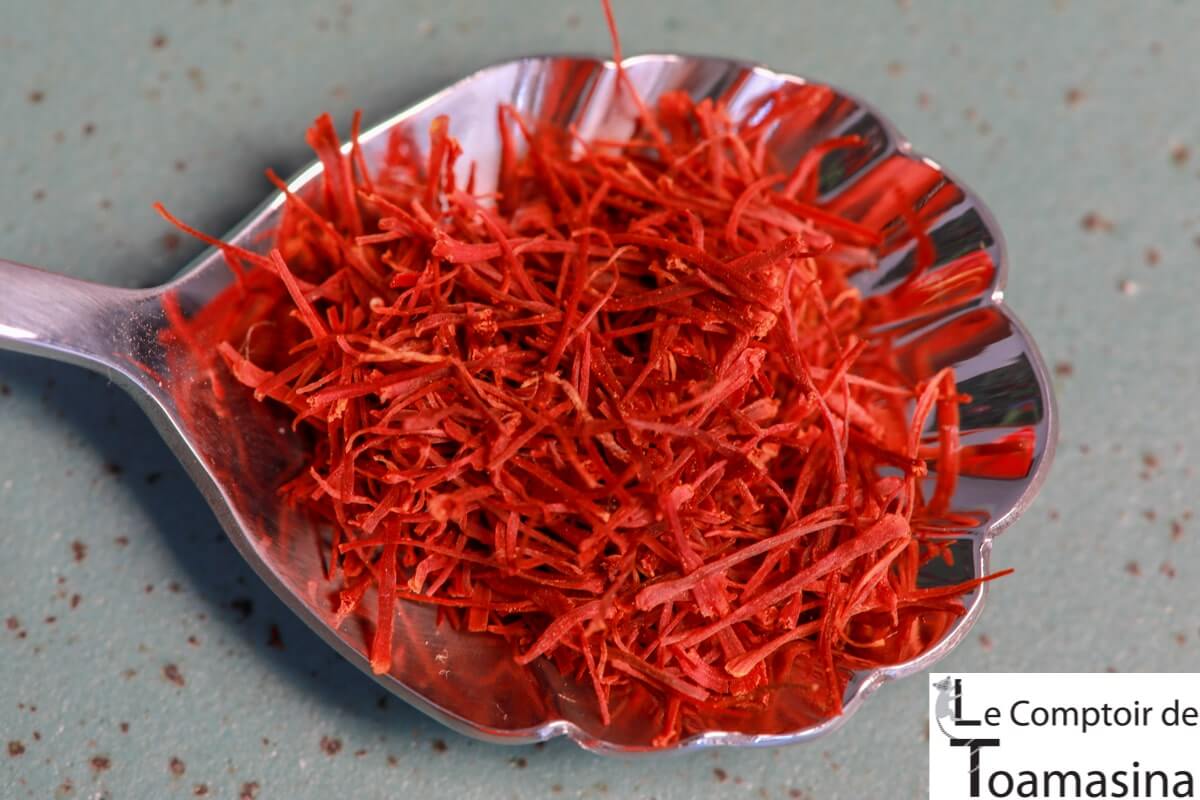 It is here at Comptoir de Toamasina that you will buy the best saffron in pistils of neguine quality online, at the best price per kilo. Discover the history of saffron, how to use it in cooking and savory and sweet saffron recipes.
Online sale of Persian Saffron, a golden spice with an exceptional taste, a sweet and powerful fragrance
Saffron is an exceptional spice.
We invite you to discover a rare saffron with a blood red color.
The Comptoir de Toamasina en Comptoir des Meilleurs Saffron offers you the purest saffron with magnificent pistils
What is saffron ? It is simply the pistil of the Crocus Sativus. It is a flower that will contain three stigmas. It is the stigmas that will give saffron (safranum). Saffron is a rare and the most expensive spice in the world. Saffron will be different from other spices by its tannic taste, its yellow color which will give to its dishes.
Why is Saffron the most expensive spice in the world ?
Why is saffron so expensive? First of all, it's a spice like vanilla pod that needs a lot of labor. You have to pick each flower by hand and almost the same day.
Then all the pistils are removed by hand.
The whole process from its harvest to its preparation will require a lot of human labor so that's why it is so expensive.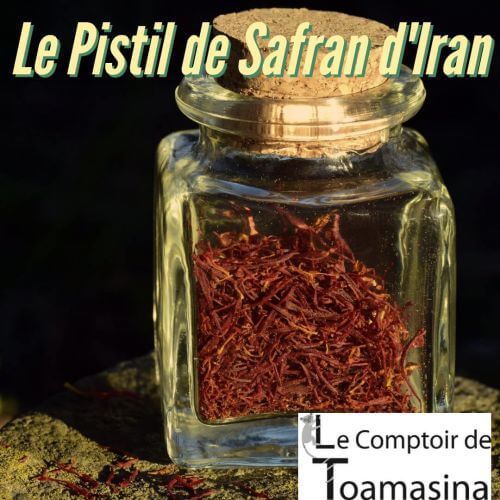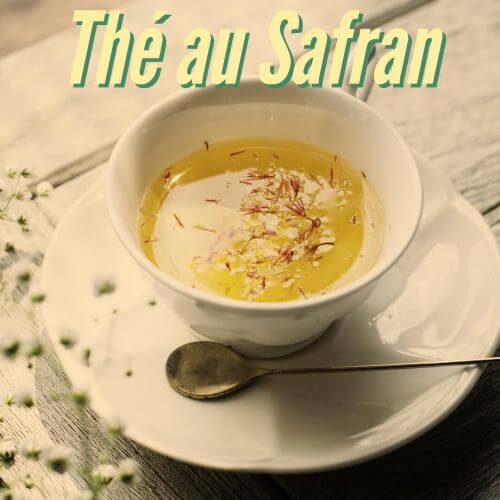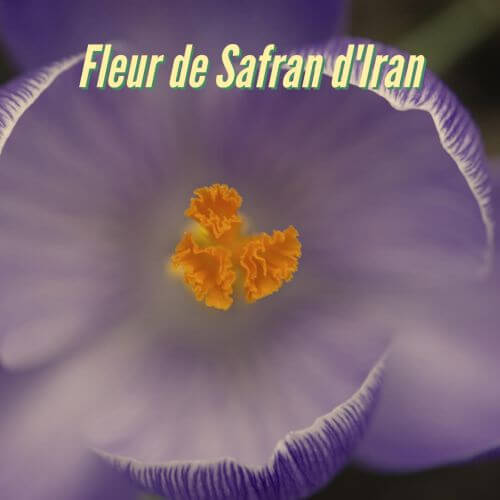 Saffron is the pistil or stigma of crocus sativus, it is the dearest spice in the world, the spice that is worth more than gold. The word saffron comes from the Persian za'faran which means "yellow".
  The oldest record of saffron in a book is in a bible, in hymnal of hymnals 4-13 and they will boast of its fragrance and taste.
The first cultivation of saffron was in Crete in less than 2000 years before our era.
Saffron and its flower is a symbol of purity for the Assyrians who will have it harvested only by young virgin girls. It is then the Phoenician traders who will market saffron in the world.
Since time immemorial, the use of saffron has been varied: perfume, remedy, herb and dye.
In books from the library of UFMG in the faculty of medicine, we discovered that Hippocrates used saffron as a stimulant, digestive or antispasmodic.
An Egyptian papyrus dating from 1550 BC, states the health properties of saffron. Physicians such as Hippocrates, Homer, Virgil already knew the stimulating, digestive and antispasmodic virtues of saffron.
Today the European Union develops the cultivation of saffron against the cultivation of poppy (for opium), here is a policy of sustainable development.
To conclude, you have to be careful on Reunion Island, when you hear saffron, we are actually talking about turmeric.
USING SAFFRON IN THE KITCHEN
To use saffron in the kitchen it is very simple, the technique of using saffron: heat a little water, about 10cl and you will infuse 2 pistils per person for at least 3 hours or even a day for purists.
But you can also infuse your saffron in tajines, paella, bouillabaisse, soups and vegetables.
You can especially use saffron in fish as well as in desserts. Iran is the main producer and exporter of saffron.
There it is used in savory cooking. In Switzerland it is in brioches.
But it is mainly used in rice or to flavor cheese in many countries.
The best recipes with saffron neguine
Product Description
Product : Saffron Pistil Premium
Packaging in bottle: 1g - 5g and 10g
Characteristic : Deep notes, characteristic of Saffron
Origin : Persian
Other packaging available : Sale Saffron 10g
All about growing, harvesting and buying good saffron in France
Selling saffron is an easy thing, but explaining the cultivation and harvesting of crocuses well is a very complex thing.
Our job is to make you discover only the spices of an incredible and purest quality. For an explosion of flavors.
Saffron from Iran an exceptional spice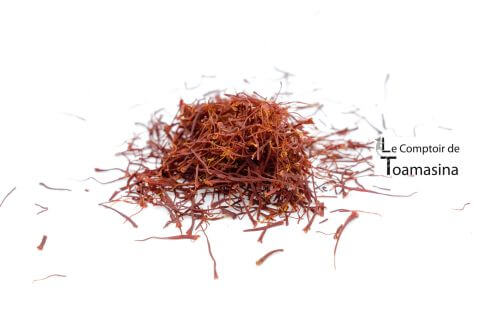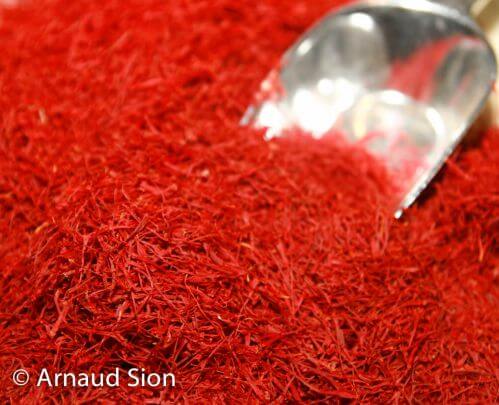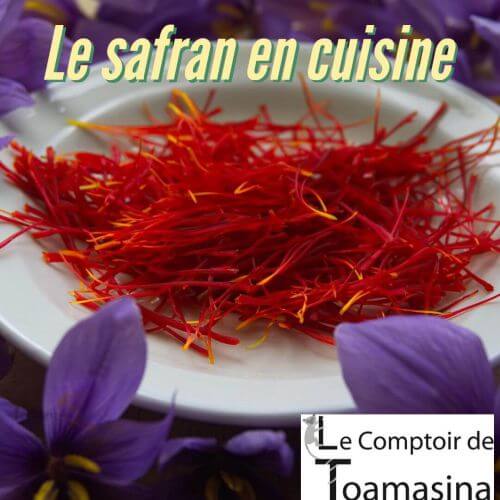 Saffron is a spice more expensive than gold. Saffron is the must of spices, the gold of your dishes. Buying Saffron from Comptoir e Toamasina means buying very high quality saffron at a fair price. We offer the best value for money on the market.
The price of Iranian Saffron is more expensive than gold due to its ancestral manufacturing methods and its exceptional quality. Buy saffron online safely.
The color of our saffron is blood red, it is the top of the range of Saffron.
Saffron is the star of haute cuisine. It is a spice that grows on land that will be clay-limestone and very crumbly. This soil will be well drained and especially exposed to the Sun. Because this flower loves the burning heat of the Sun.
The Saffron harvest will take place in November and here it is a tide of workers who come to harvest the precious flower delicately.
When the flowers are harvested, the saffron pistils must be removed 1 by 1, then dried.
It will take on average 140,000 flowers to our knowledge to make 1 kilo of neguine saffron.
Today, you should know that Iran has a production monopoly with more than 85% of world production, like Madagascar for the bourbon vanilla pod.
Saffron producing countries:
Iran
Morocco
Spain
India
Greece
Italy
Azerbaijan
France (a very small quantity and you have a saffron producer next to our Comptoir in the Lille metropolis).
How to properly store your neguine saffron
Saffron is a very valuable and expensive spice that must be stored properly to preserve its flavor and color. Here are some tips for storing Chef Arnaud d'Apogée's saffron bar:
Buy saffron in small quantities to avoid storing it for a long time
Store the saffron in a dry place away from light. Use an airtight container to minimize exposure to air and moisture
Keep the saffron at room temperature. Avoid storing it in a place that is too hot or too cold, as this can affect its flavor and color
Use aluminum foil to wrap your glass jar if there is no UV filter on the jar
avoid storing saffron with spices with strong notes
Always have a jar with seals that do not let air through.
With the following methods you will be able to keep the saffron between 12 and 18 months. It is important to note as with vanilla, saffron slowly loses its aroma if it is poorly preserved and even sometimes its color.
HOW TO BUY YOUR SAFFRON WELL
The Comptoir de Toamasina is the Comptoir du Safran, we offer you only the best pistil of Saffron. We have looked for the pistil of saffron that will make your taste buds vibrate.
Recognizing real from fake saffron
We must immediately abandon powdered saffron. Because it is rarely pure and also saffron loses a lot of flavor and taste. You should know that some unscrupulous seller put paprika in powdered saffron.
So always buy a saffron in pistil.
To buy a good saffron, you have to know how to recognize the real one, from the fake saffron pistil. The color of the true pistil is blood red, not whitish or yellow. Both are very bad tasting.
How to buy a good Saffron from Iran - The best selling Saffron online store
At first, we will feel it. The saffron must have the characteristic smell, that is to say a slightly honeyed flavor with a ferrous taste in second place.
Then you look at it, you must have blood red pistils. No yellowish or orange branching. The saffron pistils should have an intense red.
The saffron must be free of pollen, it must not have fog in the container, because that would say that the saffron is too wet and risks mold.
Buy the best neguine saffron in Lille - Saffron wholesaler
Did you know that neguine means pearl in the Persian language. It is quite simply the best quality of Safran. We only keep the best of the pistil.
It is a saffron which is the rarest and the most famous in saffron.
Our Saffron Néguine is only made up of the upper part of the stigma. This is the part that contains the strongest coloring and especially aromatic power.
Le Comptoir de Toamasina is part of the selection of the best saffron of Iran.
If you want to buy the pistil of saffron at the best price, a saffron is here at Comptoir de Toamasina. The Spice Counter.
Customers who bought this product also bought: