Box 9 Peppers Loose Grains Economic
Box Grains Bulk Peppers: Box of excellence peppercorns at the best prices.
Find our entire range of peppers in a freshness sachet in a box of peppers.
Peppers are spices that we discover with pleasure and that will never leave us again. The Comptoir de Toamasina offers a discovery box but which can also be offered. Box of 9 Peppers.
Description of the Box:
- Muntok White Pepper 250g
- Cubèbe pepper 150g
- Java pepper 200g
- Timut Nepal pepper 120g
- Madagascar Black Pepper 250g
- Sri Lanka Black Pepper 240g
- Tellicherry Black Pepper 250g
- Voatsiperifery Wild Madagascar Pepper 150g
- Sichuan pepper 150g
Box 9 Peppers Loose Grains economic
For all the purchase of quality pepper at the best price per kilo it is who at Comptoir de Toamasina that you are going to buy the best peppers from Comptoir.
Discover a selection of 9 peppers for creative everyday cooking. Peppers that invite you to a culinary escape.
Did you know that the pepper comes from the Malabar coast in India and which was introduced throughout Southeast Asia and then to Madagascar and Brazil.
Discovery set of the best peppercorns in the world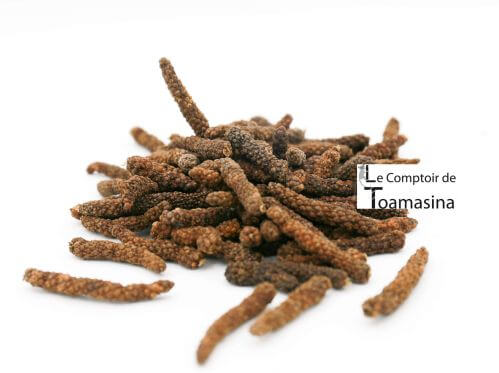 It is a journey on the road of pepper lands.
Our box consists of 9 peppercorns in resealable sachet. You will discover the best vintages of peppers.
Each pepper has its own flavor and notes.
It is a gift box and an ideal gift to discover the richness of the aromas of peppers and awaken your taste buds with notes conducive to culinary escape and creative cuisine.
World Peppers Box - Buy Online
A box for gourmets and lovers of peppercorns. Whether black, white or red they all have different flavors.
So come and taste excellent peppers, high-quality peppercorns with very aromatic profiles and a wide variety of tastes.
Description of the Box:
Muntok White Pepper 250g
Cubèbe pepper 150g
Java pepper 200g
Timut Nepal pepper 120g
Madagascar Black Pepper 250g
Sri Lanka Black Pepper 240g
Tellicherry Black Pepper 250g
Madagascar Voatsiperifery Wild Pepper 150g
Sichuan pepper 150g
Muntok Pepper is a very elegant pepper grown on the small island of Bangka in Sumatra.
Muntok pepper has a white, slightly creamy color. The muntok pepper has a lively, sweet and very fragrant aroma.
Taste: Plant and animal aroma with a slight minty note.
Pepper from Indonesia. It is a pepper with character and surprising.
It is a pepper with a slight spiciness and very aromatic notes.
The Pepper with tail (cubèbe) are used in the savory and sweet dishes.
Taste: Mint
The Long Pepper or Java Pepper comes from Indonesia.
The Long Pepper is oblong in shape.
You should know that the java pepper is also called a small kitten and has a hot and spicy flavor with a very characteristic taste.
Taste: Notes of chocolate with a background of anise, liquorice and anise.
A Timur berry which is harvested manually by Nepalese peasants.
Timut bay grows only in the mountains of Nepal.
It is a berry with an extraordinary flavor with a naturally citrus scent.
It is ideal for savory or sweet cooking.
Taste: Grapefruit and citrus.
King of Black Peppers. Madagascar black pepper is an exceptional pepper for everyday cooking.
It goes perfectly with salty cuisine.
Madagascar Black Pepper is ideal for everyday cooking.
Taste: Lemon
Sri Lanka Black Pepper is a pepper that comes from the spice route.
Ile de Ceylan will introduce you to a pepper with a frank and lively taste.
Taste: Camphor and Menthol
Tellicherry pepper from India.
Tellicherry Black Pepper will offer you vegetable notes with an intense and spicy character.
Taste: Vegetable
Voatsiperifery Pepper comes from the heart of the Madagascan forests.
The wild pepper lianas from Madagascar, Voatsiperifery can go up to 30 meters high.
It is simply a rare and addictive pepper, try it and adopt it.
The Malagasy Wild Pepper offers frank and characteristic notes.
Taste: Woody, very flowery and citrus.
Berry which comes from the Sichuan region in China.
Very famous in the middle empire.
The berry offers citrus and spicy notes that express the character of an exceptional berry.
A pepper for salty or sweet cooking.
Taste: Citrus
Customers who bought this product also bought: