Tellicherry Black Pepper 1kg
Tellicherry Black Pepper comes from India. It is one of the oldest peppers in the world. The Tellicherry Pepper has a very beautiful brown grain with vegetable odors. Its taste on the palate is a marriage between citrus and topsoil. A delicate, intense, deep and spicy pepper. To be used on roast beef, sardine papilottes, braised salmon, grilled meats.
Pepper power: 6/10
Main notes: topsoil and citrus
Use: A pepper for red meats, white meats, vegetables and grilled meats
Origin: India
Buy the best whole black pepper at the best price per kilo and of high quality. Le Comptoir de Toamasina, invites you to buy the piper nigrum from Tellicherry. Here it is cheap and high quality black peppercorns.
Tellicherry Black Pepper 1kg
Buy the best black peppercorns online at the best price per kilo. Tellicherry pepper is a pepper from the origins. It is said to be the first pepper that was imported into Europe.
In this page in real Counter of researcher of black pepper in grain you will know the price per kilo and everything to know to buy a good whole pepper.
You will also discover tasty recipes for creative cuisine.
Buy Tellicherry pepper at the Kilo at the best price
You want to buy the best tellicherry pepper at the best price. Le Comptoir de Toamasina offers tellicherry black pepper from the Malabar coast per kilo, thus guaranteeing you the best price for a large black pepper. Definitely the best black peppercorns.
The History of Tellicherry Pepper
Tellicherry Black Pepper is initially a pepper that comes from a vine, piper nigrum. The piper nigrum is the traditional vine, the one that makes 80% of peppers. She is originally from the Malabar coast. Tellicherry Black Pepper is therefore one of the first peppers and the must of the must is certainly the first pepper to be imported into Europe, thanks to Vasco de Gama.
Portugal was the first European civilization to discover the world thanks to its great navigators, Bartolomeu Dias who discovered the Cape of Good Hope and Vasco da Gama who discovered India and imported treasures from the spice coast. Why the spice coast? Because the Malabar coast is full of spices.
To conclude on Tellicherry black pepper, you should know that its liana can go up to 10 meters high and each bunch of pepper is about 10cm.
The Taste and Taste of Tellicherry Pepper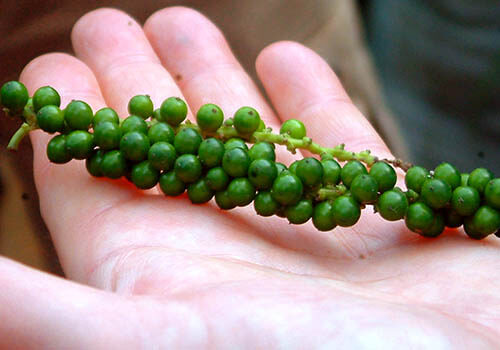 A Black Pepper with magic notes - From a land of original pepper
Tellicherry Black Pepper is a very delicate pepper on the nose. It will give off woody notes and a smell of fruit, they will be replaced by intense and deep notes on the palate.
Tellicherry pepper is a little wonder, it is a pepper that has a very good attack on the palate, it is powerful with woody notes of plants and citrus. We discover, notes of lemon and grapefruit slightly acidulous then will arrive an intense spiciness with very strong bite.
The flavor of Tellicherry pepper will evolve slowly, ending with spicy notes very characteristic of piperine. Grain Tellicherry black pepper has a long finish
Product Description
Product: Tellichery Black Pepper
Packaging Vacuum bag: 1kg
Characteristic: Tellicherry Black Pepper, a large pepper with a powerful attack on the palate, woody notes of plants and citrus. Slightly tangy lemon and grapefruit note
Origin: Kerala, India
Other packaging available: 50g bottle, 250g resealable bag
Everything you need to know to cook with Tellicherry black pepper
Tellicherry Pepper is very easy to use in the kitchen. It can be used in all savory dishes. It is a black pepper that I recommend ideally when grilling, crushed or simply ground.
Tellicherry Pepper can also be used on roasts, salads, marinades, gravy dishes, fish, seafood and vegetables. You can use it a little bit in everything. It gives a very special, very warm taste to goat cheese in particular or to fresh cheese such as string. I don't find it so subtle to use it in desserts like timut pepper.
Creative recipe with Tellicherry Black Pepper
Wholesaler in Tellicherry Black Pepper
Le Comptoir de Toamasina, offers you the best offer of peppercorns.
Buy Tellicherry black pepper from Comptoir de Toamasina at the best price per kilo.
Catering professionals, pepper lovers come and discover the flavor of Tellicherry black pepper. Do not hesitate to discover our bourbon vanilla pod, Tahitian vanilla and Papua vanilla.
Customers who bought this product also bought: