Acai in Freeze Dried Powder
Açai Powder, 100% pure
Açai Powder, natural direct from the plantation in the Amazon.
Buy Açai powder, natural from Brazil.
Nossa açai (our Açai in Brazilian)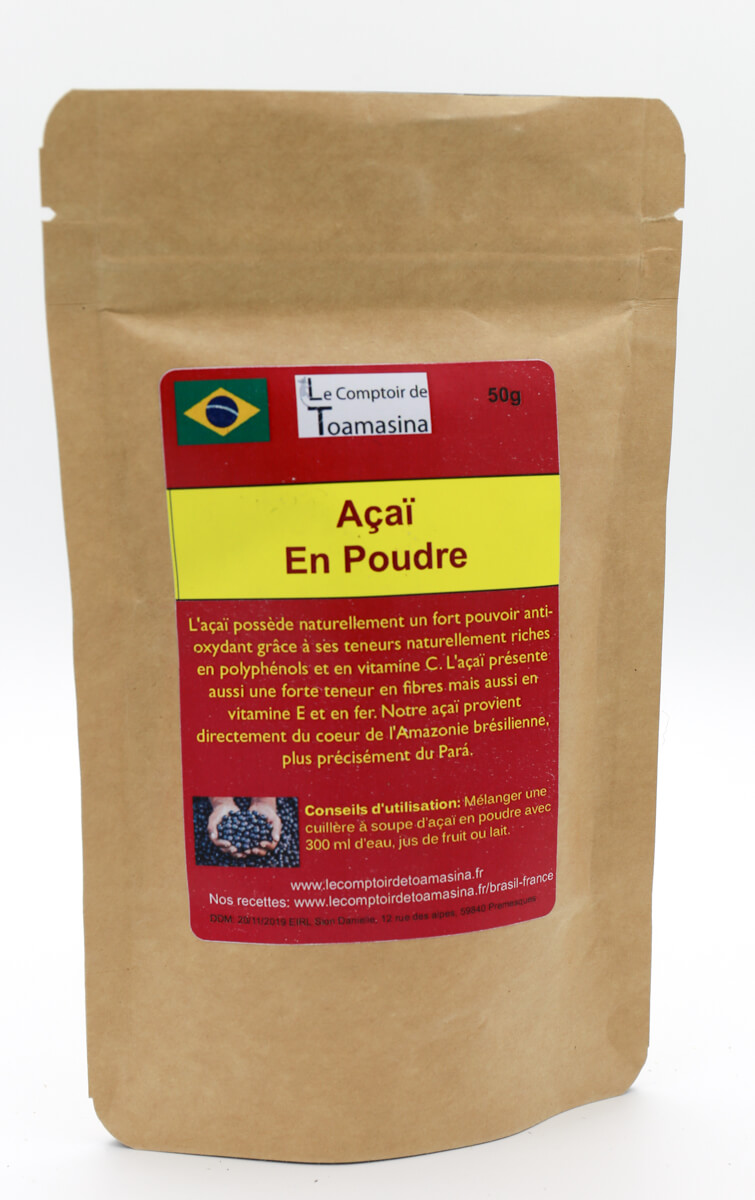 Buy online Brazilian Açai
Where to find and buy Açai Berry.
Since November 2015, le Comptoir de Toamasina became a French Brazilian company. We are a unique French-Brazilian leading company in the natural product sector. We don't want to bring only a common Açai. Our ambition is to share with you the best Açai in the world which comes from the state of Pará in Brazil. We manage and master the entire process, from the growing to the gathering and the packaging. Le Comptoir de Toamasina brings this expertise to offer you the best quality Açai powder in the world. Buy online and discover ou Açai.
What is Açai berry ?
Açai comes from the Brazilian Amazon rain forest. The tree is a palm tree; the palm tree pinot. It belongs to the Arecaceae family and comes from South America. It grows up in swamp areas, where it's diffucult to find other fruit species.
In Brazilian indians' native language it's called the fruit that cries. This tree can reach 65 feet tall. The palm tree is very beautiful with its leaves that give a clean and elegant aspect.
Açai the fruit
Açai powder, the benefits for health
The most interesting with the Acai tree is its fruit displayed in a cluster. The Açai fruit looks like a berry. Its color is a mixture of blue and purple. Some say it tastes like chocolat. For me, living in Brazil, Açai tastes like Açai. Our Açai is selected, harvested and transformed into powder by grinding and then freeze dryed to maintain its active ingredients, quality and flavour.
For 100g :
Nutritional informartion in 100g : 533.9 calories, 52,2g of carbohydrates, 8.1 of proteins and 32,5 of Vegetable fats.
Açai has a natural and healthy level of vegetal fats ; it contains Oleic acid also known as omega-9 (56,2 of the total), Palmitic acid(24,1%), Linoleic acid also known as omega-6 (12,5) and an important concentration of beta-sitosterol.
Açai has an proportion of 44,2g of fiber. Our powder Açai has vitamin C, 260mg of calcium, 4,4mg of iron and finally vitamin A.
Last but not least, the Açai fruit has 12 flavonoïds making it a superfruit.
Product description
Amazon superfruit
Here are the reasons to buy Açai powder
Product description
Product : Açai powder of Para from Brazil
Packaging : resealable flexible bag of 1,7oz
Composition: Açaï powder 100% pure
Features : Açai naturally contains VitaminB1, B2, B3, C and E.
It's a teeny tiny berry that contains high levels of antioxidants. It's a boosting and energetic product.
Origin : Brazil, state of Pará
Other packaging avaiable : Organic Açai powder in economic format of 5.29oz
Açai is a natural source for energy and vitality. You find all the Amazon power inside the Açai for your health. This berry helps you in weight management.
Açai powder is naturally rich in antioxidants, essential fatty acids, like omega 3 and omega 6; it also contains fiber, calcium, iron and vitamin A and C. The Açai berry has 19 Amino acids.
Our açai powder is obtained by the lyophilization process in order to preserve itsspecial taste, unique flavour and nutritional value.
Buy Açai berry from Comptoir de Toamasina, the unique French company that imports the Açai powder mastering the whole process.
All advices given for your health, were reviewed by Brazilian doctor. Coming soon various video interviews will be released showing all of the benefits of the Açai fruit.
Açai for salted entrées- Açai for desserts
Preparation with Açai
You can use Açai in your culinary dishes by seasoning over your entrées in order to take advantage of its antioxidant benefits. You can utilize it over fruit slices, fruit salads and over your cereal at breakfast. A simple and beautiful way to color your breakfast and to boost your energy at the start of your day.
You can also use the natural Açai powder in your cocktails, fruit juices and other supercharged smoothies that are going to provide you with the energy you need to conquer your day. Unleash the power of the Amazon with our premium acai powder.
Boost your day mixing Açai with strawberries, citrus and other antioxidant fruits like blueberries or grapes.