Muntok White Pepper has a very spicy taste. It's a white pepper with a lot of fire. It has a background of burnt herbs, mint and camphor.
A white pepper ideal for farm poultry with a sauce, crunchy vegetables, sautéed in butter, a turbot with Hollandaise sauce or a caramel chocolate fondant.
Pepper power: 6.5 / 10
Main notes: a mixture of camphor, mint, musk and burnt herbs
Use: White meats, vegetables and Sauces
Origin: Indonesia
Buy the best white peppercorns in the world, a quality Muntok pepper at the best price with an extraordinary spiciness and aroma. At Comptoir de Toamasina, you will buy the best white pepper.
Muntok White Pepper 250g
You are a kitchen addict and you want to buy cheap white pepper at the best price per kilo which will transform your everyday kitchen into creative cuisine, then it is here that you will buy quality white pepper.
Find out all the things you get to know before you buy muntok peppercorns, a premium white pepper.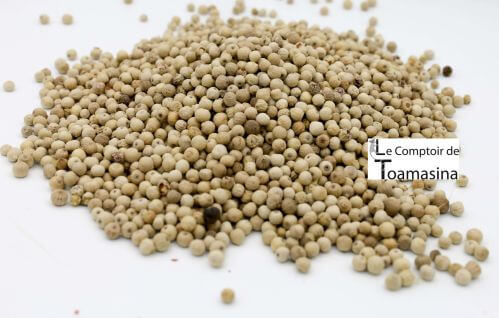 The History of White Muntok Pepper - The best white pepper in a land of pepper
Le Comptoir de Toamasina is a spice and pepper researcher. Today we offer muntok pepper in white grains.
The white Muntok peppercorns come from Bangka Island.
It is off the west coast of Sumatra that the best grain Muntok pepper plantations are found.
In Muntok grows Muntok pepper. It is in this city that comes from peppers of very high quality which is cultivated on the hills which will overhang the village.
The quality of the white muntok peppercorns is regular, good but it is above all its scent which is lively and impressive.
During the harvest of the peppercorns which are ripe, they are picked and will be put in large bags.
Then they are soaked in fresh water flowing below the plantation.
The next step is to facilitate the removal of the outer shell of the peppercorns and this will contribute to the optimal fermentation of the pepper fruit.
After a few days of 100% natural treatment, the skin of the grains disintegrates and the pepper is then spread on the ground or it is trampled on with an ancestral ritual.
 The treatment will end with the removal of the remaining skins. The peppercorns are last washed and exposed to the sun. Which will give it creamy colors.
Buy a very high quality white Muntok pepper.
Once the process is complete the Muntok white peppercorns will be exposed to the sun and will turn white with a singular and characteristic scent of Muntok White.
Thanks to the tradition of local producers and ancestral know-how, Muntok pepper is of very high quality.
It is good to know that the Dutch will monopolize the Muntok pepper trade.
Its name comes from the port from which it was exported, in the 18th century.
Muntok White Pepper and its Flavors - A Festive and Extraordinary Pepper   in taste
The flavor and taste of white Muntok pepper. It's a white pepper very different from other white peppers. It is a pepper that will be very lively on the palate and keep a good presence in the mouth.
Its attack on the palate is medium spicy with flavors of burnt herbs, mint, eucalyptus and camphor.
In an infusion, it should not be left for too long or it may become bitter.
Product: Muntok White Pepper
Packaging Bottle of: 250g
Characteristic: It is a pepper that will be very lively on the palate and keep a good presence in the mouth
Origin: Indonesia
Other packaging available: 60g bottle, 1kg vacuum bag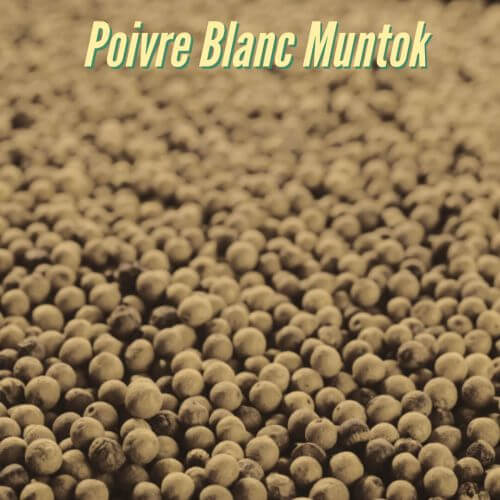 How to Cook with White Muntok Pepper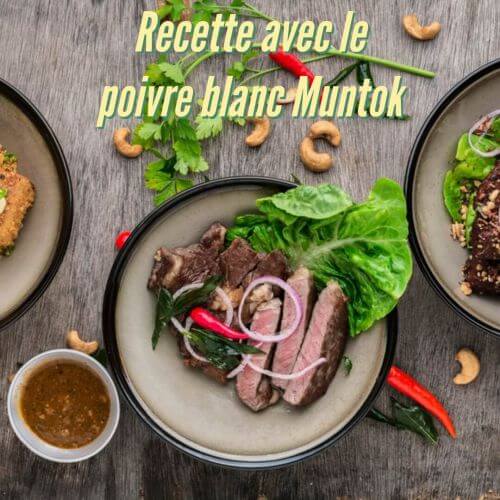 On the palate it is the least powerful but the most subtle and tasty pepper of the white peppers.
A muntok pepper that will make you cook creatively.
Many chefs will use white pepper and they love it so as not to color the sauces.
And especially for its quality because it is selected grain after grain.
Muntok grains is a white pepper which is ideal for cooking and creative recipes. It goes very well with: soups, meats, vegetables, sauces and in desserts, especially in chocolate.
Muntok white peppercorns work wonders, especially in white sauces, fish and poultry.
Do not hesitate to use Muntok pepper in salads or dressings
Always add the white pepper at the end of cooking.
Customers who bought this product also bought: