5 gousses de Vanille Bourbon de Madagascar Gourmet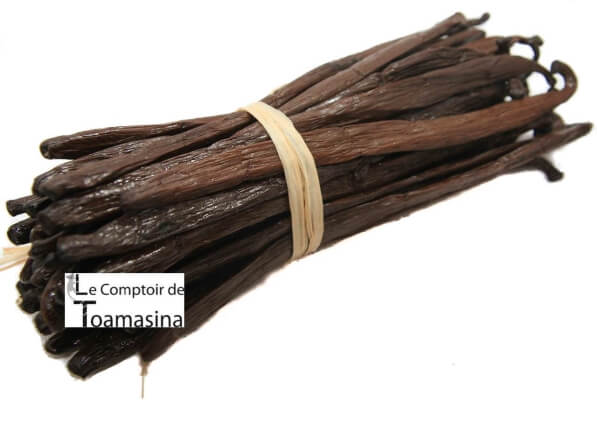 5 Bourbon Vanilla Pods from Madagascar
Vanilla Bourbon from Madagascar - Gourmet Quality - Buy Madagascar's vanilla online at the best price
When we talk about vanilla pods, we immediately think of Madagascar.
Madagascar is the main vanilla producing country with 80% of the market.
Bourbon vanilla is an AOC that includes Madagascar, Comoros, Mayotte, Mauritius and the island of Reunion where it comes from.
What for? Simply because that's the name from which it comes Reunion Island. 
Since the 20th century, vanilla has been grown in Madagascar.
It is a vanilla bean that has a worldwide reputation today. Its international reputation thanks to the quality of its producers, its refinement and its incredible aroma.
The industry and the great pastry chefs love it.
But the industry is going through a difficult period with high prices. But the love for this vanilla bean makes us splurge.
At the Comptoir de Toamasina you will buy the best vanilla pod from the big island, of exceptional quality.
Malagasy vanilla offers an incredible aromatic amplitude with an intense vanilla flavor and slightly cocoa.
This vanilla bean is ideal for your sweet recipes: crème brûlée, floating island, vanilla cream and more. 
Don't hesitate to check out our article at Vanilla Price
The Comptoir de Toamasina offers one of the best vanilla pods in Madagascar. The Bourbon vanilla bean from Madagascar is our core business, directly from the small Malagasy plantations.
Madagascar's bourbon vanilla is certainly the queen of vanilla, the black vanilla of Madagascar because it gives off an intense and powerful aroma with notes of cocoa and red fruit. It is the best vanilla in the world to accompany your pastries,desserts and savoury recipes.
Our vanilla bourbon bean from Madagascar is shiny, fleshy, fluffy, supple and offers a rich and intense fragrance with notes of cocoa and caramel that make it the ideal ingredient fot your pastries.
In its packaging, in a bottle of 5 pods it will sublimate your desserts and will keep for 6 months, without drying in a room away from light and any temperature shock.
The vanilla bean in direct contact with the Producer
Comptoir de Toamasina offers vanilla beans from Madagascar for family productions. Our vanilla comes from the producer / grower.
The best vanilla bean from Madagascar in direct relation with the producer.
Product Description
Product: 5 vanilla pods of Madagascar quality gourmet-extra *
Vanilla Type: Bourbon Black Vanilla Bean from Madagascar
Quality: Gourmet / Extra
Size: 14 to 16cm
Characteristic: Soft vanilla pods, black, fleshy, shiny, fragrant, mellow and somooth-skinned. 
Packing: In Tube
Provenance: Madagascar
Other packaging available: 2 cloves, 20 cloves, 100 cloves
The Story of Madagascar Bourbon Vanilla Bean from Toamasina Counter - Vanilla Counter of Excellence
Read our article, how to buy a good vanilla pod
The history of Comptoir de Toamasina merges with the vanilla pod of Madagascar
Arnaud Sion, the creator of Le Comptoir, leaves at 21 on the big island to discover vanilla producers.
He was trained by a Malagasy who taught him all the techniques to buy and select vanilla pods of excellence.
You have to know that to access the best plantations, he only has the pickup that gets there.
Imagine 48h00 of 4x4 bush non stop to arrive at the plantation.
The criteria of the Comptoir de Toamasina to buy its vanilla pods
All of our vanilla pods that come from collectors, producers must respect our specifications.
The vanilla bean must be black, fleshy, supple and have no liquid coming out when pressed.
There are other criteria but we keep them secret because it is our job to buy the best vanilla bean from Madagascar.
Today, Madagascar's Bourbon vanilla from Comptoir de Toamasina is recognized worldwide
Did you know that the Comptoir de Toamasina is the leader of vanilla to Brazil.
We work with the best restaurant in Belo Horizonte and the best pastry chefs in Brazil and glaciers.
To buy a vanilla pod at Toamasina Counter is first of all to buy a vanilla online with a history and traditions.
Discover our vanilla pods of the World:
Receitas com Fava de baunilha de Madagascar
Descubra as melhores receitas com grãos de baunilha de Madagascar no Le Comptoir de Toamasina
Crème brûlée com baunilha de Madagáscar
Panqueca com baunilha de Madagascar
Gratinado de abacaxi com baunilha de Madagascar
Receita de creme de baunilha de Madagascar
Ganache com baunilha de Madagascar
How to properly conserve and use your Bourbon Vanilla from Madagascar?
To make the most of your vanilla pods, the Comptoir de Toamasia advises you to keep them in the cool tube away from light and temperature shock.

To use the vanilla bean is very simple, you will cut

 your pod lengthwise in order to extract the

 seeds.

Split the pod in half and scrape the inside of this half-pod using the blade of your knife to extract the seeds.

The resulting seeds will now blend perfectly with your preparation and you will use the 2 drained half-pods to let them infuse in your milk.

Allow the seeds (and the rest of the pod) to heat for 10 to 20 minutes in the milk without bringing it to a boil. The longer the seeds stay, the more the flavour will be well impregnated.

Then you can try them and put them in your sugar, to make a vanilla sugar. 

You will understand that Madagascar vanilla will sublimate all your preparations, dishes and desserts. It blends very well or can even replace the use of tonka beans  .

Don't hesitate to discover our teas with vanilla- Tea of adventurers, Tea of Madagascar . 

To find out all about using vanilla I click on How to use vanilla
Recipes with Madagascar's Vanilla bean
Discover the best Madagascar vanilla bean recipes at The Comptoir de Toamasina
Vanilla Virtues and Benefits
Everything you need to know about the price of Madagascar vanilla
Every year the price of Madagascar's vanilla bean goes up or down.
To keep you informed about the price of the vanilla bean you can click on our article - Madagascar Vanilla Price
Customers who bought this product also bought: