Vanilla Planifolia from Papua New Guinea
The Vanilla Planifolia from Papua New Guinea is a rare vanilla pod, a luxury vanilla with intense and deep aromas.
Papua New Guinea will produce vanilla pods of Tahitensis and Planifolia varieties.
The Comptoir de Toamasina en Comptoir de la vanilla and vanilla researcher of the world offers you to buy the best black vanilla pods from Papua, of the Planifolia variety and all at the best price per kilo.
Main notes: Spices and leathers and vanilla with a hint of cocoa
Color: Ebony and black
Quality: Gourmet
Size: + 14cm
Origin: Papua
Buy your vanilla pods from Papua in our vanilla shop, the best of vanilla. A quality and rare vanilla bean for creative cuisine.
Vanilla Planifolia from Papua New Guinea
Vanilla Planifolia from Papua New Guinea in pods from Comptoir de Toamasina.
Le Comptoir de Toamasina and Arnaud its creator invite you to discover a beautiful vanilla bean. A vanilla that comes from a new vanilla island in the world, vanilla from Papua.
You will discover the same variety in Madagascar, that is to say vanilla planifolia. You should know that this variety is 95% of the world production of vanilla and there is not much left for the varieties tahitensis, pompona, bahianaise and other rarer varieties.
Vanilla is an orchid whose cultivation will require time and patience. It takes more than 5 years for the vanilla plant to become an adult and produce 5kg of green vanilla and 5kg of green vanilla will make about 1kg of black vanilla 14 to 16cm. Discover our article how vanilla grows.
If you want to grow vanilla, you must know how to live with nature and the rhythm of life that it will impose on you.
Vanilla pods from Papua New Guinea in its Planifolia variety will be similar to vanilla from Mexico.
It is a very tasty and magnificent vanilla bean to work with.
Chef Arnaud uses it more in his pastries with his private clients than bourbon vanilla from Madagascar. The notes are less hot than the Madagascan vanilla, but you have a spicy touch and a very intense vanilla note.
We can say that it is a big and beautiful vanilla.
If you want to buy vanilla from Papua, Planifolia variety, Arnaud, creator of Comptoir de Toamasina, tells you that you are going to buy the best vanilla pod in the world in terms of quality and price, planifolia vanilla from Papua has unique aromas and a rare and intense intensity. fragrant.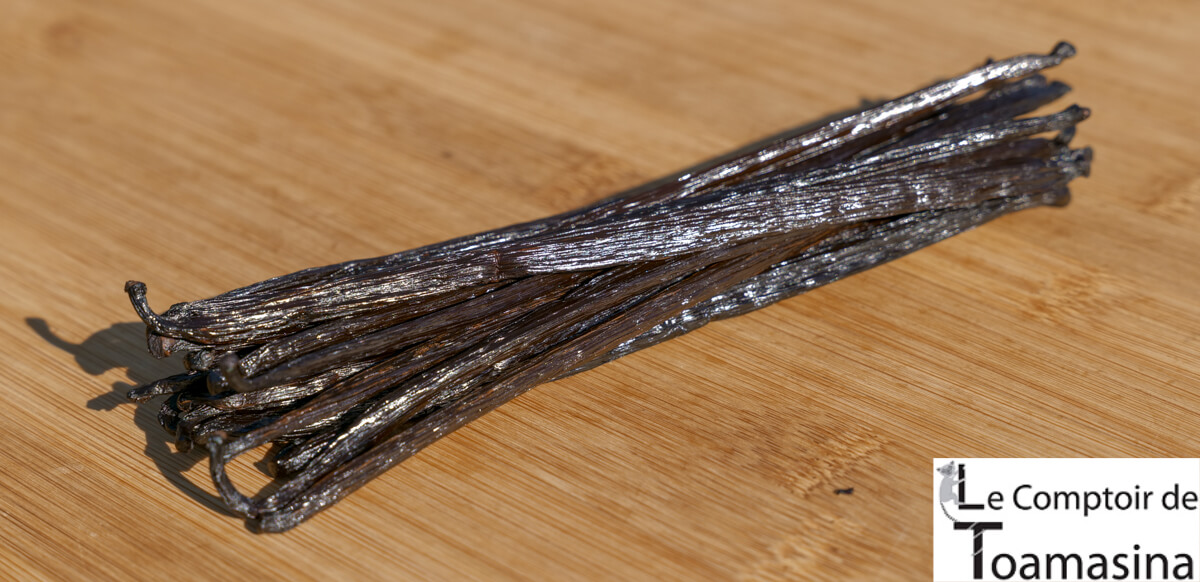 Vanilla pods from Papua New Guinea - A Rare Vanilla until 2018
Our Vanilla Counter, offers you a vanilla pod that was rare until 2018, it was very difficult to source and above all the quantities were minimal. And vanilla from Papua is becoming the great competitor to vanilla from Madagascar.
You will love to combine this vanilla from appetizer to dessert.
Arnaud, creator of Comptoir de Toamasina, the vanilla specialist, invites you to discover the best vanilla and spices from Brazil, during a ranger expedition through Brazil to meet plantations and in search of the best partners.
Travel in our world of spices with our black peppers and also rare peppers.
We have to tell you that this Planifolia vanilla pod from Papua is the new cradle of good vanilla. The Papua bean is of the Planifolia variety, the same variety as Bourbon vanilla from Madagascar.
It is a vanilla bean with intense and deep chocolate and fruity notes.
Today, the production of Papua vanilla is increasing year after year, but it is still a rare and exceptional origin of vanilla that we like to use to get off the beaten track.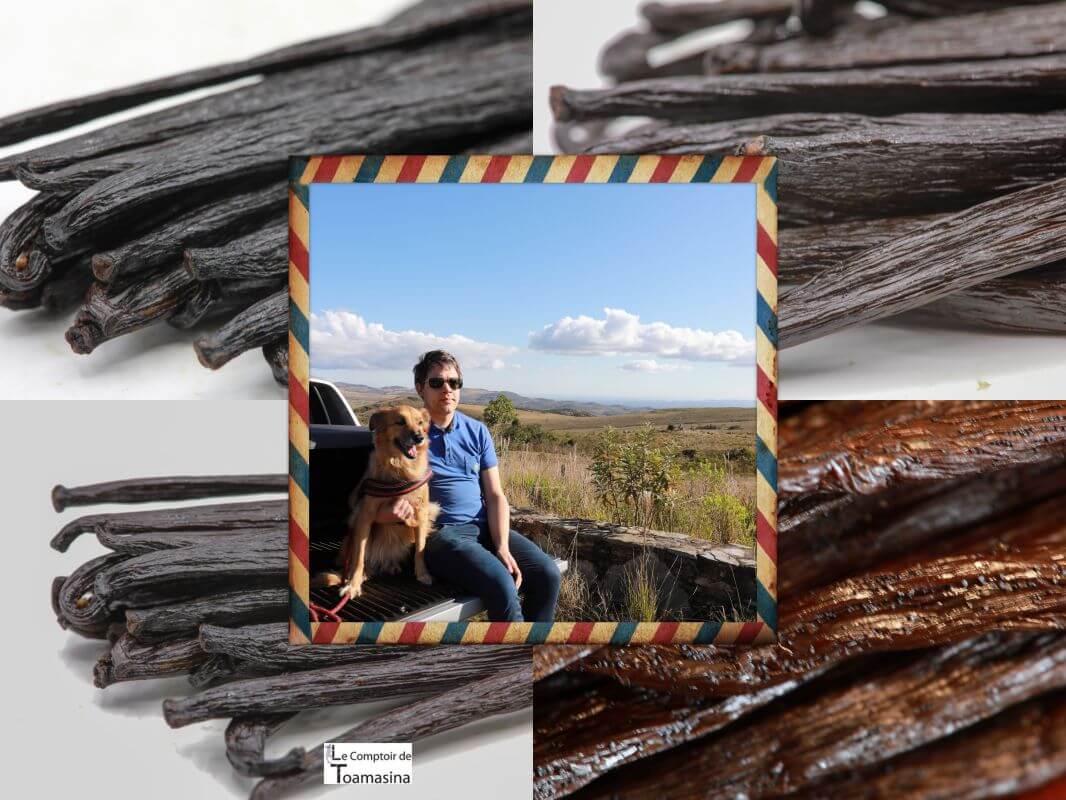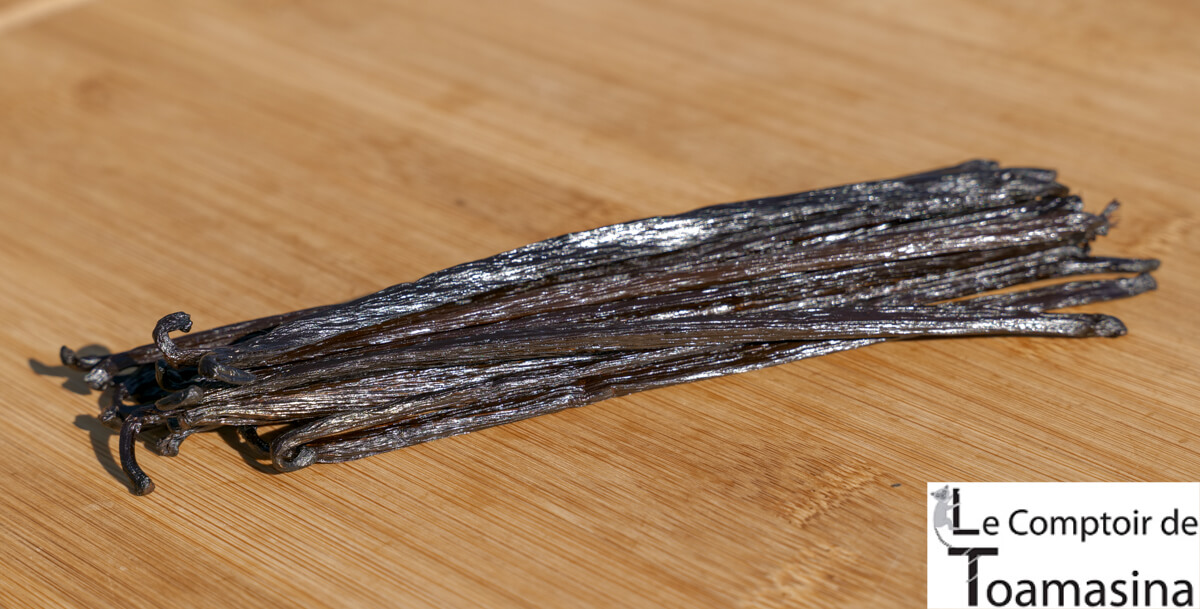 What is the difference between Vanilla planifolia from Papua and Vanilla Tahitensis from Papua -Discover the cultivation and preparation methods of the two vanillas
Vanilla is one of the most popular flavorings around the world, and it is grown in many places, including Papua. You should know that in France it has even become the favorite flavor of the French and in Brazil it occupies a good place with coffee.
The cultivation of vanilla in Papua is starting to become an important player in the economy and growing this princess is a complex process that involves several stages, from planting to harvesting and preparation.
Vanilla is an orchid that grows under the trees of the Papua rainforest. You can also see cultures under artificial protections. But it is not rare to see as in Brazil, several cultures on the same ground.
In the Arnaud Vanille plantation in Brazil, the project is to cultivate acai, cocoa and vanilla on the same land, the acai makes a high canopy, the lower cocoa tree is an ideal support for vanilla.
The cultivation of vanilla even in Papua and more done by cutting than by seed. Cuttings are rarer and less uncertain than seeds. Pollination is always manual. Farmers therefore have to pollinate the vanilla plants by hand, which is a tedious process and that is why the price of the vanilla bean is very high. Because it requires a lot of labor.
After pollination, it takes about 7 to 9 months for the vanilla pods to mature. But after 2 months they will have adult size and it is during the last two weeks that the vanilla plant will give the level of vanillin to the vanilla pod.
The vanilla pods are picked by hand, one by one, when they reach maturity. Attention it is the big difference between the vanilla planifolia and the vanilla tahitensis it is that the vanilla tahitensis you can leave it longer on the foot and it will not open unlike the vanilla planifolia which must be picked at the right moment.
Harvesting vanilla can be a difficult and experienced process, as the pods must be picked at a specific time to ensure their quality. As we explained.
Once it is picked, it will have a first sorting of the vanilla, the vanilla pods are subjected to a preparation process called "scalding". This consists of putting the vanilla in a bay at 63°C for example in the Arnaud vanilla plantation for 2 to 3 minutes then the pods will be put in blankets for the chemical reaction to take place and then dried to sleep.
The total preparation process can take up to 6 months.
After the vanilla beans are dried, they are sorted to remove poor quality beans and graded according to their quality.
The best quality vanilla beans are going to have the gourmet designation and the poor red quality here, the vanilla is hard and not soft and glistening like gourmet vanilla. Gourmet vanilla for food and pastry trades, red vanilla for industry and perfumers.
In conclusion, growing vanilla in Papua is a complex process that requires a lot of time, effort and skill to produce quality vanilla.
Cultivation, harvesting and preparation methods are the same in most vanilla-producing countries.
You should know that in Papua, Planifolia vanilla and tahitensis vanilla will have the same method of preparation called bourbon, that is to say scalding. While tahitensis vanilla from Papua, no, it will be dried on the stalk and then traditionally in the sun as we explain on our blog.
So what is the best vanilla bean in the world?
If we talk from a technical point of view and about vanillas that are going to have more than a ton of production per year to eliminate micro-batches, vanilla planifolia is the best vanilla in the world if we take its flavor in vanilla it ie vanillin which is superior to tahitensis. From a culinary point of view, tahitensis vanilla will have aniseed notes and long floral vanilla in the mouth, vanilla planifolia rather warm and chocolate notes.
the best of 100% natural vanilla for creative cooking
Le Comptoir de Toamasina invites you to discover the best vanilla pods from Papua in its planifolia variety.
It is a reference vanilla pod with an average length of 14 to 16cm for a width of 3 to 8mm for a weight between 3 and 5g.
What does planifolia vanilla from Papua taste like? It is a vanilla pod that resembles vanilla from Mexico with gourmet spicy and leathery notes that give way to a touch of warm and chocolate vanilla. It is a vanilla that will have an explosion of flavors with each use and we recommend it if you want to discover a variety other than Madagascar vanilla. We can say that it is the best substitute for Madagascar vanilla., if you are wondering what to replace Madagascar vanilla with
Is the culture of vanilla planifolia in new guinea different from the culture in Madagascar
The cultivation of vanilla planifolia in Papua New Guinea remains today a very small production compared to the production of vanilla from Madagascar. But we can't catch up 40 years behind like that, especially when we are a new vanilla-producing country. But today, you will see it more often in supermarkets than in 2018 when it was rare. It is still a rare vanilla bean, like in Brazil, where you won't find any.
You should know that with Brazilian vanilla, you will only have a few kilos of vanilla that will be produced per year.
It is said that vanilla planifolia is a wild vanilla. It is true that it is a wild vanilla bean in terms of its flavors, the animal leather that mixes with the notes of spices and gives way to the touch of warm and chocolate vanilla it is an intense experience.
In terms of vanilla cultivation, we are like in Madagascar, you can find it in plantations under trees, they climb on stakes, trees. It always takes 3 years for the first flowers and 5 years for the foot to become an adult. Always more or less 9 months for the vanilla harvest. But also always the same preparation. You see there is no difference in the cultivation and preparation of vanilla from Papua and vanilla from Madagascar
The different packaging of planifolia vanilla from Papua gourmet quality (Grade A)
Discover vanilla from the world of Comptoir de Toamasina. Discover exceptional and excellent vanilla pods. Conducive to creative cooking on a daily basis.
Le Comptoir de Toamasina offers Papua vanilla in different packaging to enhance your recipes. We have conditions specially designed for storage, the bottles and finally our sachets.
Description :
Product : Papua Planifolia Vanilla Bean
Type of Vanilla : Vanilla Planifolia
Quality : Gourmet/Extra
Size : 14 to 16cm
Characteristic : Soft, black, fleshy, shiny, fragrant, chewy, unsplit vanilla pods
Packaging : Bottle: 2 pods, 5 pods and 10 pods
Bag: 20 pods, 100 pods and 250g
How to store the vanilla planifolia pod?
The planifolia vanilla pod from Papua will keep like other vanilla.
But being an ingredient, a base flavoring for many food products, such as cakes, pastries and beverages. You must keep it well so as not to alter its aroma, its aromatic power and its freshness. Because vanilla is a chameleon and it is very easy to modify its flavor. You will discover the video at the end of the paragraph.
There are several methods for storing vanilla beans, and these methods may vary depending on the form of the vanilla and the intended use.
First, vanilla beans should be stored in a dark, dry place to preserve their aroma.
They can be kept in a glass jar with a tight lid or wrapped in parchment paper and stored in a drawer inside a box.
It is important not to expose them to direct sunlight or extreme temperatures, as this can affect their aroma.
It's also important not to store vanilla beans next to other ingredients that may affect their flavor, such as spices or citrus fruits.
If vanilla beans are stored next to these ingredients, they may absorb their aroma and lose their unique taste.
It is recommended to regularly check the vanilla pods to ensure that they have not been damaged or contaminated by fungi. If a vanilla pod is moldy or has taken on an aroma from another product, you must isolate it. A pod that has taken on the aroma of another product may be used, moldy, you can put it in the trash.
In addition to storing vanilla beans in a dark, dry place, it is important to use them quickly after purchase. Buy vanilla for 1 year and no more.
The quick use ensures that the vanilla beans are at their peak in taste and aroma.
But for the love of god, never put your vanilla in the freezer or in the fridge, you will distort the flavor of the vanilla and its aromatic power.
Finally, it is important to consider the quality of the vanilla beans when buying them.
Superior quality vanilla pods, which are called gourmet quality, must be flexible, not have any liquid coming out and above all the olfactory notes must be sweet and delicious.
Take advantage of all the experience of the creator of Comptoir de Toamasina on his youtube channel and discover the methods of growing vanilla at home with the advice of the Arnaud Vanille plantation.
The best vanilla planifolia recipes
Vanilla planifolia, often called simply "vanilla", is a spice very appreciated for its delicate aroma and it is used in the composition of sweet dishes. It was simply called vanilla at that time because it was the only known variety.
Native to the tropical regions of Central and South America, vanilla was introduced to Europe in the 16th century and has become one of the most popular spices in the world.
The vanilla bean is used in many sweet dishes, such as desserts, drinks and confectionery.
But vanilla is not only appreciated for its taste. It is also a very versatile spice that can be used to add a touch of sweetness and sophistication to many savory dishes and cocktails.
In fact, vanilla can be used to improve the taste of many foods, such as sauces, soups, and meats.
If you're a fan of vanilla and looking for new ideas to use it in your recipes, you've come to the right place. Le Comptoir de Toamasina is the French vanilla specialist and offers you recipes every week on its blog and our youtube channel.
Whether you're an expert in the kitchen or a beginner, these recipes will help you fully enjoy the delicate and sweet aroma of planifolia vanilla from Papua.
Planifolia vanilla is a remarkable quality vanilla - Le Comptoir de Toamasina specialist in black bourbon vanilla from Madagascar since 2010
Vanilla planifolia is a variety of vanilla that is considered to be of the most outstanding quality in the vanilla world.
It is part of the composition of our vanilla box. You should know that as with wines, each vanilla-producing country will have its know-how but also its terroir which will give vanilla its letters of nobility. A vanilla from Madagascar will be different from vanilla from Mexico, Papua or even Brazil and its acid soil. The ground gives the vanilla flavor. And that's why vanilla is not grown in the Brazilian Amazon because of the acid soil that gave very acid vanilla in the mouth. While in the state of Goiás see Bahia you will have a little tangy touch and extraordinary gourmet vanilla notes.
This princess of the pastry is cultivated mainly in the tropical regions of the Indian Ocean and in the region of Papua New Guinea. Vanilla planifolia is characterized by its delicate chocolate and subtle leathery fragrance and spices for planifolia vanilla from Papua. This will blend perfectly in many recipes, cocktails and the most unique desserts.
Le Comptoir de Toamasina is a French specialist in the sale of vanilla. Founded in 2010, this company focuses on buying and selling top quality vanilla for its guests. Le Comptoir de Toamasina is best known for its expertise in black bourbon vanilla from Madagascar, which is considered one of the best varieties of vanilla available on the market.
However, the Comptoir de Toamasina is not limited only to the sale of black bourbon vanilla from Madagascar.
It also offers a wide range of vanilla-based products as well as peppers and other flavors from around the world.
Le Comptoir de Toamasina strives to give you the best of the world of spices for creative everyday cooking.
To conclude, planifolia vanilla from Papua is a remarkable vanilla because of its delicate and subtle aromas. Vanilla planifolia from Papua is the best vanilla to replace the vanilla bean from Madagascar.
You are on the ideal site to buy the most beautiful vanilla pods at the best quality ratio.
We offer planifolia vanilla from Papua per kilo and by packaging of 100 planifolia vanilla pods from Papua.
Customers who bought this product also bought: