Galangal Root Powder (Thailand)
Galangal is a tropical plant from the same family as ginger, also known as Thai ginger, it has a spicy and slightly lemony flavor.
Power of the spice: 7,5/10
Main notes: a spicy and slightly lemony flavor.
Use: Daily and Asian cooking
Origin: Thailand
At Comptoir de Toamasina, you will buy the best galangal root at the best price per kilo. Find out how to buy galangal spice, use it and, above all, delicious recipes.
Our Comptoir des épices offers a selection of spices selected by Arnaud.
Discover our spice islands in Brazil in Minas Gerais. Galangal is an ideal spice to replace ginger.
Galangal Root Powder (Thailand)
Discover the best galangal powder at the best price per kilo at Comptoir de Toamasina, the Comptoir des épices et de la vanille since 2010.
We suggest you buy galangal and discover its history, its use in your daily kitchen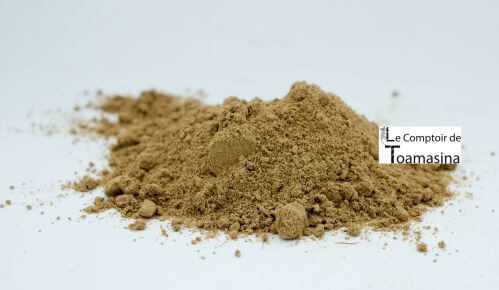 Online purchase and sale of freshly ground Galangal Powder
Our delicatessen, invites you to discover the best flavors in the world, today set off to discover Galangal, a cousin of ginger but with a light note of lemon. A pure delight to replace powdered ginger.
The scientific name of the galangal is alpinia officinarum, the scientific name is based on the Arabic Khoulandjan which would come from the Chinese liang-kiang.
Galangal spice has been found since antiquity in China. But it was in the 10th century, Avicenna Ibn Sina, the Iranian philosopher and doctor, mentions the name of this spice in his pharmacopoeia, specifying that it comes directly from China. In Europe it is in the monastery of Corbie in the North of France that we find the first written trace in Europe of the galangal following the purchase of this spice.
We will find galangal in the ingredients of hypocras from the housewife in Paris in his book Manuscript, economic domestic and culinary.
Its consumption in Europe forever was marginal compared to ginger. Today the spice is practically disappeared, from the consumption of the general public.
How to use galangal in everyday cooking?
Galangal is widely used in Southeast Asia. It offers a slightly spicy flavor with a slightly lemony taste. It can replace ginger. Its powder is brown and spicy but very fragrant. Much less spicy than ginger.
Galangal is sweeter than ginger, it can be used to flavor fish and poultry.
Did you know: The rhizome is widely used in Asian cuisine for its flavors. as we explain it it replaces ginger wonderfully.
It is a powder that is on the border between cinnamon from Madagascar, rose and lemon.
We like to put our powder in soups, soups and in vegetable stoves.
Customers who bought this product also bought: