250g Vanilla Beans Madagascar AOC Bourbon
250g of Madagascar vanilla Bourbon AOC gourmet quality/Extra biological. Our vanilla pods of Madagascar, are brilliant, fat, fleshy, fluffy, shiny, black, very perfumed with a note of cocoa and not split.
Sold in sachet sub-vacuum of 250g 
Main Notes: Cocoa and Caramel
Aromatic: The star of pastry. A vanilla pod with an intense fragrance of gourmet vanilla, the most intense of vanilla
Quality: Gourmet - Extra with the respect of a long ripening
Bourbon vanilla pod from Madagascar only the best of the harvest. Sale of Bourbon vanilla pods from Madagascar in amateur pastry packaging at the best price per kilo. Excellent value for money.
250 g Vanilla Beans Madagascar AOC Bourbon
The Bourbon vanilla pods from Madagascar from Comptoir de Toamasina are magnificent and very delicious.
Since 2010, Arnaud, creator of Comptoir de Toamasina, has been selecting the best vanilla pods from Madagascar for you. Only the gourmet quality which is equivalent to the grand cru quality in the wines.
In our amateur pastry packaging, you will buy bourbon vanilla at an exceptional value for money.
The best of vanilla with a long ripening.
Bourbon Vanilla from Madagascar - Gourmet Quality - Maturing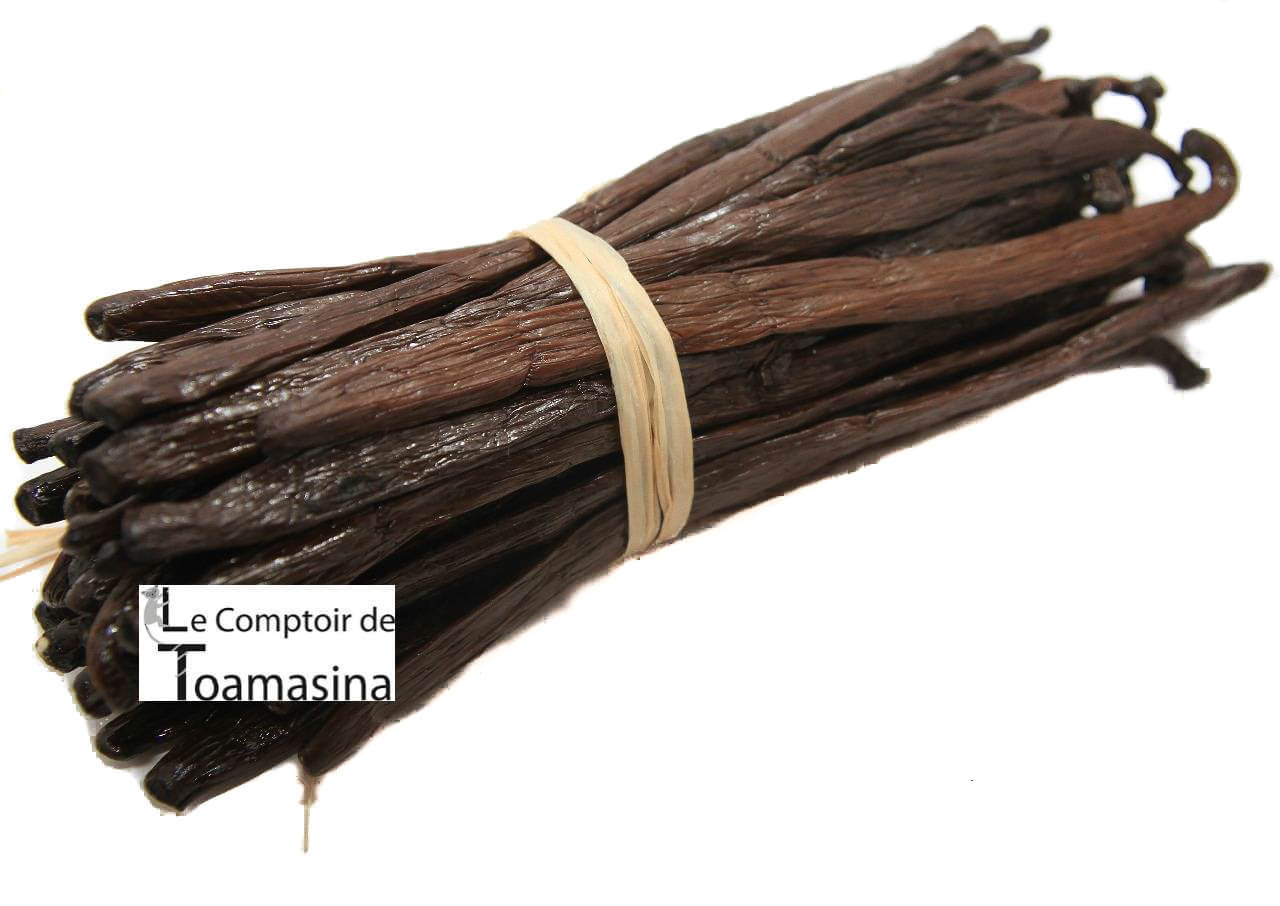 When you think of vanilla, you immediately fly to Madagascar. Bourbon vanilla is found here on the big island, which produces 80% of the world's vanilla on average.
Bourbon vanilla is an AOC that will group together the islands of the Indian Ocean in order to differentiate it from other planifolia vanilla. We find Madagascar, Mayotte, Seychelles, Reunion, Mauritius and the Comoros.
At Comptoir de Toamasina, Comptoir de la Vanille, you will buy the best bourbon vanilla pods from Madagascar. Of high quality.
The discovery of Madagascar vanilla by Arnaud
It was in January 2010, when Arnaud's father returned from Madagascar with vanilla, who discovered this black gold.
He wanted to democratize vanilla for all and offer vanilla pods with a guaranteed origin.
The history of Comptoir de Toamasina begins in March 2010 with the first market on Place Sébastopol with the Madagascan vanilla pod.
Little by little Arnaud, will expand the range of flavors of the Comptoir de Toamasina and above all travel the world in search of new flavors to arrive at its installation in Brazil, to produce and go to seek directly in the plantations of flavors.
Vanilla from Comptoir de Toamasina - Thalassa's Report
As you can see, vanilla is Arnaud's passion.
And here is our story:
In 2010 Arnaud Sion created the Toamasina counter which will become the specialist in the importation of black Madagascar vanilla in its best extra-gastronomic quality in the Lille metropolis and in Brazil. We often expect to talk about premium vanilla but the latter does not exist. The desire for classic red-TK and gourmet or extra because it has a difference in classification between France and Madagascar. In France we use the term Gourmet.
We import since 2014 a black, Madagascar vanilla with vanilla pods which are black, shiny, supple, fleshy, shiny, fragrant, mellow, not divided and with a cocoa note. 100% natural vanilla.
Online sale of high quality 100% natural vanilla and inexpensive in its economic or professional packaging. Le Comptoir de Toamasina It is not just buying a vanilla bean from Madagascar but it is buying a story, a human experience and above all the best vanilla from Madagascar offered on the Internet.
Description
Products: 250 g of Madagascar vanilla pods, gastronomic or extra quality
Type of Vanilla: Bourbon vanilla from Madagascar
Quality: Extra / Gourmet
Size: 14 to 16cm
Characteristic: black vanilla pods, supple, fleshy, shiny, fragrant, mellow and not divided.
Packaging: in vacuum bag
A poorly preserved vanilla pod may dry out and lose its flexibility. But be careful not quickly.
Vanilla pods should be kept dry, protected from light and any temperature shock.
Arnaud Sion, Creator of Comptoir de Toamasina or Arnaud Vanille for those close to us explains that they should be kept away from light and any temperature shock.
The ideal temperature is between 15 ° C and 20 ° C.
The vanilla pod does not support too sudden temperature differences.
So you have to protect them from the air and especially UV. Our PET boxes, storage of vanilla pod are ideal.
The effective ways to preserve your vanilla:
Toamasina Counter Tube and Box special vanilla pod
Glass box
Glass tube
Avoid to keep your vanilla pods:
- Tubes or jars with cork closure because cork promotes the development of mold on vanilla pods.
Expert advice from Arnaud Vanille:
If you have a lot of vanilla pods, group them together by squeezing them with raffia to keep their moisture and flexibility as long as possible, and put them in a jar or an iron box.
Warning, never store your vanilla pods in a cool fridge or freezer. You will totally destroy your vanilla pod.
Customers who bought this product also bought: