Discovered in Brazil, this fake pepper gives a pink berry or also called pink pepper.
The pink berries draw their aromas from the earth and give you a resinous and slightly tart fragrance.
Bay Power: 4/10
Main notes: Softwood and acidulous
Use: Salmon, foie gras, soup, fish, tagliatelle and vegetables
Origin: Brazil
The pink berry are also eaten as a starter in a raw salad, summer and winter salad. We also like it in white cheeses, decorate cheeses like goat cheese and also in desserts for decoration.
Buy Brazilian berries with its symphony of unique flavors and discover our tips for use, recipes for using them. You will buy them at the best price per kilo.
Pink Berry - Brazil
It is here at Comptoir de Toamasina, a counter of Brazilian flavors and peppers that you will buy quality pink berries at the best price. You will discover its history there, as pink pepper is produced, the climate that this tree prefers and above all know everything about its use to create creative cuisine on a daily basis.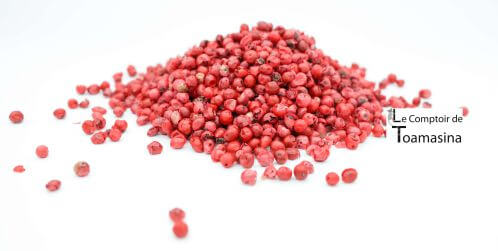 Buy whole pink berries from Brazil
The pink berry is native to Brazil and South America. It is also called bourbon pepper, Reunion pepper or Brazilian pepper (pimenta brasileira)
It was introduced to Mauritius in the 19th century, then to Reunion and finally to Madagascar.
Be aware that the tree can grow wild.
Attention, in the regulation only the fruit of piper negrum (if you want to know the history of black pepper) can have the name of pepper, like black pepper from Brazil, black pepper from Madagascar or white pepper from Muntok.
The Origin of the Pink Bay
Pink pepper is the fruit of a tree called aroeira in Brazil which is native to South America and from the same family as mango or cashew. The pink berry is not a real pepper, even if it is slightly peppery. However, it does not look like red pepper or black pepper.
You should know that there are two species to produce the pink berry: the mastic-pepper (Schinus terebintifolius, originating in Brazil) and salsa Mastic (Schinus Molle, originating in the colder regions of South America). The two are similar and produce edible berries.
The fruit are small berries which are born at the ends of the branches.
They are very fragile. They have a red or coral pink color. It is very aromatic and especially very fragile seed.
For this reason, they must be handled with care and delicacy. Otherwise, the berry shell breaks and the pink pepper or pink berry loses its beauty.
If one day you want to produce your own pink berries, know that there is one with thin leaves and branches like a weeping willow it is the aroeira-salsa.
The most common is the aroeira-pimenteira which with rounded leaves, stems which become firmer and will form a tree from 7 to 10 meters in height.
If one day you decide to harvest your own pink berries, be aware that the two types of sealant have some differences. The aroeira-salsa has thin leaves and the branches hang like a weeping willow. This is very common in the southern and southeastern regions of Brazil. The aroeira-pimenteira has rounded leaves, stems which become firmer and even form a tree from 7 to 10 meters in height.
Pink berries even grow in Brazilian cities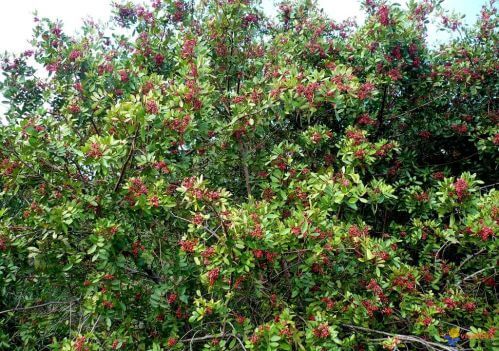 Few people know, but aroeira is very common in Brazil, especially in urban afforestation. It is medium in size, grows very quickly and above all does not distort the roadway.
When you travel to Brazil, there must be one near you. It is a very beautiful tree that attracts bees and birds who come to taste the fruit.
A negative point the tree can cause allergies. Even without touching its leaves, a sensitive person can have an allergy if it stays too close to the tree. We can have itching and discomfort on our skin.
It is a chemical process that causes this. It is called urushiol.
These dermatitis are caused by a chemical group whose main responsibility is urushiol.
Unfortunately, it is aroeira-pimenteira which has the highest content unlike aroeira-salsa.
But both can cause allergies.
Now you know everything to buy the best pink berry. It is at Comptoir de Toamasina that you will buy, pink berries from Brazil at the best price per kilo.
How to grow the pink berry to grow an aroeira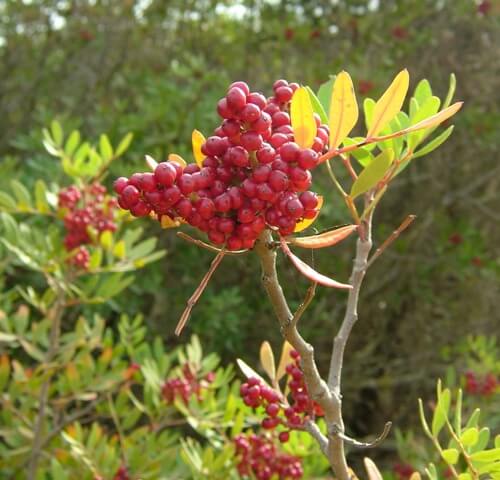 Aroeira is not a tree that will require a lot of maintenance. He loves very poor soils. Ideal for Cerrado in Minas Gerais, Brazil. (Part of our Pink Berries come from Minas Gerais).
By cons it will be wonderful on rich and well-drained soils and always in full sun. The shadow, he does not know and does not like.
The only thing to know is that it should never have too much water.
It is also necessary to direct its shoots, so that they do not leave in all directions.
How to use pink berries in the kitchen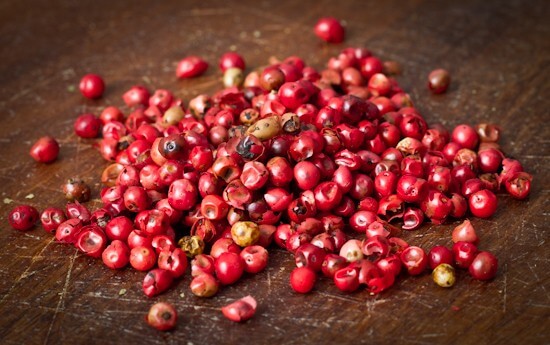 Creative cuisine with pink berry
Pink berries are a must in the kitchen. The pink berry has a slightly sweet and warm peppery taste.
There is a resinous flavor.
It is preferred over fish, over smoked salmon toast, it is simply delicious.
Did you know that in the Middle East, it is used to flavor sweets and drinks.
Because it has a spicy character, but in Europe we love it as decoration of a dish.
The pink berry is a good combination for meat, especially grilled dishes and cheese for decoration.
In confectionery and pastry we will love it with white chocolate or dark chocolate.
Try putting a pink berry on a creamy white chocolate candy or chocolate truffle. By biting into it you will have an explosion of flavors.
Pink berries are available for purchase and at the best price on the Comptoir de Toamasina website, your online delicatessen producer and importer of flavors.
Buy pink berries at the best price per kilo
Buy the best pink berries in Brazil, at the best price per kilo, not expensive. Le Comptoir de Toamasina thanks to its Brazilian Abaçai Counter, offers you to buy Brazilian flavors directly from producers while respecting sustainable and responsible agriculture.
Abaçai by le Comptoir de Toamasina is the first French-Brazilian French grocery store.
épices et saveurs du Brésil
Abaçai est la marque brésilienne du Comptoir de Toamasina. Notre base est à Belo Horizonte au Brésil. L'état du Minas Gerais à une situation géographique exceptionnelle à l'intérieur du Brésil et c'est un état avec une histoire baroque impressionnante.
Le Comptoir de Toamasina travaille en direct avec des producteurs d'açai en poudre et de guarana en poudre . Nous avons aussi une plantation test d'acérola en poudre et travaillons avec des producteurs ruraux.
Acheter des épices et saveurs brésiliennes et venez connaître des symphonies aromatiques.
Customers who bought this product also bought: