Each year Comptoir de Toamasina offers you our Vanilla Bundle of the World box, the 2 best vanilla pods we select.
15 boxed Bourbon vanilla pods from Madagascar
10 vanilla pods from Papua New Guinea Tahitensis in box
120ml Madagascar bourbon vanilla extract
120ml Tahitensis vanilla extract
80g Madagascar black tea
Buy the best Bourbon vanilla pod from Madagascar Gourmet quality, the vanilla of the great chefs, you will find the best black and fleshy vanilla pods of the large vanilla islands.
Buy your vanilla pods at Comptoir de Toamasina, importer of vanilla and flavor of the world.
Vanilla of the World Box
Discover and buy our box of vanilla pods from around the world, vanilla extract and our black tea from Madagascar.
Le Comptoir de Toamasina has been the specialist in vanilla pod since 2010.
Arnaud Vanille the nickname of the creator of Comptoir de Toamasina, travels the world in search of the best producers of vanilla pods.
Purchase Vanilla pods, vanilla extract, use and recipes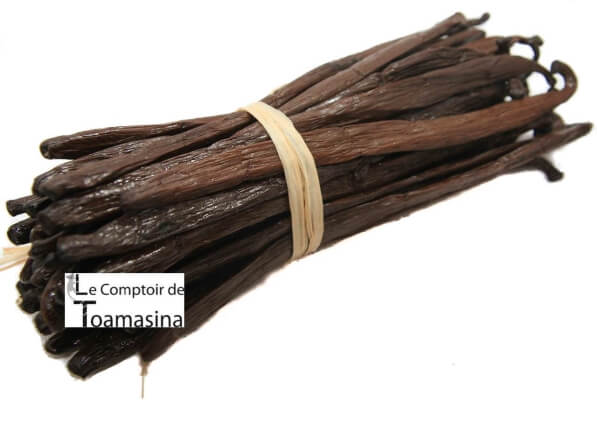 The vanilla pod is the little queen of pastry.
Today this pastry press will punctuate our palates since our childhood.
Comptoir de Toamasina is the specialist in vanilla and Comptoir de la vanille since 2010.
We suggest you buy the best box of vanilla, a box with origin of vanilla, in boxes.
Do not forget it is at Comptoir de Toamasina expert in vanilla pod thanks to its creator Arnaud Sion that you will buy the best vanilla pod at the best price.
15 Bourbon Vanilla pods from Madagascar: The vanilla pod from Madagascar is the queen of baking. It is a vanilla pod with a powerful vanilla note and cocoa notes.
10 Vanilla pods from Papua New Guinea: This PNG pastry vanilla pod is darker and finer than Tahitian vanilla. This PNG vanilla pastry offers fruity, floral and woody notes. This cousin of Tahitian vanilla expresses itself very well in fish, white meats and your desserts.
120ml of Bourbon Vanilla Extract from Madagascar: Find all the flavor and power of Madagascan vanilla in a liquid vanilla pastry extract.
120ml of Tahitensis Vanilla Extract: Discover a delicious Tahitensis vanilla extract with delicious notes of Papua or Tahitian vanilla.
80g of Black Tea from Madagascar: It is the meeting of a Black Tea from India with all the spices of Madagascar. Black Tea from the Island of Madagascar, with vanilla from Madagascar, ginger from Madagascar, cinnamon from Madagascar, cardamom from Madagascar. To taste Madagascar Black Tea is to taste a tea with exceptional spices.
Here is a box that will take you on a journey into the world of vanilla, a universe of intense flavors that is conducive to a change of scenery.
Recipes with vanilla pod and vanilla extract
Le Comptoir de Toamasina, offers a new creative recipe every week.
Discover the best recipes with Tahitensis vanilla extract for baking
Marbled with vanilla extract
Island cheesecake with vanilla extract
Panna colada with vanilla extract
How to make vanilla extract
Discover our orange blossom, rose water and coffee extract aromas
Customers who bought this product also bought: