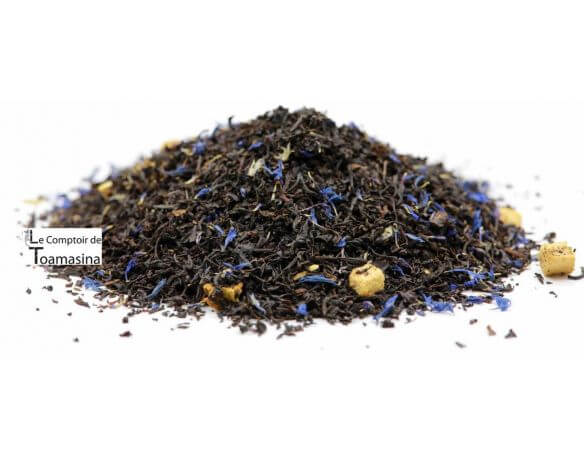 Paulista Black Tea (4 citrus fruits)
Black tea with 4 citrus fruits from Comptoir de Toamasina, it is the combination of a black tea from Kerala, China and Ceylon with essential oil of sweet orange, lemon, bergamot and tangerine as well as lemon and orange peels. An ideal tea for all times of the day. Maybe drunk cold or hot.
Power of scented black tea: 7/10
Main Notes: Citrus
To savor: In the morning and in the afternoon until 4.30 p.m
Discover and buy a tasty black tea flavored with citrus. Invigorating citrus notes for a journey into the interior of the state of Sao Paulo and its citrus groves. It is here at Comptoir de Toamasina where you will buy the best selection of teas, spices and vanilla.
Paulista Black Tea (4 citrus fruits)
Escape music to listen to while tasting your black tea flavored with 4 citrus fruits
Paulista 4 Citrus Black Tea
It was in the state of Sao Paulo, in citrus groves that we had the idea of creating paulista black tea with 4 citrus fruits.
Our black tea flavored in bulk and made with the noblest tea leaves to make a complex and tasty blend, for a gourmet escape during your break.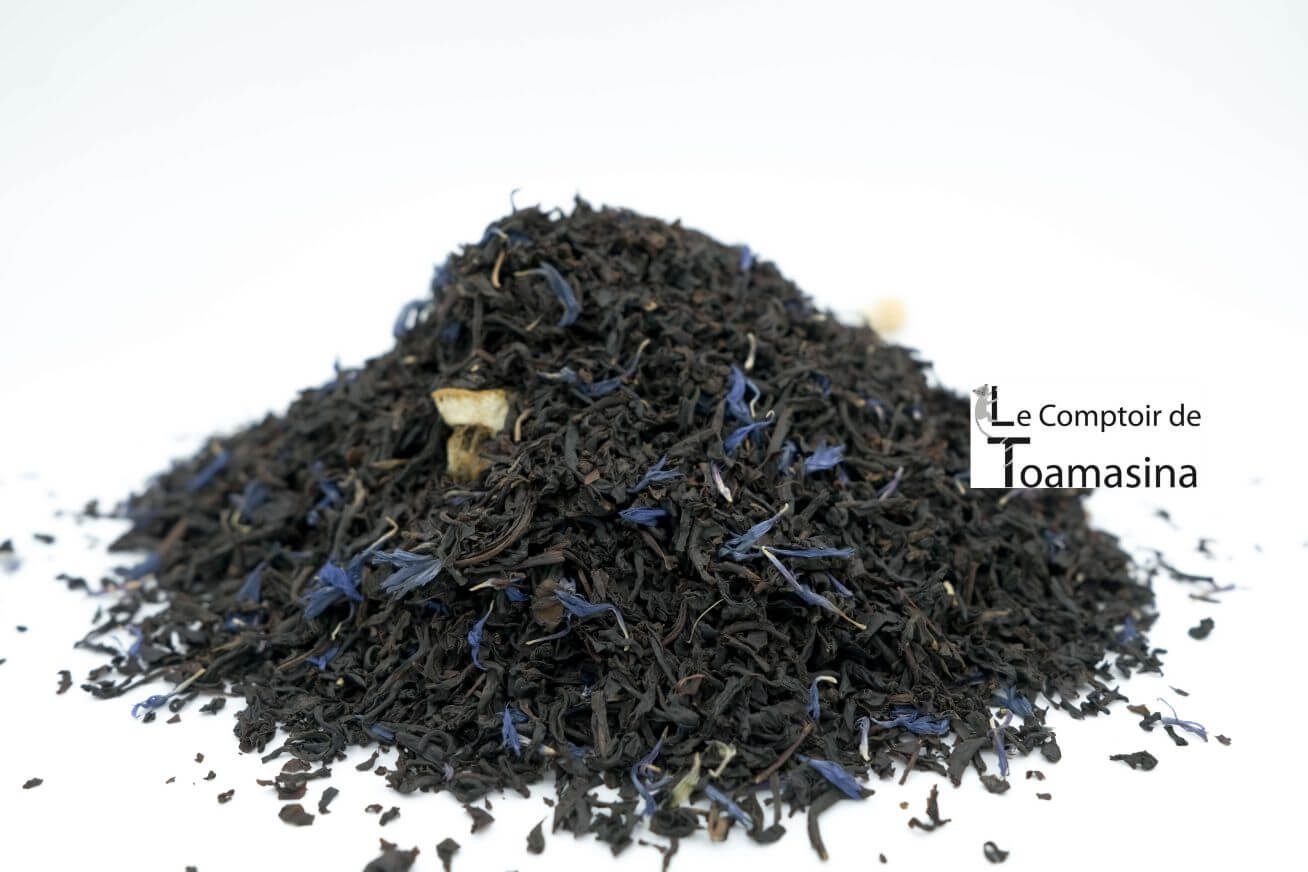 Sale of the best citrus-flavored black tea to our knowledge
Black tea with 4 loose citrus fruits is a great black tea. It naturally evokes lemon, sweet orange, tangerine and bergamot. Created by Comptoir de Toamasina in its early years, it is a cocktail of 4 citrus fruits which is our best selling.
Our 4 citrus black tea is made with black tea leaves from India from Kerala, Ceylon and China. It is a very popular tea in Russian and under the reign of Napoleon 3.
Suggestion of Preparation
It is a delicious flavored tea that you can enjoy hot or cold.
This blend of black teas that will marry joyfully and in harmony with lemon, sweet orange, grapefruit and bergamot will offer your tea pleasant citrus notes.
Iced tea preparation:
Take 15 g of tea leaves per liter of water at room temperature, you will let it brew for 30 minutes, remove the leaves and put in the fridge
Preparation in traditional tea:
Take 15 g of tea leaves per liter of water at 90 ° C and let steep for 3 to 5 minutes
Black tea with loose citrus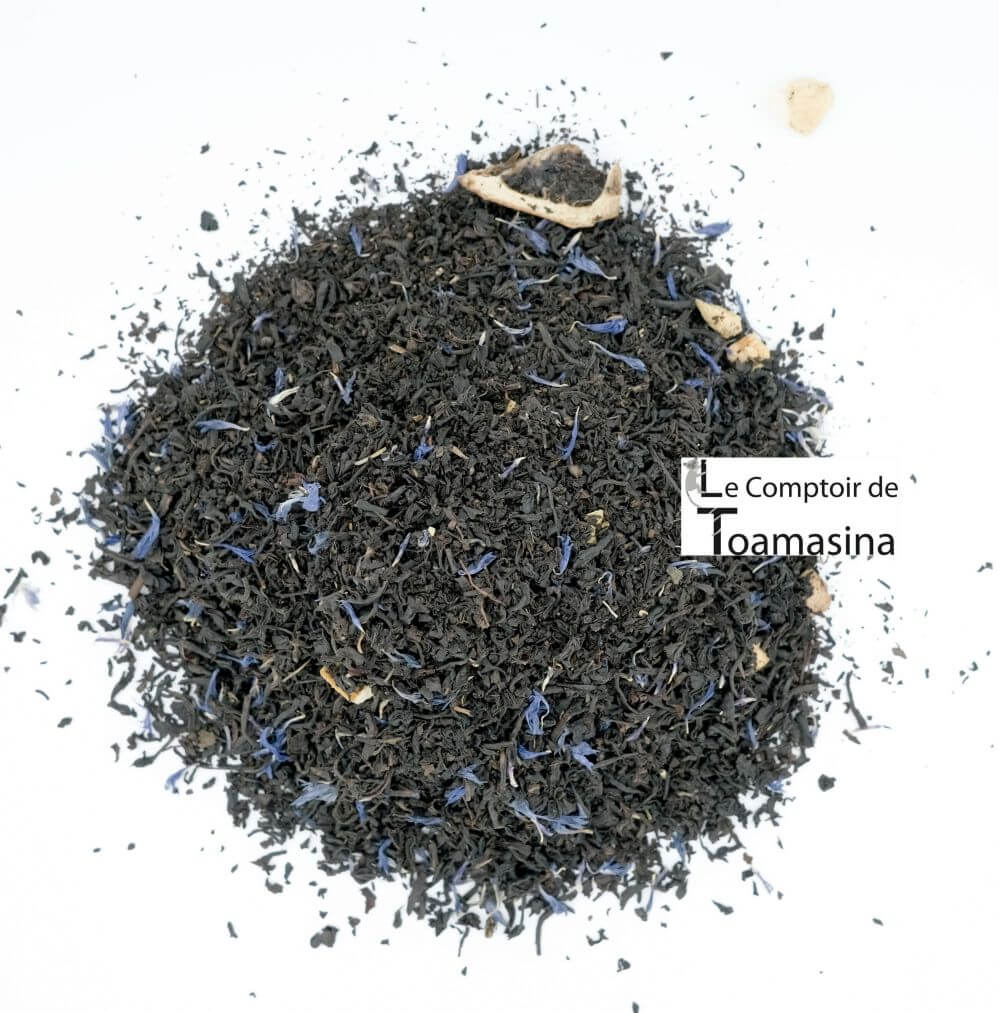 Discover the richness and the power of black tea Paulista which indicates a mixture of black teas from China, Ceylon and India embellished with citrus essences, dried peels and blueberry flowers.
Paulista black tea offers a golden infusion and has a fruity and tangy flavor. A very invigorating tea ideal for morning or afternoon.
Product Description
Product: Citrus Black Tea
Packaging: Bag or Box
Packaging: 80 or 100g
Ingredients: Black tea from India from Kerala, Black tea from Assam, Black tea from India, citrus essences, dried peel and blueberry flowers
We are much more than just a tea counter
Come and meet our flavors and spices from Brazil, a selection of our creator Arnaud:
Take a trip to Brazil with Comptoir de Toamasina
Since 2019, we have been offering a series of reports on Brazil, discover the continent and travel to magical places:
Customers who bought this product also bought: